When a band is rehearsing in a practice room, you don't set up in the straight line like you would in a gig situation, or would you?
From my experience, in the practice room band members tend to each set up in a corner, or some sort of space, and generally play facing each other, completely the opposite of the gig situation where you have to face the audience. I would have thought any band would do this, or am I wrong?
This is my rehearsal room: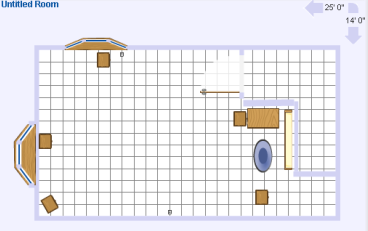 Excuse my crude image, but if you imagine the blue oval is the drum kit and the brown square underneath the bass amp, would you not put the two guitar players in the opposite corners i.e. bottom left and top left?
--------------------
www.variousassortments.co.uk
-
www.myspace.com/variousassortments