You are here
Time-stretching from the Fifties
Sam Inglis
Frequent Poster (Level2)
Posts: 2623
Joined: Fri Dec 15, 2000 1:00 am
---
Those whacky German guys - what will they think of next!

Seriously though, how about SOS following up the sale and seeing if you can get an article out of it. If the new owner can get it to work, it would make for a fascinating piece...



Dave B
Jedi Poster
Posts: 5480
Joined: Thu Apr 03, 2003 12:00 am
Location: Maidenhead
Veni, Vidi, Aesculi (I came, I saw, I conkered)
---
No picture. :frown:

Sounds quite interesting though! Only £430 and no bids!



Richie Royale
Jedi Poster
Posts: 4600
Joined: Tue Sep 12, 2006 12:00 am
Location: Bristol, England.
---
Richie Royale wrote:No picture. :frown:

Sounds quite interesting though! Only £430 and no bids!
I see one.. Have to click on "Image" first though..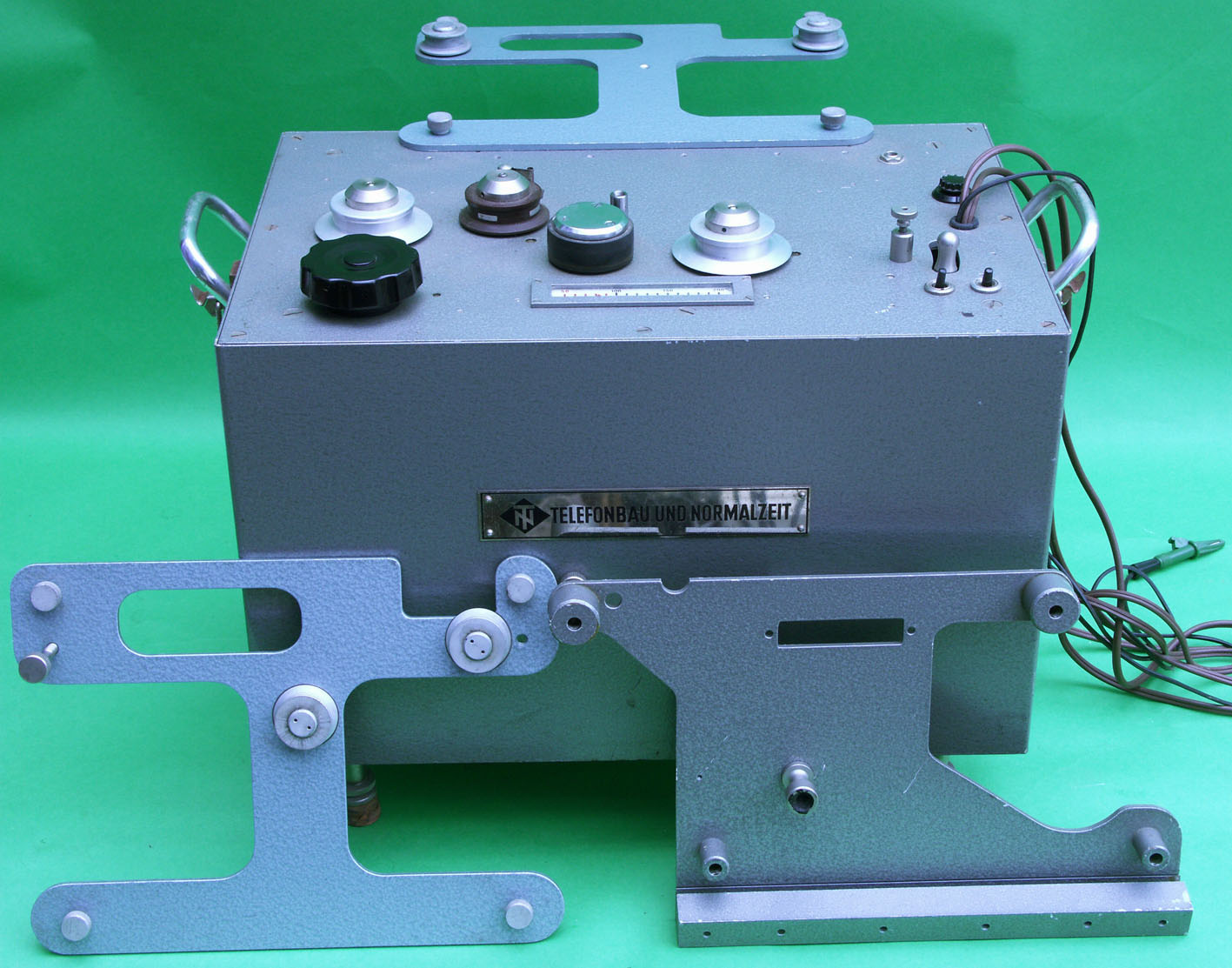 Paul
forumuser695516
Frequent Poster
Posts: 850
Joined: Wed Sep 01, 2004 12:00 am
---
This is actually war-surplus technology. The first application of this was in the Tonschreiber machines issued to U-boats. In the latter stages of the war, Allied warships could establish a bearing very quickly on U-boat transmissions using "Huff-Duff" (high frequency direction finding) which used an oscillograph display not unlike those used for stereo monitoring nowadays. It was therefore imperative to keep the duration of transmissions to a minimum. The use of rotating heads allowed normal pitch Morse transmisions at an inhumanly high keying rate, which could be read back at leisure from the recording, using the rotating heads to re-establish normal keying rate.

Scherchen also promoted the Stereophoner, one of the earlier fake-stereo devices, which basically sent LF left and HF right.
Ted Kendall
Regular
Posts: 349
Joined: Wed May 21, 2003 12:00 am
---
When I was at Ealing Film Studios (BBC TFS)sound transfer suite we had a EMI TR90 with a rotating head block similar to this device.
It was used to rectify speed change on recorders with low batteries,very effective ,but head switching noise made it glitchy.
Cool FX thing to fiddle with though.
The TR90 was a great machine,but something of a handfull with a complex tape thread and fearsome rewind speed.
:angel:



ROLO46
Frequent Poster
Posts: 883
Joined: Thu Nov 29, 2007 1:00 am
---
---