You are here
Sounds And Effects Ocarinas And Clay Flutes Sale
For one week only, Sounds And Effects Ocarinas And Clay Flutes for Kontakt or Reason is 50% off.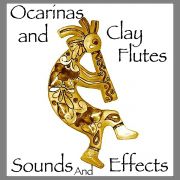 https://www.soundsandeffects.com/index.php?act=viewProd&productId=56
Sounds And Effects
Poster
Posts: 30
Joined: Thu Mar 07, 2013 1:00 am
---
Some sounds good, some sounds awful unrealistic.



Nathan-VST-Plugins
Regular
Posts: 63
Joined: Wed Jan 24, 2018 12:57 am
Location: Brazil
---
I listened to Solo Flute Demos 1-5. It sounded like the same instrument played by the same person, and I wished I could play as well as him.



awjoe
Frequent Poster (Level2)
Posts: 2370
Joined: Tue Mar 08, 2011 1:00 am
Fringe member of the Party Pooper People's Party
---
---
Who is online
Users browsing this forum: No registered users