Dear SOS members and readers.
Leap Into The Void has released
Et Tantara Pul Hypnosis - soundset for UVI Falcon.
Save €20 for a limited time.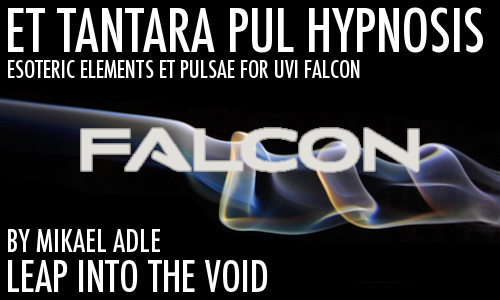 Et Tantara Pul Hypnosis
features a pandora box full of hypnotic atmospheres, soundscapes, drones, dark ambiences, padscapes, pulses, sequences, iterations, synth sounds, keys and more.
From celestial spheres through suggestive pulses to the darkest of the underworld.
Suited for cinematic composing, ambient, atmospheric, electronic, drone, film/tv underscores, tribal, experimental music and more.
202 presets total:
-Aenchantae Hypnosis (60 presets).
-Ceqae Pulsora (70 presets).
-Iter Machinae (28 presets).
-Melodiaquium (44 presets).
Product page.
Thanks for reading.
Mikael Adle
Leap Into The Void