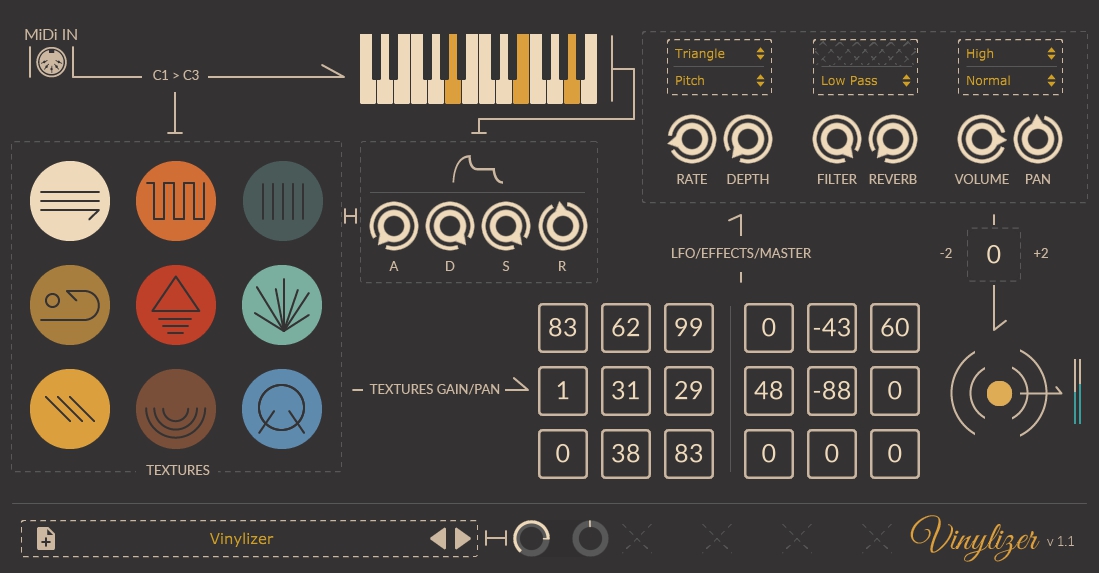 We are proud to present you "
Vinylizer VST
" A handy Tool designed to add a wide range of Old Vinyl Textures to any studio toolkit.
The VINYLIZER VST generates the warm sound and drive of old vinyl records.
VINYLIZER VST lets you control each nostalgic element independently, giving you all the vintage turntable sounds you love.
Add a Non-Stop Vinyl 'grit & grime' Texture to your clean, digital tracks
Or Give your tracks that old school flavor by adding a touch of noise dust and Hiss As Simple As Press & Hold a Note on your Midi Keyboard.
These analog artifacts will add life and warmth to your tracks, just like the old records from back in the days when your record-player had "
soul
".
"
Get that Vinyl Sound
"
Watch Trailer :
https://www.youtube.com/watch?v=9A5ufD12tcE
Features
:
50 Endless Texture Presets
9 Layers (Rainy Street, Hum, Hiss, Ambient...)
Gain Pan For Each Elements
Built in classic sounding reverb
Built in flexible LFO controls
Built in Hi & Lo pass filter
Ultra low CPU usage [perfect if you own a laptop / tablet / low spec PC/MAC]
Size On Disk / Each Format
:
Unzipped File Size: 90 M.b
Zipped File Size: 137 M.b
Compatibility
:
Works In Most D.A.W.S (Excluding Pro Tools) .
Buy Now with 80% OFF Intro Price (**
$4.90
**)
https://sellfy.com/p/9dzU/
__________________