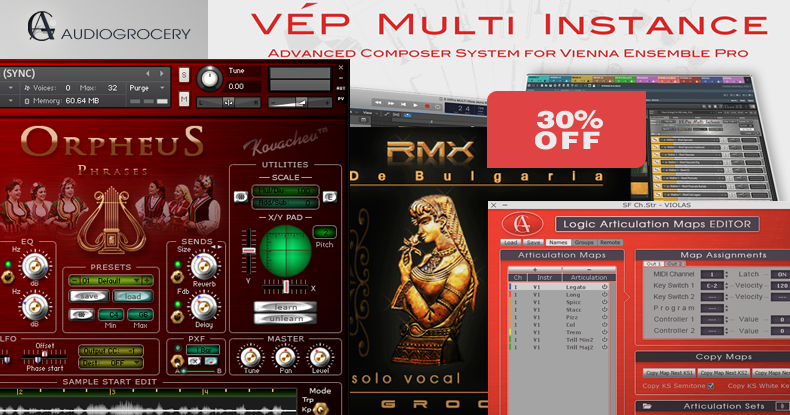 Hello,
Audio Grocery
offers a
30% discount in August
. Here is some information about the products features, prices and the direct links:
ORPHEUS ::: Bulgarian Ethnic Choir & Soloists (Kontakt)
(Price € 149 => € 104 Now)
Orpheus is an authentic vocal sample library performed by the best Bulgarian professional choirs (40-50 singers), vocal groups and soloists. All patches (without the Rubatos) are auto-synced to the Kontakt or to the sequencer host tempo.
The Instrument comes with a unique Sample Start EDITOR which allows you to map the vocal syllables to the keyboard keys just by moving the Playhead cursor to the desired syllable in the wave form editor. You can compose new vocal phrases from existing ones, keeping the vocal performance authenticity.
Vox De Bulgaria ::: Choir & Solo Vocal grooves (S.A.G.E Xpander)
(Price € 99 => € 69 Now)
Vox De Bulgaria bundle is a vocal library (for Stylus RMX) containing solo, duo, trio and choir grooves turning the standard Stylus RMX rhythm machine into an impressive musical instrument. The bundle is remarkable for its brilliant high quality performances of a third generation young professional female folk singers. The well-known Bulgarian Voices included in this collection bring authentic Balkan ambience into any style of music compositions, film scoring and mixing.
ART Pro 6.3 ::: Articulation System for Logic X
(Price € 89 => € 62 Now)
ART PRO is an advanced articulation switching system for Logic Pro X. The bundle comes with a superior Articulation Maps EDITOR software, where you can create articulation sets easily and order or group them using lots of batch editing functions powered by quick key commands. The AG Maps Editor presets can be stored as Logic Art Sets, teleported to iPad AG Remote or loaded into AG Art Scripter which allows you Text points and Art ID editing.
VEP Multi Instance ::: Advanced System for Vienna Ensemble Pro
(Price € 65 => € 45 Now)
The system allows you to use up to 1024 Kontakt MIDI Channels per VEP Instance Port and to have a direct access to all Kontakt ABCD Ports (64 MIDI Channels) directly from a single track in your DAW.
VEP MULTI saves a lot of Kontakt instances usage (1:4), as well as CPU, RAM & GPU resources.
Best,
AG Team