DrumThrash - Drum Machine Software - Update 2.0.2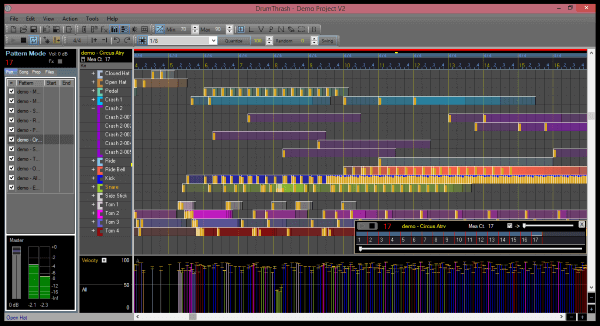 Version 2.02 addresses a few issues to provide better stability.
-Fixed random quantize bounds where hits could fall below tick zero.
-Fixed issue where program could hang when selecting 1/256th dotted divisions.
-Fixed issue when deleting the second measure the first measure could also be deleted.
-Fixed issue where program could hang when stopping playback and the floating mixer window is open.
-All samples is now the default view for the controller panel.
-The master/floating master volume has been combined to a single button. Clicking the master mixer button twice will toggle between views.
-Updated visuals for the master mixer VU.
-Undo/redo now processes all hits from mouse down to mouse up when using the eraser tool.
-Lowered brightness for swing division lines.
Get more information at:
https://www.drumthrash.com
Demo available.