Finally I'm getting a go at improving the acoustics of my music production space. I am a newbie at studio acoustics, which is why I am asking for feedback/advice in this forum before I go ahead. As described below my approach is a bit improvised with the aestetics in mind. Any advice is very welcome.
What I have
The music production room is a small cubicle space measuring
l w h = 3,67m x 3,75m x 2,7m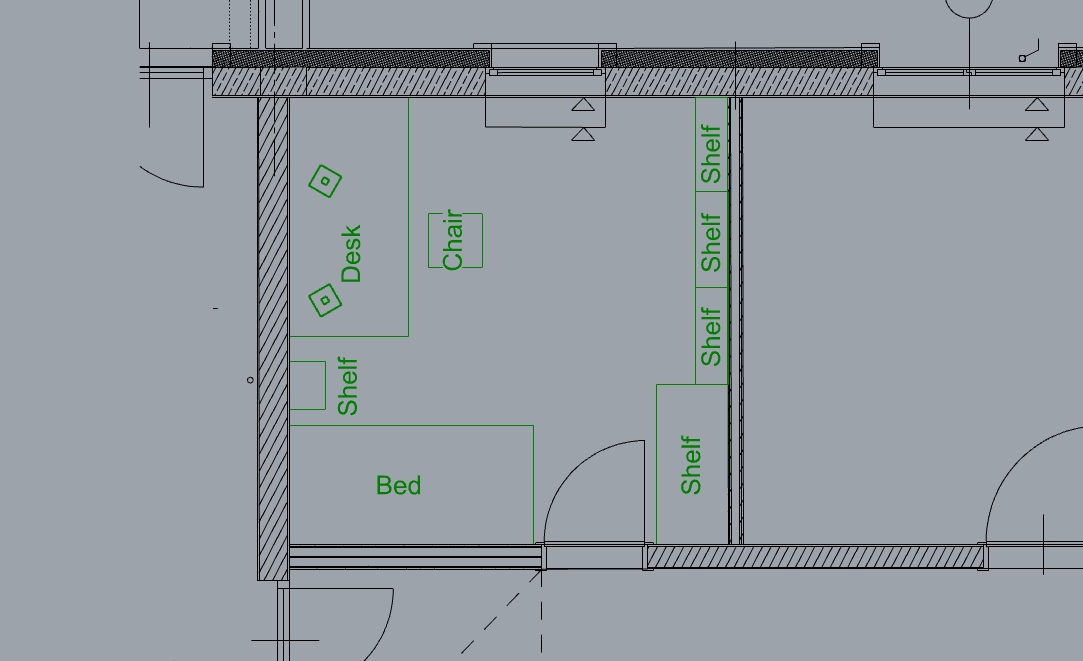 Currently the space has no acoustic treatment apart from furniture. The walls are
concrete and plasterboard, concrete ceiling and parquet floor.
The whole "back wall" consists of shelves with open wardrobe, books, records and magazines. From what I remember of Mike Seniors Mixing Secrets, shelves like this actually work ok as sound diffusors and absorbers, wich is good as I cannot really place any extra absorbers on this wall.
Position of the furniture are fixed, meaning I'd like to avoid moving those around. I know the listening spot isnt ideal, off the room center axis, and the speakers with "closed backs" (no rear facing bass ports) are placed on a desk only ca 20cm from the wall.
Goal
With these given circumstances I am looking for acoustical improvement by relatively small means, and also trying to find a solution I can live with in terms of aestetics (I prefer not having the whole space full of absorbers).
This is a DIY operation on a low budget.
Measurement
A friend helped me to measure the space at the sweet spot.
Screenshots from Room Eq Wizard: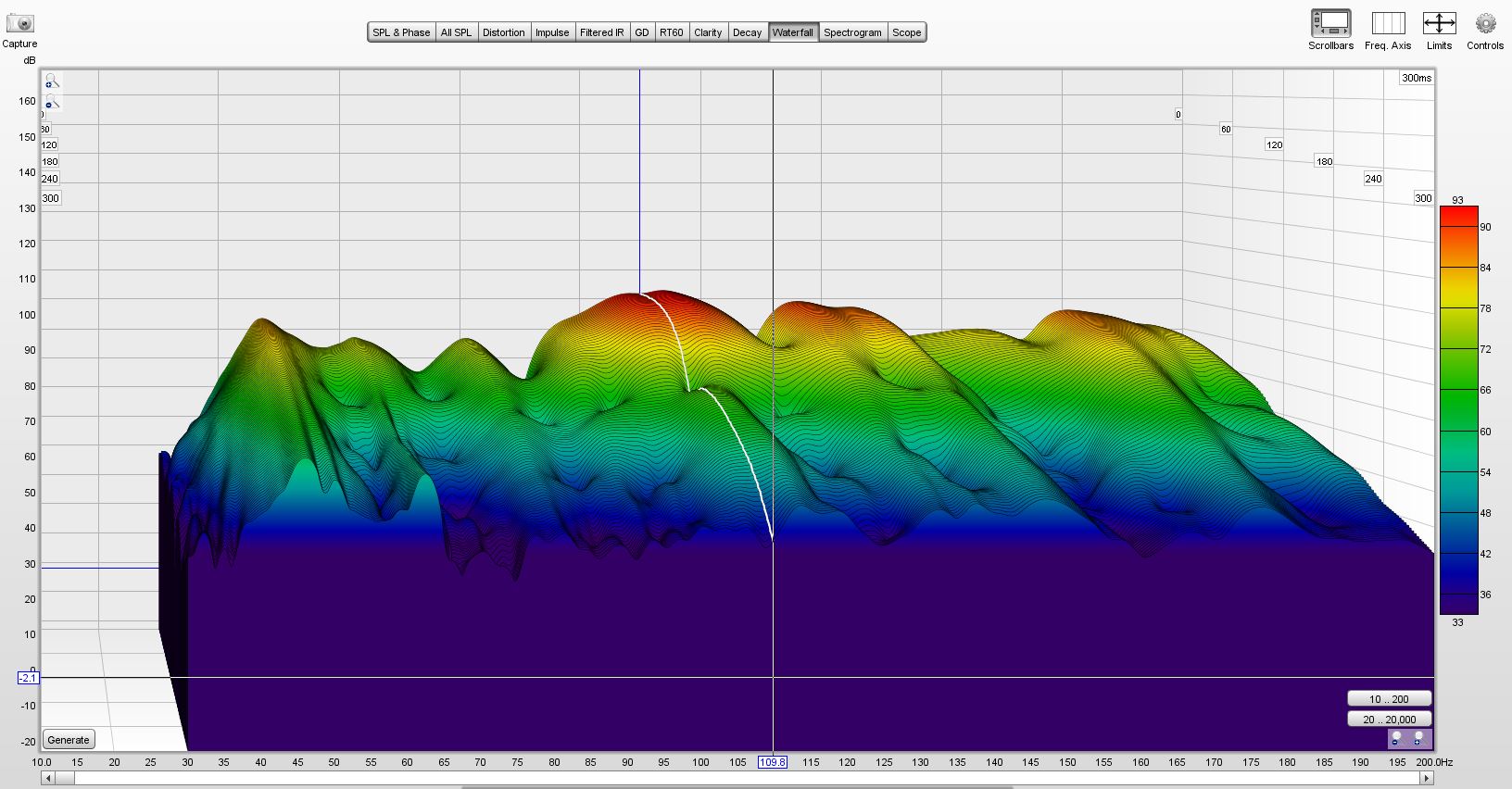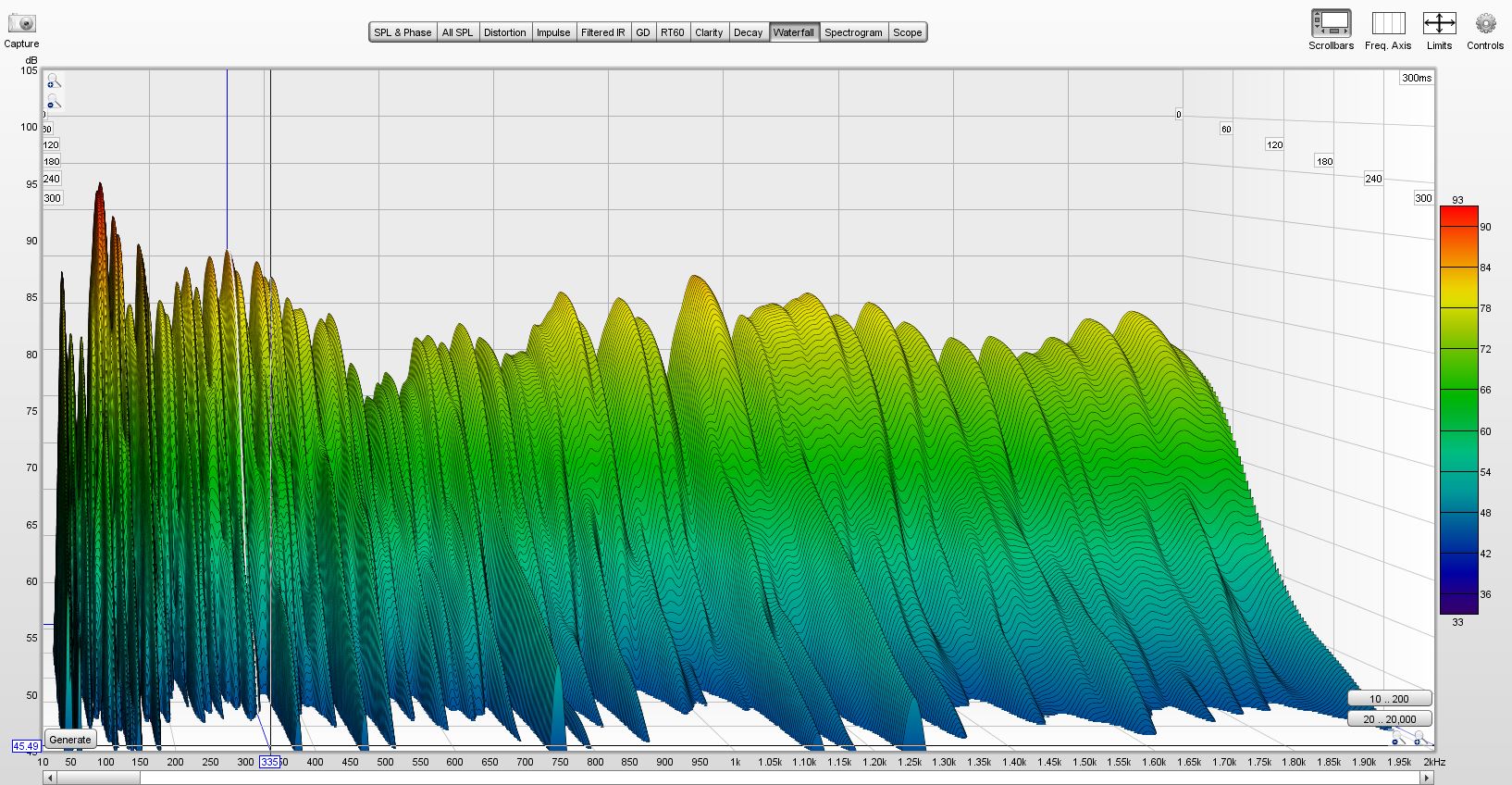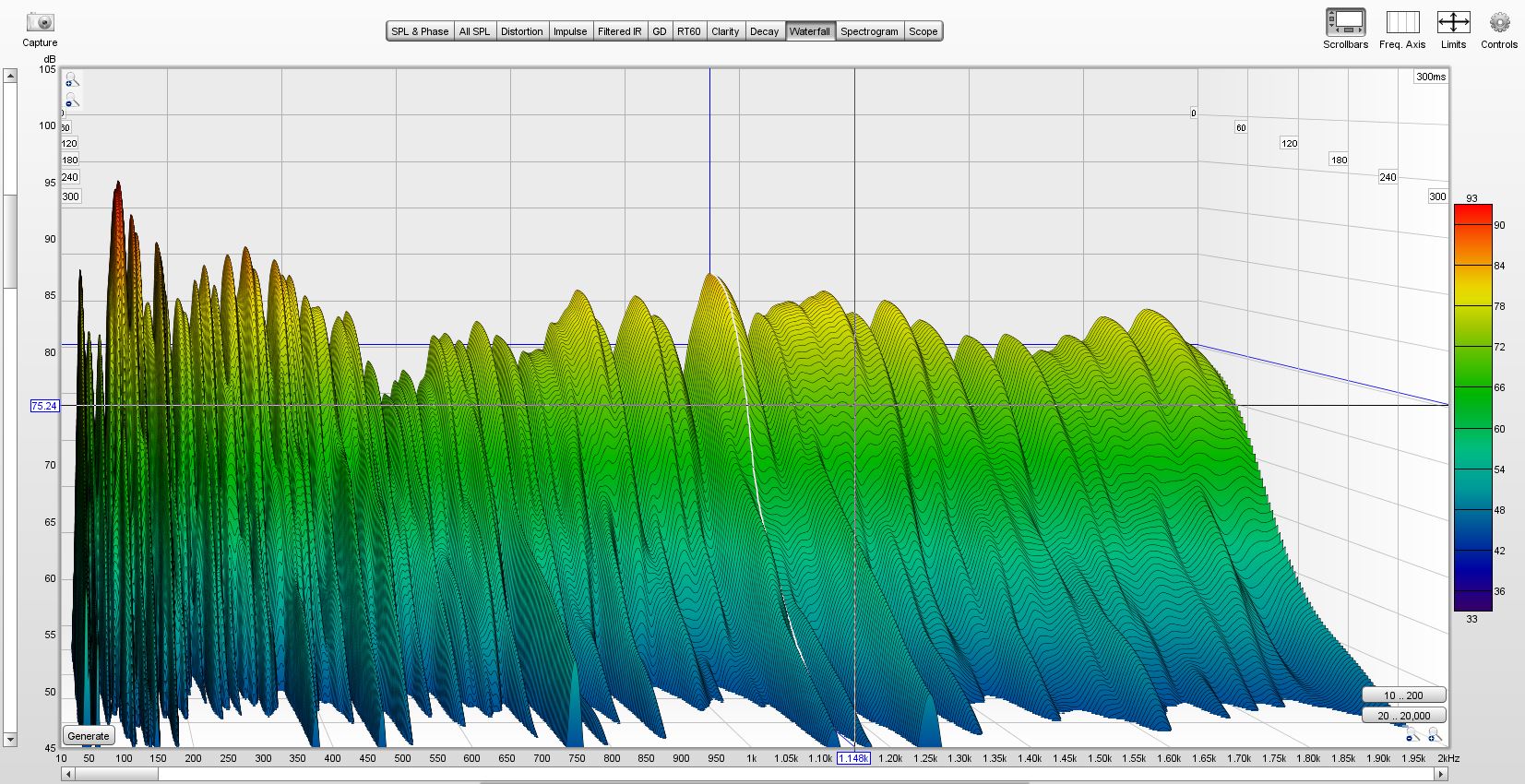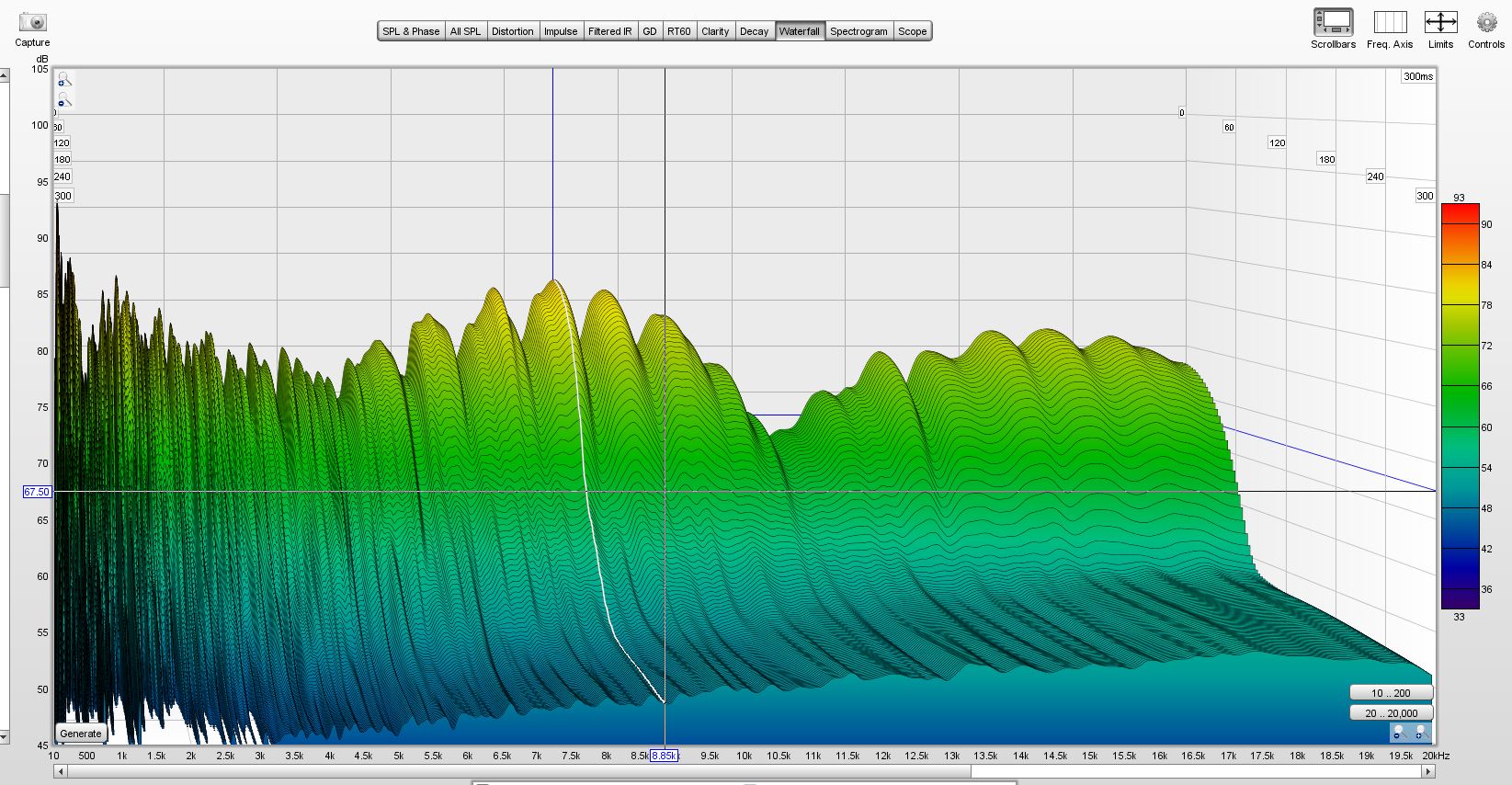 REW mdat
http://levander.dk/korv/SOS/Jul 13 17_06_06.mdat
Theres is a number of spikes in the waterfall at the low frequencies 100Hz, 137Hz, 182Hz, 335Hz... A large RT60 peak at around 60Hz.
Further up in the the spectrum there is a peak at about 1,15Hz.
I am not sure how to interpret and react to this, but certainly you dear reader, understand this far better.
Taming the bass
I read that for porous absorbers you can lower the "absorbed" frequency by increasing the air gap, following the quarter wavelength rule of thumb.
In order to reduce that 100Hz peak with porous absorbers I would need an 80cm gap, which is quite crazy for my little room. I thought of perhaps creating that gap behind a horizontal panel hanging from the ceiling (I don't know if that would help for bass though), but as the room height is only 2,7m high I don't want to hit my head in that absorber. I could live with a 10cm Rockwool panel with a 40cm gap behind, but that wouldnt reduce anything below 200Hz? Any suggestions? I really don't know how to deal with this bass issue.
Attempt
I decided to start from the other end and take a more aestetic approach.
This is what I came up with.
Plan drawing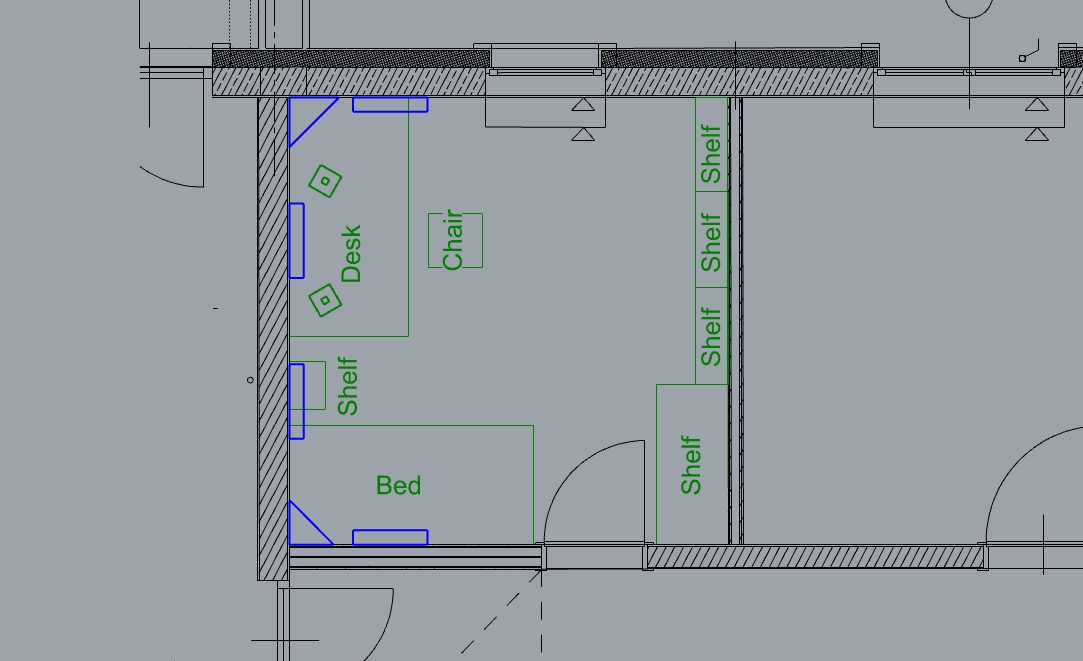 3d view
Four symetrically wall mounted porous absorbers, using Rockwool Sonorock panels measturing 0,6 x 1,0m with a 10cm thickness and a 7cm gap behind (so I can at least reduce that 1,15kHz peak). I would like these to be flush with the wall, so I would have that air gap behind a wooden frame.
I read that corners are problematic, so in the two exposed tridheral corners I planned to put two porous absorbers. The sides of the front triangle measuring 50cm and the depth being 22cm at the deepest. Again using Rockwool Sonorock.
Input
Any feedback/advice is very welcome!