Hey all,
Hopefully I'm posting in the right place- I'm currently in the process of building my dream live performance / looping rig, which I plan on using to jam and bring along on trips and for performance purposes. The main thing I'm trying to figure out right now is the structural 'framework'.
The concept is simple; an all-in-one mobile live looping rig for an all-in-one kinda guy :D I primarily play guitar, and have been looping as well as recording for some time now, with other instruments as well. Recently, I've been using the Akai Force to record guitar loops, adding synth and drum parts, and recording bass as well- but I'm pretty unsatisfied with the sonic and workflow limitations of the device, not to mention Akai's disastrous lack of support for crucial feature updates.
As such, I came up with what my dream rig would look like in order to do multi-instrument jams with full flexibility, as well as transporting the rig easily and using for live performance. Here are the key components:
A small computer

as the brain of the system (I've just Hackintoshed an Intel NUC8i5BEK, which is smaller, faster, & cheaper than any Mac Mini. Let's call it the Mac Nano)

Performance/DAW software of choice

(I'm using Logic Pro X with its new live looping features)

An audio interface for I/O

(Focusrite Scarlett 8i6 3rd Gen.)

A MIDI controller with keys, pads, & knobs

(M-Audio Axiom AIR Mini 32)

A portable touchscreen monitor

for no-mouse control of DAW

A MIDI foot controller

for switching presets and triggering loops/recording
These are the core pieces of music gear that constitute the rig workflow and functionality. Most of these I've already managed to put together, and feel good about the gear purchase decisions I've made and these should work well together.
However, the big struggle I'm facing now is how I can deal with the physical form factor or 'structure' of this rig, which will hold the gear and allow it to be both transported and used as a workstation. Here are the key components of the structure I'm trying to figure out:
A frame, with wheels

, that can be collapsed down for transport but also used directly as a live performance station, and

Case(s) to house the gear

, which can mount to the frame at the correct height for performance:

Upper case

which can be opened up to work with during performance, but also be transported independently of the frame. Doesn't need a ton of protection- will not be a flight case, just in my car. If possible, I'd like it to have a separate compartment for the power supplies and any miscellaneous cables.

Lower case

for the foot controller. Again, can mount to the frame or be transported separately.
Here's a CAD drawing that includes the basic components and the frame/case concept I've outlined for visual reference: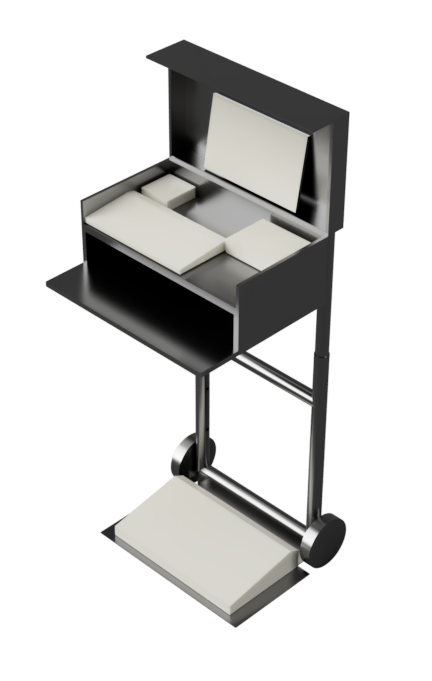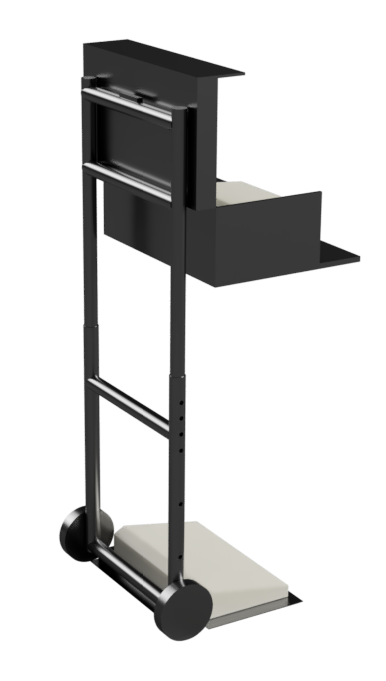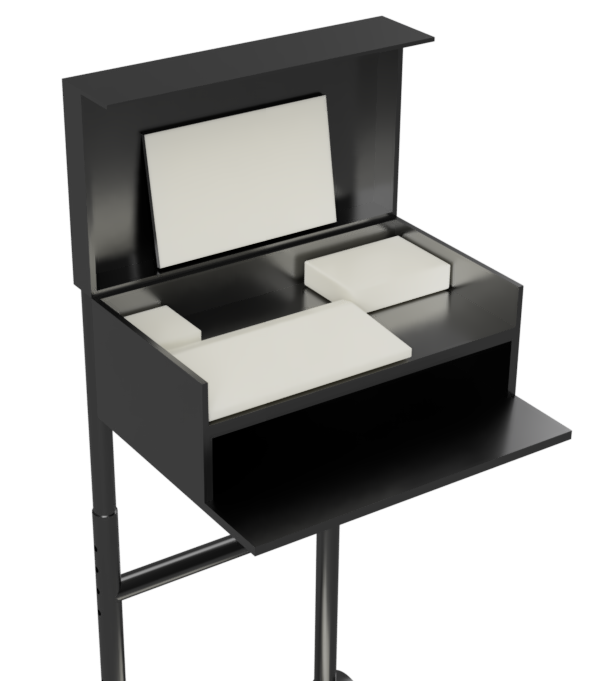 (The items in white are the gear I listed above, to correct scale, but the frame/cases are not necessarily exact in any way- because they don't exist yet! Just a visual aid.)
So, what I'm really looking for help with is if anyone knows how I can actually build or get a frame / cases that can serve as the infrastructure to put together the gear as outlined, and be used for portable and performance purposes? (A lot of p's, that's for sure)
A couple other considerations for this part would be that I'd also like to be able to have the frame extend taller or shorter depending on if I'm sitting or standing when using it, and it can collapse for portability in the trunk of my hatchback. Furthermore, I'd plan on having a 'shelf' (not pictured) just above the foot control section that my Alto Music PA could sit on if the location doesn't have a house PA.
Again, if anyone has any ideas on how to build or piece together a
frame
that can satisfy these general constraints, as well as how to find or make a
working gear case
that satisfies for the gear housing purposes outlined above, please drop it down below!
Thank you in advance, and looking forward to this journey with you all! :thumbup:
-Josh