Auburn Sounds has released a major update of
Panagement 1
, aptly named
Panagement 2
.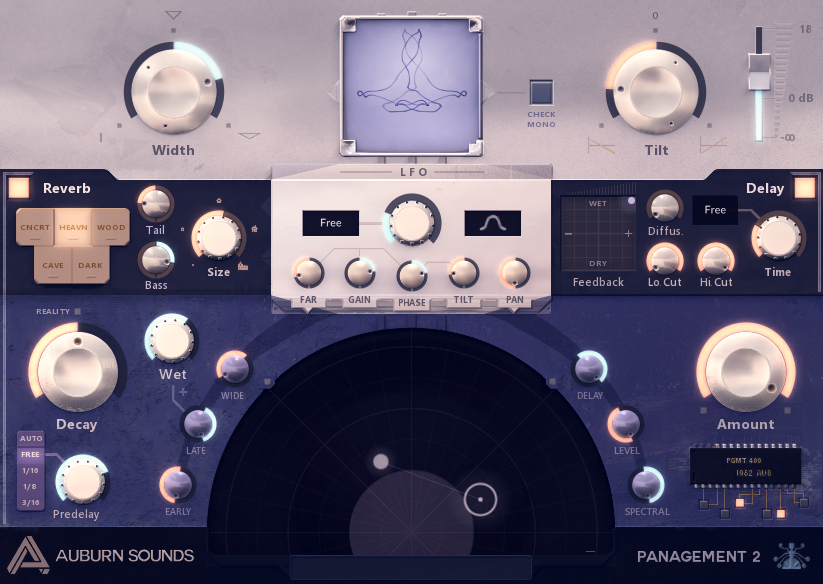 Panagement 2 gives you even more raw power over your stereo tracks, in a tightly integrated package:
The

Binaural Distance Panner

lets you position a track in the sound field quickly,
The

Reverb

increases realism of distance modeling with automatic early and late reflections,

Width

and

Tilt

open your mix to unforeseen decisions,
The

LFO

dramatically extends the possibilities (eg: reverb ducking). You can smoothly modulate Pan and Distance...
The

Binaural Delay

(Full only)

revisit the product, allowing more spatial complexity. One of the new features is to let the Reverb enter the Delay loop, so as to create an ever more diffuse sound (I don't know if this existed before, I'd assume "yes").
Comes with the sought-after

PGMT-400

chip mod

(FULL only)

.
With uniquely integrated Delay, Reverb, and Binaural processing, Panagement has a bit of a liberating feel since you can so easily translate mix ideas into parameters.
Whether you want rythmic modulations, a reverb, a delay, or just panning, then you might want to instantiate Panagement to test all that.
Trailer video
https://www.youtube.com/watch?v=sfi2HPBGwzo
Panagement is available today as a
VST 2.4 / VST3 / Audio Unit / AAX
plug-in for Mac (64-bit only) and Windows (32 and 64-bit).
This major update is
free for existing Panagement 1 customers
.
If you aren't a customer, the current price of the
Full Edition
is a meager
€24.65
.
The
Free Edition
comes with no time limit, and contains most of the feature set (excluding PGMT-400 and Binaural Delay).
That's all folks :bouncy: