Hey Guys,
One of my synths is Yamaha Motif MO6. It's old workstation, but I love it.
It probably sounds like nostalgia. Over time I get used to my "old" synthesizers and do not want to throw them in a landfill.
My Yamaha Motif MO6 has some problems with keyboard, but its sounds are great! And I'd like still use it in my studio, with existing audio interface.
I thought to configure it the following way to control via some other (master) keyboard: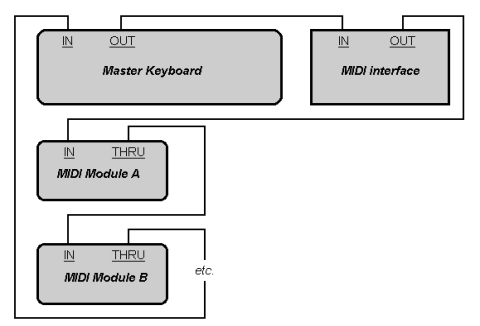 It's still can be connected via Midi / Audio interface to DAW and I can use it in my records.
The same way we can connect as many "old" synths as we want.
Question.
What is downside connecting as many synths as we want using approach above?
What would be the best approach in case, for example, you have 3 "old" synths that have Midi/Audio inputs/outputs and want to connect them to your DAW to have them on your records?
Thank you!