Hey guys. So my son has been pleading with me to use my Garage [MY domain] to do his music stuff which is making beats and Producing. Few years ago when he was younger I used to let him do it but he was never able to follow instructions to not make noise after 10pm so I would have no issues with my neighbors therefore I had stopped him from using the Garage.
Now that he's older and hopefully wiser at 33, I am willing to give him another try. His application does not require sound absorption I am thinking since it's not a live recording situation. We simply need to contain the music inside the garage so the neighbors won't hear it at night and especially during the upcoming warmer months when their windows will be open at night.
If you all can look at the attached screenshot please you will see my issue. First is what we have done which is to build a removable soundproofing apparatus with soundproofing board. Problems with this is the apparatus is around 50 pounds and also when he is removing it for when I have to be in there on weekends the right side of the apparatus is coming in contact with my cables at the back of my rack.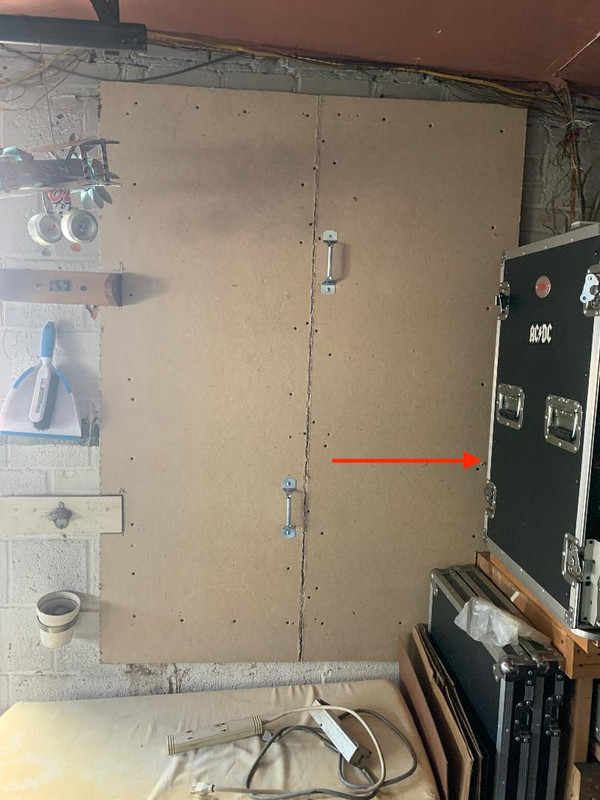 So I am thinking of a soundproofing curtain of some sort, I am basically seeing 2 types:
https://www.audimute.com/peacemaker-sound-barrier?gclid=Cj0KCQjwhZr1BRCLARIsALjRVQNh6QIsOBx7gd4eqw19v6n-iw68qirfITKPQLw35Y2-bLnV_3BVFVAaAvlKEALw_wcB
https://www.moondreamwebstore.com/soundproof-curtains/black-soundproof-curtain-deepblack-197.html?gclid=CjwKCAjwqJ_1BRBZEiwAv73uwF4bz_qohIPNh1no-zInvoJ2V-7waQmscJYh1ThLQlucq6w96DN_nhoCmJUQAvD_BwE
Can anyone offer any advice on what might work best for us as far as a removable option to help keep the playback music from escaping through that window please?