https://www.canford.co.uk/CANFORD-FLOOR-BOXES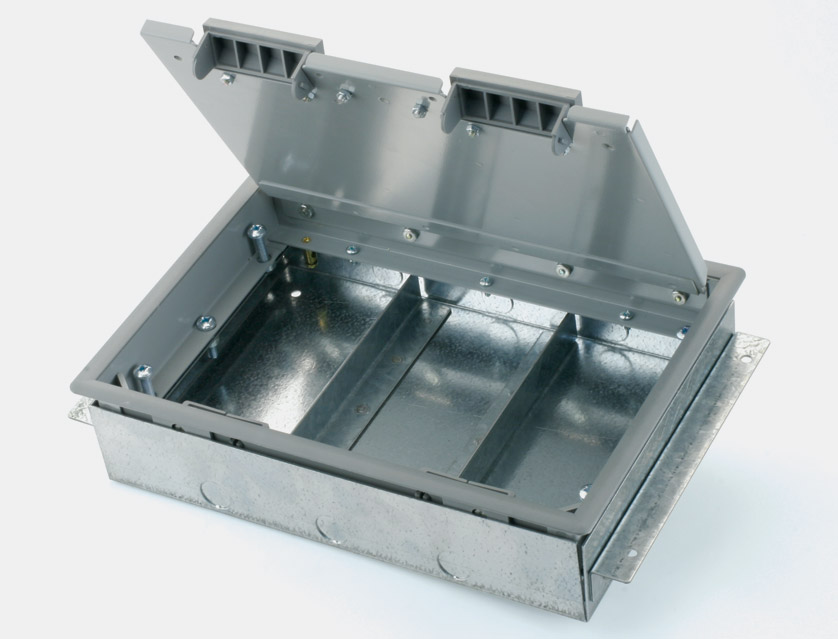 Canford wrote:Heavy duty steel floorbox for recessed mounting into solid and wood floors.

The top half of the box has an upper lip, which rests on or flush with the floor surface. It is finished in grey stove-enamel with grey moulded plastic lip. The bottom section has adjustable flanges for bottom fixing below the floor surface (removable if not required) plus 20mm knockouts, and is divided into three compartments.

The lid is hinged along the long edge, and is in itself a shallow tray – designed to allow a piece of carpet or wood trim (approx 5mm thick) to be inserted so as to match the lid to the remainder of the floor. Two moulded flaps are incorporated in the edge opposite to the hinge, which can either be locked shut when the box is not in use, or open to allow cables to enter. In this position they are locked so cannot partly close and trap the cables. Usable aperture with lid fully closed 12mm x 43mm per flap.

Internally, a sub-frame allows the mounting of three connector or blank plates, as required. The plates lie parallel to the floor. Various pre-punched plate options are available to suit most common requirements. The basic box includes all hardware, and is supplied without any connector plates, which are ordered separately.
Similar dip plates are available from other professional suppliers...