Phil Dudderidge Executive Chairman of Focusrite plc.
Industry veteran Phil Dudderidge, now 70, may have plenty to look back on, but he's still looking forward as Focusrite enters its 30th year.
"It's a very good feeling when you wake up in the morning and you know why you want to go to work", says Focusrite Executive Chairman Phil Dudderidge, with Focusrite plc having passed £75 million revenue last year and expected to rise further this year.
Focusrite is one of the great success stories of our industry, employing over 200 people at various locations around the world at the time of this interview, and occupying a commanding position in a number of different market sectors. Dudderidge, now 70, has steered the 30-year old business through all of its pivotal moments: picking up the pieces from one of Rupert Neve's last forays into the large-format console market in 1989; re-inventing the company's activities a number of times along the way in line with market trends; through to today's, highly profitable, publicly-quoted plc on the London Alternative Investment Market (AIM).
It's a very good feeling when you wake up in the morning and you know why you want to go to work.
"The benefits of flotation don't come without effort," says Dudderidge, "for our CEO and CFO in particular, as they have to represent the company to the investors on a regular basis, but taking the company public was something of a secret ambition of mine for a lot of reasons, some of them personal, some of them very much employee-focused. At the time that we floated, I'd been building up the company over a period of 25 years, I was approaching my 65th birthday, and felt I needed to do some succession planning. We had an existing share-option scheme in place for our employees in anticipation that there might be either a sale of the company or a flotation at some point in the future, and we revisited that because I wanted to make sure that everybody in the company had share options and would benefit from the flotation. And I mean everyone— they are all part of the team. It's benefitted a lot of our people since the flotation as their options have vested and they've been able to pay off mortgages or buy their first home, as well as in many cases retaining shares in the business. It makes me feel very proud that, as a company, we've been able to have the kind of success that has afforded them those sort of rewards."
The lesser-known 'Red: Birthday Cake' model was short-lived...It's certainly not solely the above that has led to Focusrite receiving 'The Sunday Times, 100 Best Small Companies to Work For' accolade, in 2012, 2013, 2014, 2015 and 2016, to set alongside their multiple Queen's Awards for Enterprise Innovation accolades. Dudderidge has previously stated his intention of making Focusrite "the company I'd like to work for if I was an employee." The calm, creative atmosphere that pervades their High Wycombe, UK headquarters, however, lacks nothing of an undercurrent of competitiveness and a desire to make products that are not just good value, but ones that exceed expectation and enhance the user's music-making experience. It doesn't seem too much of a stretch to see some of that pervasive ethos emanating from the man at the top. A man who started his lengthy journey in the music business in the 1960s driving a van for UK bands like Fairport Convention and Soft Machine, who soon found himself running sound systems for Led Zeppelin on their Spring 1970 tour and, by 1973, making some of the world's first dedicated live-sound mixing consoles under the Soundcraft brand, leading ultimately to the Focusrite we see today.
"If you've got an entrepreneurial heart beating in your chest, you'll find something to apply it to," he says. "Some of my early steps were accidental — you just find something that you can apply your ability to and think 'I'll do that', but then you get a fork in the road and you choose which one to take, and that's how careers develop. In those days there was a lot of opportunity — there was everything still to be invented! If I'd been born ten years later I wouldn't have had the same opportunities, but I think I would have had different ones."
"A great learning experience"
Phil Dudderidge describes the opportunity of running the sound for Led Zeppelin's tour as "a great learning experience. I was learning every day: the first time I actually used a WEM Audiomaster (two of them, making 10 channels in all) was on the first gig I did with Led Zep", but it was also an experience that convinced him that he didn't want to spend his time on the road with bands. "We had just three crew to do an arena tour in the States. It doesn't make any sense at all by modern standards! Driving everywhere, flying only when it would have been impossible to do otherwise… and there were only two legs where we had to fly. It was the responsibility of the promoter to provide the PA system at each venue, so they would hire locally and we would just show up to the gig with backline. I used the WEM PA that we carried with us 'just in case' as monitors. Nobody had monitors in those days, but I'd set up a WEM PA on either side of the arena stage for the benefit of the band.
"The gig we did at the Forum in LA was my first experience of a 'flown system', rigged up high in the venue — at every other gig the PA was sitting on the stage — and that John Meyer-designed system from McCune made a real impression on me. I came back to the UK and a year or so later, after a stint with Hiwatt, started a little company building PA systems under the RSD brand. Electronics designer Graham Blyth joined me at RSD, along with my original partner in RSD, Paul Dobson. We split from him after some argument or other, and Graham and I took the mixer part of the enterprise with us as the foundation of the console business that we called Soundcraft. I became very involved in running sales and marketing, and building an international distribution network for Soundcraft while Graham designed and oversaw production.. At a time when most people in this business were much more focused on just making equipment, I was developing my skills as a marketer. I think a lot of people didn't quite appreciate the value and importance of a brand in those days."
Over the course of the next 15 years, Soundcraft expanded from live-sound consoles into large-format recording mixers and then successfully rode the wave of the 1980s, pre-computer, home- and project-studio recording boom. When their US distributor, the giant Harman Corporation, moved in to buy the company in 1988, Phil Dudderidge admits he felt "something of a vacuum: for me, it really was 'so what do I do next'?"
With substantial personal wealth and still under 40, he was thinking of taking a break from business: "I had decided I wasn't going to do anything for a while — after 15 years running hard with Soundcraft, I thought I deserved a year off."
"This opportunity arose…"
Phil Dudderidge never did get his year off. The late '80s were not a great time to be in the large-format recording console business and renowned console designer Rupert Neve's Focusrite company had got into financial difficulties. Even the big names like Solid State Logic and Neve (Rupert's former company) were struggling against both a financial recession and a background of a changing music business that was seeing the closure of many of the larger professional recording studios. The company had gone into insolvency, but Dudderidge nevertheless saw an opportunity and was able to buy the assets — the brand, the designs, etc —and restart the business. "One of the reasons why I felt able to acquire Focusrite was the fact that the production was in the hands of other companies, so it would be relatively easy to start the manufacturing process of at least the outboard straight away. At Soundcraft we'd had a factory with about 300 people and that was something that I was keen not to repeat.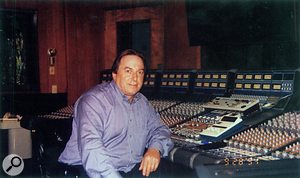 Phil Dudderidge seated at a Focusrite console in 1994.
"Another factor in my decision was that I had somebody else in [former record producer and console designer] John Strudwick, who was prepared to 'get his feet wet' with it. He was intended to run it and I was just supposed to 'hover above it', provide the working capital and make sure it was going in the right direction. And so it did for the couple of years before I had to take over the reins. Rupert already had the module-sales business going and that gave us cashflow from the start. That was the ISA rack with vertical modules, like an oversized 500-series rack. There was quite a big market for those for a time — people with SSL studios wanting something that sounded a bit more like a Neve for tracking purposes.
"The consoles were a different matter. The final assembly of those, including the frames, was all done in-house by the company when it was in Rupert's hands, but by the time we acquired the assets, all the people had gone and that original console had proved itself to be not reliably producible. There were only two of them built and they both had to be finished in the studios to which they had been sold — Electric Lady Studios in New York and Master Rock in London.
We decided to get out of the console business altogether and reinvent ourselves as an outboard company.
"We released 19-inch rack versions of the original ISA modules' circuitry — derivatives of those products actually continue to sell in modest numbers to this day — and while they were providing our initial cashflow, we were able to concentrate on creating a new version of the console: the Focusrite Studio Console. With hindsight, that was really the wrong thing to be doing: our console prices were simply too high for studios at that time. The big companies were heavily discounting and we just couldn't compete. Eventually we decided to get out of the console business altogether and reinvent ourselves as an outboard company. I think I had become a much more mature business person by then and was able to approach running Focusrite with rather less emotion and a bit more business savvy than might have been previously.The original Red Range introduced in 1993 — again, ISA circuitry, but repackaged in a more attractive way to reach a new audience — was the beginning of that strategy."
Red 1 mic pre: the first in the range that changed the aesthetics of studio outboard.
The physical format — bright red, with a thick, curved-fronted extrusion that meant that it would sit proud of other units in a rack — was unusual for the time when most other rack gear was flat-fronted, in black, silver or grey. "It just appealed to our own aesthetic sensibilities" says Dudderidge, "and we thought it might appeal to others, too. It worked: people wanted to buy it before they even knew what it did! That design came from our Technical Director at the time Richard Salter and Barry Neale our draftsman, and is something that has been emulated by quite a few people since!
"We then added our Blue range — a mastering EQ and compressor with switched controls for precision and repeatability — but that's a small market and it just wasn't economically viable over an extended period, so we decided to stop it. That's something we've always done at Focusrite: recognised when products ceased to have commercial viability and dropped them rather than try to keep everything in the catalogue."
The 'ADAT revolution' of the '90s opened up the possibility for people to record digitally with relatively inexpensive equipment, creating a boom in hardware-based home studios that was to continue until the arrival of computer- based recording. Dudderidge saw an opportunity. "Lots of people with ADAT-based studios were looking for outboard equipment, but not at the sort of prices we were selling our Red range and ISA products, so we created our Green range as our first endeavour to bring down the cost of outboard mic preamps, compressors and combinations thereof. The Green range eventually consisted of five different products, with the channel strip in particular doing well for a few years."  However, the home-recording market was growing at rate greater than its ability to afford even the Green range, creating even more downward pressure on pricing. Focusrite responded with their Platinum range: "We managed to significantly cut the price again, offering similar functionality but at roughly half the cost of the Green range equivalents, achieved partly through volume and partly through design choices. We started out with those being made in Scotland, but eventually transferred manufacturing to China."
Focusrite's first venture into Chinese manufacturing was actually with the Control 24 — a control surface for Digidesign's Pro Tools software — designed in the UK by Focusrite, but manufactured in China and sold by Digidesign. Having gained that experience they then started to move more of their manufacturing into the same Chinese manufacturer over the next two or three years. "How well Chinese manufacturing works really does depend who you partner with and how closely you work with them" Dudderidge says, "but for us it worked better than working with UK sub-contractors. We've never had our own factory."
The Digidesign connection
Phil Dudderidge cites the relationship Focusrite formed with Digidesign as "transformative" in the fortunes of the business: "I first met Dave Froker from Digidesign at AES in San Francisco in 1994, and that was to be the start of a ten-year-plus relationship that was very beneficial to both companies. Focusrite had got out of making consoles and were concentrating on outboard, and Digidesign were seeking to reach out to the entry-level market with Pro Tools, which until that point had only been a very high-end professional solution. Dave Froker recognised that getting a 'lite' version into the hands of musicians at the beginning of their recording careers could feed into sales of the professional product at a later point. 
"He came to us initially with the idea of making software plug-in versions of some of our hardware. I said 'great idea…but we don't know how to do that. Why don't you develop the plugins, and we'll work on making sure that they sound like the analogue products (Red 2 and Red 3) that they emulate'? Probably our greatest contribution to the plugins in the end was their GUI — Richard Salter (Technical Director at that time) had the great idea, which seems so obvious now, to make the plug-ins' GUIs look like the Red Range hardware that they were emulating. As far as I'm aware, those plugins were the first to do that. The D2 and D3 plug-ins also brought some colour to Pro Tools palette that was very much shades of grey at the time, just as our Red Range hardware had brought colour to racks of analogue outboard."
It seems so obvious now, to make the plug-ins' GUIs look like the Red Range hardware that they were emulating.
The plug-ins were to be just the beginning, however. The real turning point for the business arose with Focusrite's collaboration with Digidesign on the MBox: a compact, affordable, audio interface for Pro Tools. "We developed it for them from Rob Jenkins' original concept", says Dudderidge. "It was jointly branded and they sold it through their sales channels from 2001 to 2005, bundled with a lite-version of Pro Tools. We were receiving royalties for it, rather than selling it ourselves, and that proved extremely profitable. Sales volumes were much larger than initially anticipated by either party — Digidesign told us they expected to sell 1,000 a month and by the end of our relationship they were selling about 6,000 a month  —and that helped us build our balance sheet and pay off debts to the bank, debts to myself and really strengthen the company." 
The MBox entry-level interface for Pro Tools was "transformative in the fortunes of the business".By 2005, however, Focusrite and Digidesign had started to go in separate directions. Avid (Digidesign) had bought M‑Audio and discontinued any further developments with Focusrite, releasing a second-generation MBox, developed in conjunction with their new acquisition partner. 
"Things could have 'fallen off a cliff' for us once the second generation of MBoxes took over", says Dudderidge, "but by that time we had started to ship our first Firewire interface range, Saffire. Rob Jenkins, who had worked for us installing consoles in the early years and was now our Technical Director, felt we needed to be in the interface business on our own account and having headed up the development of the MBox, he started the development of our first interface, so we were somewhat ready when our MBox revenue came to an end. We went with Firewire because it was perceived as offering better quality than USB1, but at the time we were locked out of Pro Tools which was only opened up to third party interfaces in October 2011.
By this time, computer manufacturers were driving the agenda for manufacturers of related products, as connectivity protocols moved quite rapidly from USB 1, to Firewire then to USB2, once the audio standard was established. Dudderidge takes a pragmatic view: "adopting new interface standards like Thunderbolt can offer great opportunity for improvement in the performance of our product. Change is just something we have to manage, in terms of maintaining products after they cease to be sold, to give as much longevity as possible. We'll always keep stuff running as long as we reasonably can, but the time comes eventually when it is just not economically viable to continue to support a product. You could look at it as the price of progress —if you want to run the latest software you usually have to run it on more powerful hardware, so there is an inevitable pressure on musicians to buy new computers. Those of us who grew up in the analogue world tended to think that once you'd bought something it would run forever. But nothing lasts forever in the digital world. When we were doing our Firewire interfaces, we thought we'd never do another USB interface, and then USB 2 came along and that of course has been hugely successful, while Firewire audio ceased to be supported by Apple in 2016. Connectivity may drive innovation — Thunderbolt being a case in point — but Thunderbolt hasn't been the commercial success that everyone thought it would be because for a lot of people USB 2 is good enough, so why would you pay the premium for something better? So now we've got Clarett interfaces with Thunderbolt for those who value the benefits, and Claretts with USB 2 at a slightly lower price point. A third generation of our globally-dominant Scarlett interfaces has just been announced, employing USB 2 via a USB C connection, with lots of other improvements too!"
Novation: "A sensible adjacency"
Focusrite's improved financial position during the 'MBox years' allowed them to look at expanding through acquisition, and in 2004 their near neighbour Novation was bought out of insolvency. "We'd actually approached them a year earlier", says Dudderidge, "thinking (a) they were local, (b) they were doing things we felt were adjacent to things we were doing. We were thinking at that stage not just about audio interfaces but about what we might do beyond studio outboard, and what they were doing with synthesizers and controller keyboards looked like a sensible adjacency. We found the company was not in great shape, but it took about another year before they accepted that was the case.
"It was an innovative business: Chris Huggett has always been a great synth designer and, partnered up with Ian Jannaway, they did a great job with limited financial resources, but they were always living somewhat hand-to-mouth. There's no shame in that — I can remember plenty of times at Soundcraft when we were in that situation. It is a problem that innovative businesses often have unless they can find 'angel finance' or growth capital of some sort. We were in a position to put some real investment into the Novation business, building the brand and the brand values, getting good global distribution, and then partnering with Ableton when we created the Launchpad range of products, which has been a notable part of the success of Novation."
The Launchpad range has been a huge success for Novation.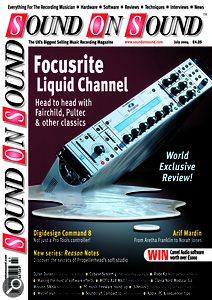 Focusrite's Liquid Channel innovative convolution-based processor: "I think everyone who wanted one bought one".2004 also saw Focusrite surprise the market with an innovative digital/analogue hybrid product in the form of their Liquid Channel — a high-end voice channel that had the ability to emulate a number of different preamplifiers and compressors using a new core technology called Dynamic Convolution, licensed from its inventors Sintefex. Liquid Channel was to win the accolade of Best Microphone Preamp in the 2012 SOS Awards, voted by the readers of Sound On Sound. Liquid Mix, a more affordable application of the technology, was spun off a year or so later. "They were very successful products for a period of time" says Dudderidge, "but I think everyone who wanted one bought one, and once we saw the sales falling off, we had to make a decision again."
Crisis? What crisis?
When the financial crash of 2008 hit, causing a widespread recession whose effects are still being felt by some UK businesses today, Focusrite was in a better shape than many to survive it. In fact, they were to do a great deal better than just survive it. "In September 2008 we had a growth-oriented budget for 2008/9 and everyone was saying 'what's going to happen?' because the banks were melting down" Dudderidge recalls his response: "I told everyone that unless we were absolutely forced to change by circumstances, we were going to stick to our plan. We had a very up-to-the minute product range, with the first generation of Saffires now replaced by the second-gen design, and we had no debt. That year, 2008/9, we didn't grow, but we didn't decline either, and from there on, it has been all steady growth.
"We set up a direct sales office in Germany to service the German retailers in 2009 and then our US office a year later. At that time, we were disappointed with our sales volume in the USA so we came to an agreement with our distributor to divide the role. They still distribute the products and bill the retailers, but our Focusrite Novation Inc subsidiary manages marketing and relationships with the primary resellers, as well as providing customer support for the Americas. A lot of marketing these days is channel marketing where we partner with the retailer in their marketing activities, on-line or otherwise, and that's something we can do much more effectively ourselves locally rather than delegating it to a third party. That relationship with our distributor has worked extremely well — we've grown from selling about $5 million a year when we made the change in 2010 to about ten times that today.
Success and succession
Phil Dudderidge took back the role of Managing Director from Simon Blackwood in 2007, who had joined in that role in 1997, and recalls the period that followed with a particular fondness. "We were having incredible growth and success, and I particularly enjoyed being closely involved again during those years but I also felt we needed to put some succession planning in place. Dave Froker — the same guy I dealt with back at the start of our association with Digidesign — joined us as CEO in 2012 and I became Executive Chairman. Dave did a great job. He came to us with a huge amount of experience, at Avid, the Stanton Group and later Line 6, and worked closely with me and the rest of the management team on our IPO (Initial Public Offering). Dave was with us for five years before deciding to retire and return to San Francisco where his family is from.
"Tim Carroll, who became Dave's successor as our CEO, actually worked for Dave Froker at Avid back in the early 2000s, and had risen to a very senior position, effectively acting as the head of the audio division, before he joined us. I can't think of anyone in our industry whose experience would have made them better equipped than Tim. He's a very bright guy who leads from the front, and we are very fortunate to have him.
The heart of the business is still the continued organic growth of the Focusrite and Novation brands, but we do also have serious ambition to make a strategic acquisition.
Having a CEO means that I don't have a day-to-day management responsibility — I preside over the PLC board, and work with Tim and our CFO Jeremy Wilson on our plans for the future. The heart of the business is still the continued organic growth of the Focusrite and Novation brands, but we do also have serious ambition to make a strategic acquisition of some good adjacent technologies in the next few years*. The structure of the business is such that the public company is a holding company with Focusrite as its sole subsidiary, so that allows us to contemplate buying a business of some size and standing that could fit under that structure, not being absorbed into Focusrite the operating company, but sitting alongside it as an equal partner.
Sound On Sound's Sam Inglis hands over another reader-voted SOS award to Phil Dudderidge."Under Tim's leadership, we've actually 'divisionalised'thebusiness now,and created Focusrite Pro as a sales, marketing and development division of the company, which means we no longer have the same people trying to address both the professional and consumer markets. Our Clarett interfaces might be seen as the transition between the consumer and professional worlds, used a lot by people who would describe themselves as professional rather than 'prosumer', but I'm not one for drawing hard lines between market segments. I think there is a continuum from the amateur musician right through to the highest-level professional, and that continuum is usually just based on factors of time and success."
Focusrite's RedNet digital audio networking sub-brand forms the major component of the Focusrite Pro division. Phil Dudderidge explains its provenance: "RedNet started with Rob Jenkins recognising the potential shortcomings and limited lifespan of Firewire and being approached by the Australian company Audinate, the original developers of the Dante protocol. They had some prototype boards, but they were still developing the software. Their initial market was seen as live sound and install applications, but Rob saw the potential for it to be extended into the recording world if they made some changes. We spent the first few years of our relationship defining what they needed to do to make it work in real-time in a recording situation, and being able to overdub, etc. We saw the potential of low-latency networked audio in professional environments such as multi-room studios, as well as at the level of our existing 'professional project studios' and upwards, but there's actually a lot more potential than we realised. We were initially focussed on the market we knew — recording, pro-level project studios and above, so this wasn't going to be a project for the masses. Maybe one day, as the cost comes down, it has the potential to just clean up the studio by removing wiring, but ten years ago that wasn't the centre of our attention. We definitely had a strategic desire to move back up into professional circles with our product range and not remain headed solely downmarket — having started at the top end of the market, we had no particular desire to leave it."
Focusrite describe the Red 4Pre as the pinnacle of their audio interface range.
"Employees are what make a business"
"Employees are what make a business, and we now have quite a substantial team of both hardware and software engineers. There are some key people who have been with us for decades and who have played key roles in the direction of the business, although of course we have to be careful never to be too dependent on a single individual. We have about 80 people in our development departments now, out of a total of something like 185 in the business in the UK including a software team based at Tileyard in London, where we have 14 who work on our very successful Ampify apps and other software, and we have a few more software people who work remotely in this country and abroad. We also have our subsidiaries in the USA for marketing, where we have about 33 people now. We have a substantial customer support department there in Los Angeles, as we do here in the UK and in Hong Kong — we are endeavouring to provide 'follow the sun' support, without running any one office 24 hours a day."
I can't see the sun setting on Focusrite any time soon, nor indeed on the man himself. In his own words: "I have no particular thoughts of retirement. I think if you asked most people approaching the age of 65 it is almost programmed into them that they ought to be retiring, but I'm now 70, and still feeling much as I did when I was 65. I enjoy overseeing the business: when it goes well, it is a very satisfying thing to do"
* As this piece was being prepared Focusrite announced the acquisition of leading studio monitor company, ADAM Audio GmbH of Berlin, Germany.