Inside Track | Secrets Of The Mix Engineers:
Steve Greenwell knew he wanted a live feel for Joss Stone's second album of soul covers, but finding the right mix was more of a challenge.
Steve Greenwell with Joss Stone at Blackbird Studios, where Soul Sessions Volume Two was tracked.
British singer Joss Stone began recording her debut album The Soul Sessions two days before her 16th birthday in April 2003. Released in September of that year, the collection of R&B and soul covers was lapped up by the public, going three-times platinum in the UK and platinum in the US, Canada and several other countries, and made Stone an international star. Nine years later, following four further albums of original material, Stone released The Soul Sessions Volume 2, explaining that she wanted to revisit the approach in a way that reflects where she's at today, as an experienced artist and a grown-up woman. Many reviewers have highlighted the old-meets-new aesthetic of Volume Two, which sees Stone and her ace band giving authentic and stomping and heart-rending renditions of classic songs like The Chi-Lites' 'Give More Power To The People', Womack & Womack's 'Teardrops', Sylvia's 'Pillow Talk', and an old-style reinterpretation of a modern song, the Broken Bells' 'The High Road', all set in a sound-image that's distinctly modern.
Continuity between the two Soul Sessions albums was enhanced by the involvement of two Steves who have been at her side for much of the past nine years. Steve Greenberg is a producer, head of S-Curve Records, and the man who initially signed Stone to his label. He's not to be confused with Steve Greenwell, who has engineering and/or mix credits on all Stone's album to date, apart from 2009's Colour Me Free. Greenwell engineered and mixed all of The Soul Sessions Volume 2, and was primary producer, while Greenberg acted more like executive producer.
Greenwell began his musical career playing "bass in bars" when he was 16, and graduated from the Institute of Audio Research in New York in 1992. He further cut his engineering teeth as a staff engineer at Chung King Studios, and he's worked with Ultraviolet Sound, James Maddock, Diane Birch, Andy Grammer and the Jonas Brothers, enjoying three Grammy nominations. Greenwell currently works out of his own recording facility in New York, called Stevestudio, which is close to Times Square, and sports a Neve VR60 with Flying Fader automation.
Greenwell explains how the songs were chosen. "One of the best things that Steve [Greenberg] brings to the table is his A&R capacity. He compiled a folder of maybe 50 songs, and I had them on my laptop and Joss and I would sit together and play them, and she'd say which ones she felt like doing. Late last year we recorded a demo version of the song '(1-2-3-4-5-6-7) Count The Days' at Sear Sound in New York, but the rest of the album was recorded in March of this year at Blackbird Studios in Nashville, with the main tracking sessions taking eight days, and horn and percussion overdubs, as well as some vocal overdubs, six days. After that we went to Sono Studios, near Prague, where we recorded strings and a few vocal takes, and finally I mixed everything at my own studio.
"We worked at Blackbird because Joss had done her LP1 record [2011] there with Dave A Stewart co-writing and producing, and she feels comfortable there. The other reason was that by going out to Nashville there would not be too many people surrounding us and we'd have more chance to be left alone and get things done."
Joss Stone and drummer Tony Royster Jr, who was hired on spec by Steve Greenwell and proved a hit.
"We would listen to the reference track and we'd talk for around 30 seconds about whether this was a song we wanted to do, and then for about 20 seconds about the tempo the band was going to play, and then we set up a click. The band then went in and messed around with the songs for a bit, and after that we'd identify the best key for Joss to sing it in. For the most part, we would just let the band do whatever they were feeling. We trusted them. They are all great musicians with great sensibilities, and I rarely felt that I had to go in and discuss the musical direction with them. The same for Joss. Very occasionally, she wasn't feeling the song and then she'd stop right away and would ask: 'Is it dragging?' or say: 'Slow down!'
"The band was playing everything live. I had Clayton in a booth with his Wurly and a piano and Raymond in the big room with a B3, Fender Rhodes, a Clavinet and a Moog. Ernie's guitar cabinets were back in the hallway, the bass cabinet in an amplifier closet, and Joss had her own vocal booth. If there was an acoustic guitar, it was played in another small booth adjacent to Joss's booth. She sang live with the band, but I really wanted to make sure that she did not wear out her vocal cords, so most of the songs were recorded in four or five takes each. She'd sing with the band in a sensible way, and then probably laid down a couple of full-on vocals with the band. In that way, she sang less than 10 real takes a day. Ninety percent of her vocals were recorded with the band. If you listen carefully to the record, you can hear the interactions between her and the musicians on quite a few songs, especially during the last 20 or 40 seconds. She's comfortable with that and feeds off that. When she can record in a way that's analogous to a live performance, it makes the whole recording process much more enjoyable.
The Pro Tools Session for 'While You're Out Looking For Sugar'. Drum tracks are at the top, keyboards and other instruments in the middle, and vocals at the bottom. "Once we had recorded four of five takes of a song, we'd listen to the last two or three, and she'd say something along the lines of: 'I'd like the first half of this take and the last half of that take.' So I'd edit them together and she'd live with that for a while, and we'd do anything needed in terms of fixing things, just small punch-ins, or adding things. And later she'd sing backgrounds. Of course, all this meant that we were making decisions early, which is something that people don't do often enough during tracking any more. They want to be able to edit and change things later on. But the arrangements on this record were the arrangements that the musicians played. The last thing I wanted to do was get into trying to take drums from one take and put these into another take. All these things were addressed during the rehearsals, which were the first three takes. It's old style, and it plays into the brand of Soul Sessions, which is basically a live record. This new record is probably even more live than volume one. I recorded to Pro Tools, but most songs could have been recorded on a 24-track analogue tape.
"I tried to keep my comments to the band and to Joss to a minimum, because I don't like to fill people's heads with loads of information. I just let Joss sing the way she was feeling each song. She's not going to sing a song if she's not feeling it. For me it was like: 'Steve, just capture her, it's Joss Stone!' I might occasionally give her some feedback while she was singing, but that was it. We also never tune her vocal. One of the things we learned while we first worked with her as a 15-year old was that there was something unusual about her way of singing: she can sing flat and still sound great. We realised that these were just blue notes. If I felt that a note was a little too blue, I'd point it out to her, but if she decided that it didn't bother her, it would be the end of the discussion."
"I approached most recording gear from the vintage point of view," recounts Greenwell. "It was the same with Soul Sessions 1. I used older guitar and bass amplifiers and Remo Coated Ambassador drum heads and things like that. All microphones I used were vintage, apart from the Royer 121s. Pete had four or five basses and I asked him to put flat-wound strings on all but one of them. So it was all about getting the sounds right at source, and then recording them with vintage signal paths.
"I recorded the drums in a similar way as on Soul Sessions 1, though I work in the moment a lot, and like to try out different things.
This rather blurry cameraphone photo from the Blackbird sessions shows Tony Royster Jr's drum kit, with M/S pair as overhead and Sennheiser MD421s on each tom. That's the beauty of tracking! I had a Neumann U47 FET in front of the kick, a foot or so away; and an AKG D12 inside the kick, aimed at the beater; on the snare top a Shure Unidyne II taped together with an AKG C451; and underneath another Unidyne II. There were six Sennheiser MD421 mics on the toms, top and bottom on each of them, and a Shure SM77 on the hi-hat. On this record, I had an M/S pair above the kit, with a Royer 121 above the kit as the side mic, with polar patterns facing horizontally, and a [AKG] C12 as the middle mic, and those were my overheads. I also had two Neumann U47s as room mics. The kick and snare mics came in via Neve 1073s without a lot of compression. I prefer to make those decisions during the mix. I also had a Neve 2254 on the kick, as well as a [Empirical Labs] Distressor on one of the snare mics, and I used a [Universal Audio] 1176 lightly on the 451. The toms went in via the API desk, and I didn't compress them.
"The bass amp was an Ampeg B15, the same model I used on Soul Sessions 1, on which I had an AKG D12 pointing towards the centre of the speaker cone and a Neumann U87 further back, pointing at the outside. I also recorded the bass via an Avalon D5 direct box. I had three guitar cabinets: Fender Vibrolux, Fender Twin Reverb and some small Supro they had at Blackbird, but only miked up two at a time, with a Shure Unidyne II and a Royer 121 on each cabinet.
Three vintage guitar amps were used: a Supro (nearest camera) and two Fenders. All four mics came up on the API desk before going into Pro Tools. I wanted to go really raw with the B3 and get a big and full sound, so I threw three Neumann U67s on the Leslie, which was in a separate booth. The piano was recorded with an X-Y pair of Royer 121s placed in the hip of the piano for the first six or seven songs, but then I began to get nervous about everything sounding the same and I began nudging mics to different spots and also placed two small AKG C12 mics in near-coincident position outside of the piano. On 'Nothing Takes The Place Of You', I wanted the piano to sound more like an upright, and I placed one of the C12 mics underneath the piano and used just that mono signal. The piano mics came in on some Telefunken V76 mic pres.
"I had an [Telefunken] Elam 251, a Neumann U48 and a Shure SM7 in Joss's booth, but all her vocals were recorded with the Elam 251 going into a Neve 1073 and then an Avalon 737 for compression and EQ, and also a lightly touched [Teletronix] LA2A. The day after we finished the sessions, the band packed up and we tore down the room, and the next day the horn players came in and I set them up and used the old RCA 77 and 44 mics on them, as well as some Royer 121s. All these went through Neve 1073s. A week after the Nashville sessions, Joss and I went to Sono Studios outside Prague, to record a 30-piece string orchestra. I let the owner, Pavel Karlik, work his room and his equipment, but basically he placed two or three spot mics 4-5 feet away per section, and also used a Decca Tree and two Neumann U87s as room mics at about five feet above the ground. Joss also sang two lead vocals in Prague, for good reason. The songs were 'Then You Can Tell Me Goodbye' and 'One Love In My Lifetime'. She had sung overdubs on these in Nashville, but she wasn't really feeling them, and was not happy with her interpretation. Once the strings had been overdubbed, she immediately knew how she wanted to sing these songs, and so, in typical Joss Stone fashion, she went in the next day, did three takes of each. She goes in, she warms up with the first take, then does it again and it's really good, and the third take is even better and that's it. I recorded her with a Neumann U56 — I'd never seen one before — going into a custom-made mic pre and compressor at Sono."
The aim of the tracking sessions was to capture live performances that did justice to the songs — as charted here in unique graphic form.
Given Greenwell's old-style approach to the Nashville tracking sessions, during which he presumably recorded everything exactly the way he wanted it, one could be forgiven for assuming that the mix would be simple. Apparently, however, some very modern concerns made the situation rather more complicated. He sighs, "I wish it had been that easy. But when I came back from Prague, I carried the hard drive up to my studio and immediately began mixing. That is one of my least favourite things to do. For some reason, a discussion like 'Why don't we send Steve to the Bahamas for a week to clear his head?' never took place! I find mixing stuff I have also tracked a little more difficult than getting a DVD with a session, when I can simply be Mr Mixer. And in this case I never stepped away from the album, and I mixed everything alone, and that made it even more difficult.
"During the last 10-15 years, I have learned to step back and be objective and not get caught in the forest, unable to see the wood for the trees, but with this particular record I initially really was not sure exactly how I wanted it to sound. I'd been in a situation with six or seven musicians and a singer in the room, making sure that she was happy and juggling all the other things that had to be done in the studio, and so I focused on that while in Nashville. I don't think I thought much about how I wanted it to sound. I just wanted to track a gorgeous-sounding record to the best of my abilities. In Nashville, we had the wow factor of playing everything back on the big monitors [ATC 300s], but when I came back to New York and listened to the rough mixes from Nashville on my NS10s, I was appalled at what I heard! I immediately sent an email to Steve Greenberg apologising for how the rough mixes sounded. I then started experimenting with how I did want things to sound, and this took up 10 days. This is why mixing the entire album took me about a month."
Greenwell's main concern was to retain the warmth, authenticity and aliveness of the Nashville sessions, but at the same time make sure that the mixed sounded up-to-date, and would be able to compete with what's going on in music today, in terms of presence and loudness. This meant putting the equipment in his studio seriously through its paces. Stevestudio has the aforementioned Neve VR60 with Flying Faders, while monitoring is provided by Yamaha NS10s ("they are my bread and butter") powered by MacIntosh MC50 power amps, with a KRK subwoofer, plus Dynaudio BM5s, Focal Twin 6s and Adam A7s. Outboard includes two Teletronix LA2As, Urei 1176s, Empirical Labs Distressors, Avalon 2055 EQ and 737SP channel strip, four channels of SPL Transient Designers, two Dbx 161 compressors, a stereo SSL 384 stereo compressor, and a rack of Dbx 160 compressors. The digital side is provided by a Pro Tools HD3 Accel system with assorted plug-ins, some of Greenwell's favourites being the SoundToys Devil-Loc Deluxe and Echo Boy, McDSP FilterBank, Bomb Factory B76, Audio Ease's Altiverb, and the seemingly omnipresent Avid Lo-Fi.
Steve Greenwell: "When I was tracking in Nashville, I did not do much in terms of pre-mixing. I applied a handful of my trusted plug-ins and that was it. If I wanted to make something sound more gritty or crusty, I would throw on the Lo-Fi with the FilterBank on high- and low-pass. Those two plug-ins are big for me, when I want to blow up the kick drum or snare sound, or something like that. So that vibe was there. On 'While You're Out Looking For Sugar', that is a big part of that snare sound. I put that on really early, maybe on the second take. Other than that, I'd only applied some automation while Joss was laying down her backing vocals. But not much, because I was concentrating on her singing. So in many ways I was mixing from scratch when I opened the sessions at my place in New York.
"When mixing, I break my mixes out to anywhere between 26 and 32 channels [on the mixer]. I bring all my kick microphones out on one channel, all my snare mics on another channel, and toms, overheads and rooms, bass, rhythm guitars under two faders each. The lead vocal gets its own channel, all the backing vocals have two channels, and so on. I try not to have too many auxes in Pro Tools and then bring these up on the desk. If I have six microphones that go to two faders, I will just assign them to the two outputs, rather than bus them through an aux and then bring that up on the desk. When I begin a mix, I usually push all the faders up to get a general musical balance, and then I mute everything and will initially work just on the kick and snare. I'll then assign things to the A cut and B cut buttons, so I can listen just to the drums on the A cut bus, while the B cut bus allows me to hear drums, bass and guitar, or something like that. After working like that, and having brought in these elements, I will introduce the vocal and will work on that, deciding on the chain depending on whether she's singing hard or soft. After that, I'll again look at the drums and bass and bring in other elements. I prefer not to pre-judge what I want everything to sound like. I prefer to allow the energy coming from the recording to tell me what to do."
Drums: Avid C1 & Lo-Fi, McDSP FilterBank, Sound Toys Devil-Loc, SPL Transient Designer, Empirical Labs Distressor, Neve desk compressor.
One of Steve Greenwell's favourite plug-ins is Sound Toys' Devil-Loc, which saw a lot of action on the drum tracks, as here on the hi-hat in conjunction with McDSP's FilterBank.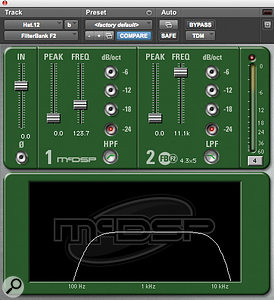 "Mixing 'While You're Out Looking For Sugar' was a big learning experience for me. One major issue was to have the kick drum play between the beats, which really enabled the song to feel right. When it came to the mix, I was aware that everybody wants a big, fat kick drum, and this means that I'm a good mixer, right? So I'm getting the drums to pound, particularly the kick, like I would do on any other mix. But the next day I realised that the kick could not be loud. The kick drum in this song is like the yin to the rest of the song's yang. So on this song I took out some of the 47FET on the kick, because it made the bottom end sound rather clunky, and had more of the D12 in the mix, which allowed the kick to be heard, but for it not to be so big that it interferes. The snare sound on this song is also pretty radical, especially given that it was played live in the studio. I did not add any samples on this record. Getting the right snare sound also took some time.
"I went through fits over this particular song. It took me a few days to really understand the way it would feel the best. Getting the snare and the kick right were major issues, and on the intro and the bridge of the song I moved the hi-hat around between takes. Tony had played 16th notes on the hi-hat during these sections in the first few takes, but for some reason he played eighth notes during later takes. The 16th notes gave the energy that I was looking for, so I went back to take two or three and cut the hi-hat part and pasted it in the later take we were using, which I think was take five. Tony plays like a machine, so this was not a trauma, I didn't have to line up each hit. Other than that, the guitars, bass, organs and so on received pretty much stock treatment. Many tracks I barely touched.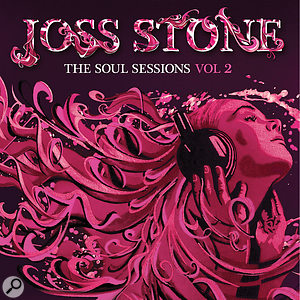 "As I mentioned earlier, I put some plug-ins on the snare and the hi-hat. The top snare 57 mic has the Digidesign C1 gate/expander, Lo-Fi and Filterbank, while the top AKG 451 has the Lo-Fi and Filterbank. The hi-hat has the Devil-Loc, I needed it to sound radical in this track. Insofar as outboard is concerned, my kicks go to one of my Transient Designer units and then there's some light Neve onboard compression. The snare channel went to my Distressor and my second Transient Designer and also has a bit of onboard Neve compression. These inserts on the snare and kick on the desk are pre-EQ. My overheads and room mics came up on channels 7-8 and these went through my third and fourth Transient Designer units, and that was it for the drums."
Bass, Guitar & Keys: Dbx 161 & 160A, Bomb Factory BF76, Waves L1, Avid D-Verb, Sound Toys Devil-Loc, Empirical Labs Distressor.
"Even if my bass was recorded only on one track, it will still come up on two channels on my Neve board, in this case 11-12. They went into two Dbx 161 compressors; just set to a ratio of 3:1 or 4:1, that gives the sound a bit of bite. I also used some Neve channel compression on the bass. The two Bass07 tracks go into the third bass track next to it, which is an aux, on which I have a Bomb Factory 1176, because I side-chained that bass aux with the kick drum. Side-chaining the bass with the kick was a big part of making this song feel good. I still remember the elation I felt when I plugged my iPod in my car and played the song and it sounded great. Finally, I was a free man! There are more bass tracks to the right of the aux bass tracks, because I wanted the bass in the intro and bridge to sound different.
"Next are two piano tracks that go into a piano aux track that has an L1 limiter on it. The outboard on that was a Dbx 160A compressor. The next tracks are the three B3 mics, and they go into a B3 aux which has the D-Verb: pretty primitive! The outboard on the B3 was again the Dbx 160A. There are six more keyboard tracks, including B3 tracks and 'KyL' and 'KyR' (keyboards left and right), but they had no outputs and were not used. The guitar ['11211', which was the Royer 121 mic] has the Devil-Loc on it, was panned to nine o'clock in the box, came up on channels 13-14 and had a Distressor on the insert on the board."
Vocals: Waves De-Esser, Bomb Factory BF76, McDSP FilterBank, Avalon 2055 & 737, Teletronix LA2A, Audio Ease Altiverb, Sound Toys Echo Boy, SSL 384, Avid De-Esser, Neve desk compression and EQ.
Joss Stone's vocal was given a sense of space using Audio Ease's Altiverb, running a plate impulse response, and Sound Toys' Echo Boy.
"'LVC12' is the lead vocal track, which has a Waves De-Esser, Bomb Factory 1176 and FilterBank. (Voc 12 has no output, it was the other mic that was in Joss' booth.) From the desk, the lead vocal went into the left side of my Avalon 2055, then into an LA2A, then the line input of the Avalon 737 compressor and EQ, then through an 1176, and then back into the console. This was all on the insert. It's a vocal chain that I often use and that allows me to do a lot of things. I can compress gently, get the attitude of an 1176, and sweeten things with the Avalons. The 'VRB1' and 'Dela' effects tracks are for the lead vocals, and have the Altiverb and Echo Boy on them. There are three backing vocal tracks that go into Aux 2. One of the backing vocal tracks has the Digi de-esser, and the backing vocal Aux has the Waves De-esser, Bomb Factory BF76 and the FilterBank. The backing vocals came up on channel 23-24 and went through my SS 384 stereo compressor. All vocals have Neve desk compression and EQ."
Final Mix: Waves L1
"The stereo mix came out of the desk and into the Aux track, on which I put an L1 Ultramaximizer, and I then routed that to a stereo audio track, 'WY01', which is where I print all my mix passes. I don't do recalls any more these days. Instead, once my mix is approved, I create a stem session, and print a kick stem, a snare stem, a drum stem (hi-hat, overheads and room mics), a tom stem, a percussion stem, a bass stem, a guitar stem, a piano stem, an organ stem, a miscellaneous key stem, a vocal stem, a backing vocal stem, and an effects stem. I don't go through the L1 to print them, but straight from my console onto Pro Tools tracks. Once I have all my stems in a stem session, which I call my pre-master session, I route them through that L1 aux. I can A/B these against the approved mix. Once my final stereo mix has been approved by everybody, I compare it to the stems in the box, and then I 'approve it further' as I call it. I am a little sneaky! Nobody seems to notice that something is different, and until the deadline has arrived I can always make it better. So my actual final mix comes from my stems. My final mix goes through the L1 Ultramaximizer and then to that same audio track the original board mix was recorded to. When I know for sure that this is going to be the exact mix that I am going to send to mastering, I prepare a special mix that I label 'For Mastering', and that is where I go to my L1 and I decrease the output by about 7dB, to give the mastering guys some headroom. And that's it."  
"We really wanted to make a killer record and having the right band was key," says Steve Greenwell. "Joss wanted to have Ernie Isley on guitar and also for her regular touring bassist, Pete Iannacone, to be there, who is a phenomenal, super-funky player. We had Raymond Angry on keyboards and brought in Clayton Ivey as well, who lives in Nashville and played piano on Aretha Franklin's 'Say A Little Prayer'. He had worked at Muscle Shoals and was the first person to play piano on a Little Richard record. We also had Will McFarlane in Nashville, who came in for two days when Ernie did a gig out of town. Steve Bryant came to my studio later and played a nylon-string acoustic on 'Then You Can Tell Me Goodbye'.
"I felt that a blend of young and old would be key to the band, so I did some extensive research on-line to find a drummer that I did not know. I have a list of drummers that I work with regularly, but I really wanted to find someone new, and after some extensive online research I found some instruction videos by Tony Royster Jr that blew me away. I could find only one recording credit for him at allmusic.com, but discovered that he'd been Jay-Z's touring drummer for four years. He grew up playing old soul songs with his father and uncles, but now has this urban, street sensibility, and that blend meant that he was exactly the right man for this record. I really stuck my neck out to have him on the album and give this guy what I felt was going to be his big break. Joss loved the way he played!"