Reactive Load & Speaker Simulator
Widely touted as Boss's response to UA's popular OX, the Tube Amp Expander actually offers a contrasting approach. Will one of them be a clear winner?
When the Boss division of Roland announced their Waza Craft Tube Amp Expander (let's call it the TAE) at Winter NAMM 2019, many people saw it as a direct challenger to Universal Audio's OX tube-amp load box and speaker simulator. And in some ways, it is: it undoubtedly targets a similar user and fundamentally seeks to address the same issues arising out of the use of tube guitar amps, both on stage and in the studio.
At the same time, however, it's a very different solution, based on some fundamentally different design choices. Where the OX uses a dummy load with a single, fixed impedance curve, the TAE has a choice of 16, able to be derived from its Resonance and Presence switches. Where the OX uses dynamically modelled speaker simulation, the TAE exclusively employs speaker impulse responses (IRs). Whilst the OX's footswitch facility is, "as yet", almost entirely unimplemented, the TAE has a comprehensive footswitch option available from day one. Where the OX's software editor requires a wireless connection, the TAE's app connects via USB. Finally, and perhaps most significantly, whilst the OX offers an attenuated speaker output, the TAE feeds its post-load signal to an integral solid-state power amp to derive a speaker-level output. Anyone still thinking they are "basically the same"?
Physically, the TAE is a 2U black box, slightly narrower than the normal 19-inch format, but rackmountable nonetheless via the included adaptor rack ears. The reactive load that receives the speaker output of your tube amp is switchable between 4, 8 and 16 Ω settings, with a three-position power-matching switch offering a choice of 10, 50 and 100 Watts, for internal level optimisation. Maximum power input is spec'ed at 150 Watts, and there is a 16Ω 'safety load' in place if you forget to power up the TAE before switching on a connected amp.
If you were just using the TAE to get a big tube amp into its sweet spot at a lower volume, you'd plug your amp's speaker output into the TAE and then take your actual speaker signal from one of the two speaker outputs, using the front-panel Speaker Out knob to give you a continuously variable level control from nothing to everything, and all points in between. So far, so simple, but we are not done yet...
There are two reactive load controls on the front panel — Resonance Z and Presence Z — that between them can be used to modify the impedance curve of the load presented to the amplifier's output transformer. We tend to think of speakers purely in terms of their nominal impedance — usually 4, 8 or 16 Ω in the guitar world — but the actual impedance will vary significantly across the whole frequency range of the speaker, with a big peak at the bottom, around the resonant frequency of the unit, somewhere between about 55 and 95 Hz, followed by a slow rise through the average value, with a gentle tip-up at the end. The resulting impedance curve is fundamental to the way cone drivers are made and it's not surprising, therefore, that all guitar speakers exhibit a similar basic shape in their free-field impedance plots. There are differences between designs, however, and even more differences when the effects of different enclosures are also factored in. The impedance curve that the output stage of the amplifier 'sees' affects the power transfer (along with the phase angle, but let's not go there) at different frequencies and, in conjunction with the basic frequency response of the speaker, determines how the speaker, cabinet and amp combination will actually sound.
Early designs of dummy load for tube amps were usually purely resistive, which means their impedance did not vary with frequency like a real speaker. Players often reported needing to make significant changes to their amps' tone-control settings to try to compensate, and also that they made the guitar feel 'stiff' and less responsive under the fingers. The 'reactive' dummy load — ie. a load exhibiting an impedance curve — was developed to present a more speaker-like load to the output stages of amps, and what we have here in the TAE is a further development of that in the form of a 'tunable' reactive load that allows you to approximate the impedance curve of a number of different speakers and enclosure types.
With the tube output stage driving the dummy load, the speaker is fed from the TAE's own power amp.
The Resonance Z control tweaks the bottom end of the impedance curve where the speaker's resonant frequency lies, while Presence Z shapes the top, with both four-position switches simply labelled Lo, L-Mid, H-Mid, Hi. For anyone not sure how to set these, there's a helpful matrix printed on the top panel of the TAE (and in the documentation, of course) that gives a recommended combination for 10 popular cabinet types.
These aren't EQ controls, although they will appear to function as subtle ones, but rather the means to make the connected amplifier behave as if it is driving not just 'a speaker' but a specific speaker or cabinet. The logical goal therefore is to match the settings to either the physical speaker that you've connected to the on-board power-amp output, or the virtual speaker whose IR you are using via the line output. What happens when you 'mismatch' the impedance curve setting ranges from the very subtle to 'something's not quite right'. To put this into some perspective, however, you can just set Resonance to L-Mid and Presence to H-Mid, or vice versa, and the majority of internal cabs and decent cab IRs will sound OK with some EQ tweaking. It's only when you want to make something quite specific sound as 'real' as possible, such as emulating a thunderous 'Dual Recto into a deep 4x12' perhaps, that absolutely optimising the impedance curve setting becomes crucial.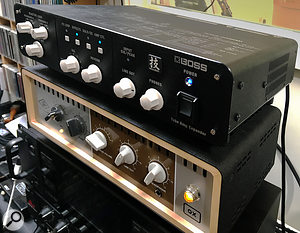 The TAE (top) was compared with the Universal Audio OX — each has its relative strengths that will likely hold appeal for different players.The OX's single, fixed impedance curve is somewhat akin to leaving the TAE's reactive load controls set on L-Mid and H-Mid, and perhaps explains why some people feel there are a few amps that don't quite seem to give of their best with it using their normal settings. But the OX uses a dynamic modelling process for its speaker simulation, rather than the fixed transfer characteristic of IRs, and given that the load is a constant, the modelling can seek to create an appropriate response for whatever virtual cabinet type is selected. TAE users browsing through cab libraries should ideally remember to check the impedance curve setting for each significantly different type to be sure they are hearing it at its best. On the plus side, however, with the right settings, they will know that they have an optimised impedance curve and that their amp should definitely be performing very similarly to how it would with a real speaker/cab of the selected type.
The TAE's attenuator is always at full attenuation because there is no 'speaker through' signal being used to drive a real speaker. This contrasts with the OX's stepped attenuation of the amp's output. With a varying amount of the 'real speaker' load involved as well, maintaining consistent tonality across all the steps of an attenuator is a real technical challenge, and...
You are reading one of the locked Subscriber-only articles from our latest 5 issues.
You've read 20% of this article for free, so to continue reading...
Option 1: Buy and download this single SOS article in Adobe PDF format
For less than the price of a coffee shop drink, buy this article now and immediately download the PDF file to your computer or smartphone.
Single article PDFs look identical to the printed magazine layouts (but exclude advertisements).
Note: Some shorter articles don't always have a PDF version.
Option 2: Buy a great value DIGITAL subscription (or Print+Digital) and open ALL web articles & Full Issue PDFs instantly!
It opens ALL premium web articles, plus our Tablet edition App, and now includes your monthly FREE Full Issue PDF download (worth

£3.99

$5.99

each).
Or contact our Subs staff to discuss an upgrade price to add Digital access to your existing Print subscription.
Option 3: Buy & Download TODAY the Full Issue PDF
From January 2018 edition, we began selling a FULL ISSUE PDF 'replica magazine' for the cost of a handful of single PDF articles. More info...
Try these FREE sample FULL ISSUE PDFs on us!