I keep reading that it's a good idea to use reference tracks when mixing, but when should I be referencing other mixes — and what exactly is it that I should listen for?
Jim Dodd, via email
SOS Contributor Mike Senior replies: Referencing your work in progress against commercial mixes is something that you might do at any point during the mixdown stage, in order to give your ears and brain a more objective benchmark when you're making critical mix-balancing decisions. However, in my experience it's easy to lose track of your own vision for the music you're working on if you reference every little mix move you do, so in practice I'd normally only pull out the comparison CDs under the following circumstances:
Just before the mixing session, or during breaks.
When you've got a decent static mix balance sorted out.
In the first case, the purpose of the referencing isn't anything specific. It's mostly just to recalibrate your ears to known material, so that you head off any obvious problems in good time: for example if you've just dialled in too much low end overall, or you're mixing a bit too wet in general, or you've massively overcooked your hi–hat levels.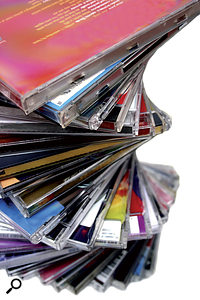 We've written many times in the magazine about the importance of sifting through your CD collection for high–quality reference mixes. But precisely when and where should you use them to best effect?It's only in the second scenario that it's worth bouncing out a mix in progress, and then lining it up alongside your reference material in a fresh DAW project. Here, you're much more concerned with how specifics of your mix relate to the reference material, so you need to ask yourself some questions. Is the balance sensible? Is the stereo image wide enough? How much low end am I using, and how does that compare with the market I'm aiming the mix at? This is one of the most difficult parts of any mix, in my opinion, because you can't just 'photocopy' the mix sound of the references, because they're never exactly the same as the music you're working on. You have to listen to the range of answers each mix offers for each mixing question, and then decide where you place yourself in relation to those. One mix might have more snare level than another, say, so you have to decide whether you match either of them with your own snare level, or split the difference between them somehow, or maybe deliberately take a more extreme stance. The point of referencing is that you make those kinds of decisions in as informed, and repeatable, a way as possible. Then when the artist says "there's too much bass" you'll have something sensible to say to them on the subject other than "but I liked that much bass"!
Referencing isn't just useful for mixing, though, because it can also help to keep you from misjudging many aspects of a recording while tracking, especially when you're working on location with monitoring equipment you're not tremendously familiar with. A few minutes spent referencing some of your test recordings against commercial material can head off all sorts of problems that would otherwise require time–consuming remedial mix work later on — especially if you're trying to judge bass levels and/or stereo width on headphones.