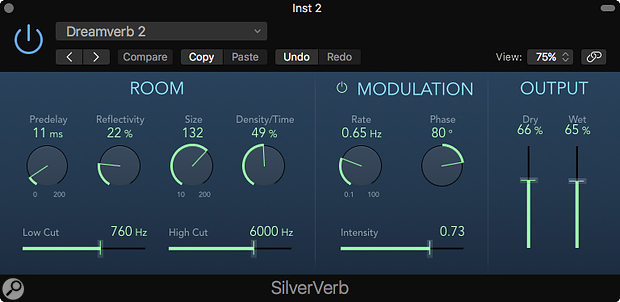 Screen 1: SilverVerb might be one of the older reverbs in Logic Pro X, but it is light on CPU.
Logic's Legacy plug-ins offer some great music-making tools — you just need to know where to look...
Geoff Smith is taking a well-deserved break from Logic Notes, so I'm stepping in with a few tips of my own. Geoff has done a fantastic job in covering the new Logic features as they emerge, but this month I'm going to focus on some of Logic's Legacy content that tends to get overlooked in the light of newer and shinier alternatives.
Logic has some great reverbs built in, from the super-realistic Space Designer to the recent algorithmic Chromaverb, accompanied by its display of coloured candy-floss fountains — though not on my old Mac Pro as the graphics card isn't candy-floss compatible, which means I still get the reverb but no fancy display. However, I'm not here to tell you what you already know but to look at some of the older offerings, including the humble SilverVerb. In fact I'm surprised SilverVerb hasn't been relegated into the Legacy folder along with PlatinumVerb and its friends. SilverVerb was one of Logic's original low‑CPU‑overhead algorithmic reverbs, even further down the food chain than PlatinumVerb, and I get the feeling that most users consider it as a second-class plug-in and don't give it a second thought. Don't dismiss it, though, as while it can sound a bit challenged on drums and percussion, it can do absolutely magical things when used on piano, guitar and wind instruments.
We're all familiar with the hardware equivalent of this story — a new more realistic echo, reverb or whatever comes along, but then we start to rediscover the joys of the old ones when it turns out that their shortcomings added to their musicality. This is certainly true of reverb, where...
You are reading one of the locked subscriber-only articles from our latest 5 issues.
You've only read 20% of this article, so to continue reading...
Option 1: Buy and download this single SOS article in Adobe PDF format
Buy this article now and immediately download the PDF file to your computer.
Single article PDFs look identical to the printed magazine layouts (but exclude advertisements).
Note: Some shorter articles don't always have a PDF version.
Option 2: Buy the Full Issue PDF **NEW**
From the January 2018 edition onwards, it is possible to buy a FULL ISSUE PDF 'replica magazine' (with adverts) for the price of a handful of single PDF articles, and instantly download it. More info...
Option 3: Buy a Digital subscription and open ALL web articles instantly!
A DIGITAL sub can be bought from our online Shop

Store

and used immediately. It opens ALL web articles, the tablet edition, plus Full Issue PDF download... or contact our Subs staff to discuss an upgrade price to add Digital access to your existing Print subscription.