There's more to great‑sounding reverb than loading and tweaking your favourite plug‑in.
No matter how good the reverb plug‑ins that you own are, there are times when the best results can only be obtained using additional processing, either before or after the reverb. In this article, I'll look at a number of techniques. Some can prevent the reverb clashing with other sounds and help it to sit better in the mix, while other options can add an impression of power, or inject interest and movement. For most of what follows, I'll assume that the reverb plug‑in is hosted in a bus fed by aux sends from the various source tracks in your DAW session.
Since reverbs add sound to a mix, they have the potential to obscure other sounds, and often cause a build up of 'mud' in the low and low‑mid frequencies. To counter this, try rolling some low end off the reverb signal with a high‑pass (low‑cut) filter. Assuming you're using your reverb as a send effect, try putting a 200Hz 12 or 18 dB/octave filter before or after the reverb. This should work pretty well for most sounds, including vocals. Similarly, rolling off the top end can help if the reverb sounds too sharp or 'glassy'. In a reverb, there's rarely much of use above 10kHz, so set a 12 or 18 dB/octave low‑pass (high‑cut) filter there and roll it down to taste. Engineers have combined low‑ and high‑pass filters on the reverb for decades — using both at once in this way is sometimes known as the 'Abbey Road reverb' trick.
More detailed sculpting is possible with a parametric EQ, but unless you particularly want to change the tonality of the reverb compared with the source there's usually no need. If you do go down this road, broad‑brush moves (wide‑Q or shelving boosts and cuts) are usually better, though if the reverb unhelpfully accentuates any resonances, esses or fricative sounds you can try countering that with narrow cuts. That said, there are often better tactics than EQ for that, as I'll explain later.
Some reverb plug‑ins include high‑ and low‑pass filters, so you won't always need to use dedicated EQ plug‑ins. Also note that other common reverb controls allow you to damp the highs or change the relative decay times of high and low frequencies; using these can sometimes sound better than filtering everything.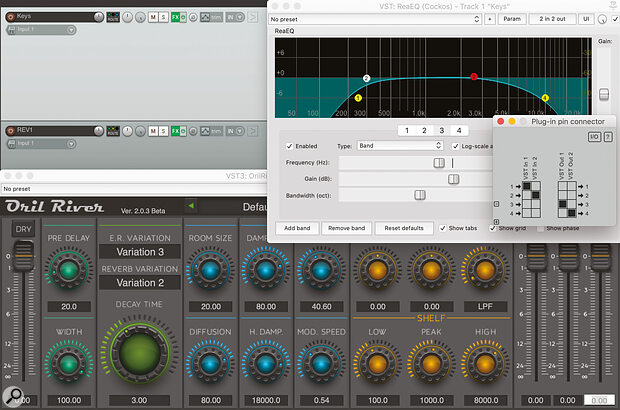 High‑ and low‑pass filtering a reverb can help it sit better in the mix. Neatly, Cockos Reaper can EQ the send differently for every source: each plug‑in's connector pin matrix allows you to route its output to separate channels on the same track, while letting the main signal through unaltered.
A separate EQ does come in handy, though, where several tracks share the same reverb but you see a benefit in EQ'ing the reverb differently for each source. To do that, create a separate bus for each source you're sending to the reverb and put an EQ on each bus. Then route these busses to your reverb track. This way, you can have a master reverb EQ on the reverb track, and an independent one for each source on its own bus. Reaper users can also EQ a send without this intermediate bus stage, as described in Martin Walker's SOS March 2020 workshop: https://sosm.ag/reaper-0320.
The signal routing for 'send and blend' reverb, whereby you use a channel's send level to blend between the dry signal on the source channel and a fully wet signal on the reverb's aux bus.
Normally, for a reverb set up as a send effect, you'd feed it with post‑fade sends from the dry sources. That way, if you change the source levels the reverb level will change accordingly. But if you want a sound to fade and leave only its reverb audible, to create the illusion of a sound moving into the distance, you can use a pre‑fade send instead: bring down a source channel's fader and you'll kill the dry sound but still hear that source in the reverb.
Taking this idea a step further, how about turning your send level controls into wet/dry blend controls, and making the source level fall increasingly as you send more of it to a reverb? Setting this up the first time can be a bit fiddly, but when you've done it once you can rinse and repeat fairly easily. For full details on how to implement this effect in your DAW, check out Matt's article in SOS January 2017: https://sosm.ag/send-and-blend.
Some musical styles demand a bright, 'steamy' reverb sound. Such effects can be problematic where vocals are already on the verge of becoming sibilant; the bright reverb exaggerates the problem. If the vocal sounds OK, though, de‑essing it risks introducing lispy artefacts.
The reverb channel can usually take a lot more assertive de‑essing than the dry source before the artefacts become distracting.
In this situation, you can try using a de‑esser on the reverb bus instead, with the de‑esser placed before the reverb. You can afford to be quite heavy‑handed with the de‑essing where required, as the blend of dry vocal and processed reverb will still sound natural. If the sibilance occurs in the same frequency range throughout the song, you may also be able to put a notch filter after the de‑esser to further dip the offending sounds. Alternatively, use a dynamic EQ, or try automating the source's send level to the reverb channel.
When treating percussive sounds, you may find that the attack of the reverb is too fast, and that this creates too obvious an effect. Some reverbs include an attack time control but many don't. If not, try placing a Transient Designer‑type plug‑in before the reverb. This feeds slower note attacks to the reverb without affecting the dry source, making the effect bloom after the original hit rather than sounding like a hard repeat.
The attack of percussive sounds can be unhelpfully smeared by reverb. To address that, try using a Transient Designer‑style plug‑in before the reverb.
You don't have to save this for percussive sounds; it can be a cool effect on various sources. And if you like to experiment, also try a transient designer after the reverb: take the attack right down and bring the sustain up to taste.
Sometimes, a reverb seems to muddy the mix yet still doesn't feel loud enough during pauses in the action. Before changing the reverb sound or getting into detailed automation, try using a ducker on the reverb signal. Put a compressor (or gate with negative attenuation capability) after the reverb, and set the compressor so that it reacts to its external side‑chain, rather than to the reverb channel's signal. Send the dry source (eg. lead vocal) to the compressor's side‑chain input.
Ducking the reverb by sending the source both to the reverb and to the side‑chain input of a compressor on the reverb track.
Now, the reverb sound should drop when the vocal is playing back, and swell up during the gaps in between. Use the compressor's attack and release controls to adjust the speed at which the reverb swells up between phrases, and how quickly it's brought under control again when the vocal gets louder again. Set these timings by ear.