The History Of Emu Systems
A number of hi-tech music manufacturers are celebrating important anniversaries this year and next. In the first of several articles on these companies, we look at the milestone products made by Emu, who drove the sampling revolution in the '80s.
Emu Systems will be celebrating their 30th anniversary in November this year with a small party at their head office in California. Whilst the founders have long since left the company, and moved on from the company's original modular synths and (later) samplers, they have remained close by. Dave Rossum designs soundcard chips for Creative in the building next door, and Scott Wedge flies his plane over Monterey Bay whilst dreaming up new patents. Back in 1972 these two high-school friends created what became a multi-million-dollar enterprise; one which inspired countless musicians and offered genuinely new ways to create sound. During 30 years Emu Systems have launched over 500 products, from vast analogue synths — now mostly long forgotten — to affordable digital samplers and the latest groove machines.
An image of the Eµ 25, reconstructed from contemporary photos of the components (both working models have long since disappeared). Photo courtesy of The Emulator Archive.To gain a better understanding of the company's three-decade history, we spoke to the founders, Dave Rossum and Scott Wedge, as well as many Emu employees from the past and present. We also raided the historic collection at the Emulator Archive, where you can find more information and listen to Emu rarities, such as the Audity and original Modular Systems (more of which later in this article), as well as many other Emu products.
Emu Systems started out as an apartment-based project in Silicon Valley, California, in the early 1970s, when the early Moog modular synthesizer captivated two young high school friends, Dave Rossum and Scott Wedge. Dave was studying at the University of California at Santa Cruz when he encountered the new technology. The University had taken delivery of a Moog 12 system, and Dave soon showed a talent for patching up sounds. A few weeks later, he was already building synth modules by improving on the Moog and ARP circuits, and by the summer of 1971 he had two shoebox prototype synths of his own, known as the Black Maria and Royal Hearn. The parts were bought from local electronic stores, but a company name was needed on the invoices. Dave came up with Eµ Systems, which was short for Electronic Music Systems.
Scott was studying at the University of California at Berkeley when he became intrigued with a Moog modular synth that was being demonstrated at the University. He was fascinated by the music it could create and he quizzed the demonstrator on how it worked. By 1972, he had dropped out of Berkeley and taken up skydiving, but a hard landing resulted in a back injury and lots of spare time to kill. Scott called by on his high-school friend, Dave Rossum, to find out about the synth he was creating.
Scott checked out the prototype circuits, and suggested that they work together to build a synth that could be sold. Dave agreed, and over the next 20 years they built many thousands of synths and samplers, starting in Dave's Santa Clara apartment and ending up in a corporate Head Office in Scotts Valley.
In 1972, Scott and Dave built two desktop synths, both known as the Eµ 25 model. There were differences between the two, but both had a three-octave keyboard and a wooden cabinet housing an impressive set of modules. The design was a cross between that of a Moog 12 system and an ARP 2600, and they had horizontal ARP-like sliders. Both models were quickly sold to fund development of a larger synth, and unfortunately neither has survived, although it is possible to reconstruct an impression of what the Eµ 25 looked like from photos of the constituent parts that are still with us (see below).
Dave and Scott spent the rest of 1972 developing a wide range of modules and a five-octave monophonic keyboard for the new Modular synth that was launched in 1973. They advertised the modules as kits in the only music-technology publication in the USA at the time, Electro Notes, and they planned to build around 10 synthesizers a year. In November they formed a company, a 50/50 partnership and opened a bank account. Eµ Systems, who eventually became commonly known as Emu, were in business.
In contrast to the Silicon Valley of today, there were no venture capitalists involved — this was a small hand-crafted analogue synth business, which Scott and Dave were initially running more for fun than for profit.
In the spring of 1973, the Modular System (shown below) became the first proper Emu product to be manufactured. It was loosely based on existing ARP and Moog designs, with a variety of ready-to-use modules, complete with front panels and control knobs. The new synthesizer had a professional 'laboratory instrument' appearance with attractive quarter-inch-thick stainless-steel front panels, each with an Emu blue border, a set of high-quality rotary knobs, and quarter-inch jack sockets. The system grew progressively over the next four years, eventually comprising over 30 modules, a digital sequencer and the first digital polyphonic keyboard. A complete system cost 3000 to 5000 dollars, and Emu achieved healthy sales of around 125 complete systems during the next eight years.
The Emu Modular in its 1977 brochure. Note the mention of the digital sequencer, top left. Brochure courtesy of The Emulator Archive.
Dave and Scott started out by improving the existing analogue circuits made by Moog and ARP, but by 1974 they were pioneering the use of digital electronics in synthesizer design. These new designs were expensive, but they offered the musician much-needed creative options and note accuracy. The first step was to use the new logic chips for monophonic, and then polyphonic keyboards. This was a major advance thanks to the use of digital scanning circuitry rather than contact springs, and allowed you to trigger note values accurately and fast. Tom Oberheim licensed the design as the basis for his Four Voice and Eight Voice polyphonic analogue synths of 1974.
The second step was to add a digital sequencer to the Modular System, so that long and complex music could be created. The Emu Modular Sequencer had up to 50 separate channels, with up to 512 notes or control voltages per channel. Sequence memory could be saved to tape, along with basic sound presets. This was a very powerful sequencer for 1974, and a big improvement over the basic eight-note analogue sequencers of the time.
The next step in development was to harness microprocessors, to provide patch storage, sequencing and keyboard scanning. Emu had already gained experience with a mini-computer whilst working with The Grateful Dead on a system for recalling Modular patches and sequences. But in 1975 Emu had yet to get their hands on a new eight-bit microprocessor, even though they were being fabricated just a few miles away at the Intel Santa Clara chip foundry. New Emu employee Ed Rudnick was able to sneak a defective 8080 chip back to Emu for analysis, but it proved to be unsuitable for use in a synth.
This all changed with the release of the Zilog Z80 processor in July 1976. This chip was suitable for use in a synthesizer, and Scott was able to persuade Zilog to give him a development system, which meant Emu could at last join the microprocessor revolution. It wasn't long before Scott and Dave were expert software programmers, and the Z80 became the basis for Emu products for the next 10 years.
Emu first applied the new technology to keyboard and sequencer design with the 4060 Polyphonic Keyboard and Sequencer of March 1977, which cost US$3000. The new keyboard had 16 channels of polyphonic voice control, and the standard Emu keyboard controls plus a 16-button keypad. It also offered a real-time digital sequencer with 48kB of volatile memory, which held 6000 notes — groundbreaking at the time.
Emu continued to develop the product with new versions of the sequencer software, and an external eight-inch floppy diskette for sequence storage. They released this as the 4070 in 1979, and a VDU and ASCII keyboard were planned for 1980, but they never happened.
In 1977, Emu Systems were still a single-product company, supplementing their revenue with consultancy. Whilst Scott was programming the 4060, Dave was co-developing the first ever range of analogue synth chips with Ron Dow, which were manufactured by Solid State Music (SSM). These chips were the basis for a number of consultancy projects during the late 1970's. In 1978, US electronic musician Patrick Gleeson commissioned an analogue synthesizer with 16 voices, called the Blue Box (see below). Each voice had six VCO's, two VCF's, two VCA's and three ADSR envelopes. The synthesizer had no external controls, so the 192 SSM chips had to be patched by adjusting 77 trimmers and 10 switches on each voice card. But it was the first multitimbral synthesizer ever created, and Gleeson used it to create an 'orchestra' of presets!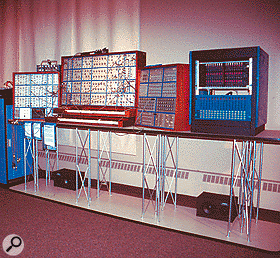 The Patrick Gleeson Modular (left) and Blue Box (far right) at the Audities Foundation Museum. Photo courtesy of Audities Foundation.
Emu also released a smaller version of the SSM voice card, so that hobbyists could construct their own multi-voice synth, and they designed a preset SSM-based synthesizer to go in a Galanti home organ. However it was clear that polyphonic synths really needed microprocessor control for storing patches and routing control.
The pivotal consultancy project was with one Dave Smith, from the fledgling company Sequential Circuits, based in San Jose. He called in at the Emu office in the summer of 1977 to discuss product ideas, and the advice was clear — the killer product everyone was looking for at the time was an affordable programmable polyphonic analogue synth. Emu were already working towards such a synth, and had pioneered two of the three design concepts (the microprocessor keyboard, and the analogue chip voice card). All that remained was the microprocessor control of patches.
A killer product meant high-volume sales, financial backing and an ability to mass-produce. Emu were not ready for this, but Dave Smith was prepared to take the risk, and he was determined to put Sequential Circuits on the map. Whilst Dave Rossum developed the operating system and oversaw the analogue circuit design, Dave Smith focused on making patches programmable and designing the control surface. After six months of intensive co-development, Dave Smith was able to show the Prophet 5 as a prototype at the 1978 Winter NAMM show in LA. The rest is history!
Emu agreed a royalty from Sequential that provided strong revenues once the Prophet 5 took off like a rocket in late 1978 and 1979. Unfortunately, the Prophet also killed sales of the Emu Modular, and the whole of Emu Systems was put on ice for a few months until the royalties arrived and Modular sales recovered a little.
Emu Systems spent the late '70s developing the ultimate analogue synth — the Audity System. Today we would describe this as a 16-voice multitimbral analogue synth with an on-board sequencer — a 'workstation'. The Audity was a concept nearly 10 years ahead of the first digital synth workstation, the Korg M1; in 1979, it was a huge leap into the future, especially when you consider it could be expanded to a staggering 64 voices, and it used diskettes for patch and sequence storage.
Funding the idea had to wait for sponsorship. After an abortive first attempt with a customer in LA, Emu were commissioned by Peter Baumann of Tangerine Dream to build the Audity Level I System in 1977. This was a set of 16 analogue synthesizer voice cards that were built into a microprocessor-controlled system by Peter's team. Unfortunately, this system has not survived.
The Audity Level II synthesizer added a front panel, keyboard and the computer control of voices and patches. The prototype system was launched in 1980 with a five-octave keyboard, a large dark and light blue acrylic control panel with 45 rotary encoders, 110 buttons, and a one-line, 40-character blue luminescent display. A separate tall blue and white cabinet held eight analogue voice cards, the microprocessor card, and twin eight-inch floppy diskette drives.
Each voice had two VCOs, two VCFs (high- and low-pass), a VCA, a resonant filter, a single LFO and four ADSR envelopes. In Dave Rossum's words it was "moderately complex". It was certainly more complex than the contemporary Prophet 5 and Jupiter 8, and it was only partially overtaken in these stakes by the Oberheim Matrix 12 in 1985.
The Audity Console, now located at the Audities Foundation. Photo courtesy of Audities Foundation.
The Audity was launched at the 1980 AES show. After some last-minute technical adjustments in a hotel room, Ed Rudnick demonstrated the new synth with Emu's new marketing manager, Marco Alpert. There was some interest — but the price, at its projected value of $30,000, looked rather high. Nevertheless, Emu planned to put the Audity into small-scale production, with an ambition to sell a few every year, and further developments were planned as Level III and IV systems.
But this business plan soon fell apart. The Emu employees returned to Santa Cruz to find that Dave Smith had redesigned the Prophet 5 to use CEM chips, and he stopped paying royalties to Emu. The prototype Audity was proving troublesome to set up, the software was not finished, and the demos were not yet showing a big advantage over the Prophet 5. Then Scott Wedge calculated that the actual retail price was going to be a staggering $69,200! In the Fall of 1980 it was clear that Emu had a disaster on their hands, and within a few months the project was dead. The prototype languished at Emu until it was donated to the Audities Foundation in 1995, where you can still see it. It will be a while yet before it can be restored to working order.
During the '70s, Emu successfully grew from being based in an apartment in Santa Clara, to being based in a house in Santa Cruz. They had pioneered many new ideas, but their own products were either out of fashion or too expensive. In mid-1980 they faced extinction, and a new business plan was urgently needed.
In response, the folksy style of the '70s was replaced by a professional approach to product and business development. In 1979 Emu Systems incorporated to become a public business, which attracted some external investment and business management. In 1980, they hired Marco Alpert as the Marketing Manager, and he came up with many new product ideas as well as some of the company's best adverts.
The lack of royalties from Dave Smith spurred Emu into a new product area; digital sampling. Rather than attempting to compete against a flood of new Japanese programmable analogue synths, they chose a new area of technology that would revolutionise the music world. The idea of digital sampling came about when the Emu team saw the Fairlight CMI and the Publison Digital Audio Computer. Dave Rossum was soon improving on these designs with his own affordable digital sampler.
Emu's office at Broadway, Santa Cruz, in December 1980. The Audity can be seen on the left and various modulars on the right at the top of the picture, while the Emulator is taking shape on the floor in the foreground. Photo courtesy of Scott Wedge.
During Autumn 1980, Dave developed a polyphonic eight-voice sampler (which can be seen in the picture of the Emu headquarters in late 1980), re-using some of the Audity System, such as the disk-based Operating System. They launched the sampler at the 1981 Winter NAMM show, and the first customer shipment went to Stevie Wonder in June. The Emulator I was available as both an eight- and four-voice model with 128kB of sample memory. A stripped down two-voice model was less successful and only one was sold — to Yamaha — who couldn't understand why some critical chips were missing!
Another 25 customers bought the sampler over the next few months, but sales then stalled. Sampling was still in its infancy, with just a few musicians harnessing its capability — it was another four years before it was to propel such records as Paul Hardcastle's '19' up the charts. In Autumn 1981, the Emu team faced serious problems; the Emulator was not selling!
Dave Rossum, Scott Wedge, and Ed Rudnick show off the prototype brown Emulator I at the NAMM show, 1981. Photo courtesy of Scott Wedge.The company responded with four improvements, redesigning the Emulator so that notes stopped when you released the keys, creating a factory sound library of over 100 diskettes, adding a built-in sequencer, and cutting the price by 20 percent. The revised Mark 2 Emulator I was an instant success, with over 400 sold over the next two years. Emu continued to develop the EI with multi-sampling software, a polyphonic CV/gate interface, and finally MIDI.
The early '80's saw the rapid rise of digital drum machines from Linn and Oberheim costing over $2500. In 1982 Emu Systems spotted how to open up this market by developing a basic digital drum machine for just $995. Dave Rossum was able to improve on the existing designs by implementing new ideas on sample replay, and by sharing components to cut costs.
The resulting Drumulator was launched in early 1983, after a short and successful development project. It sold by the bucket-load, achieving nearly 10,000 sales over two years. The competition caught up in 1984, and sales slipped on the arrival of the more powerful Oberheim DMX, and the deluge of Japanese MIDI drum machines, such as the awesome Roland TR909 and the rather more forgettable Yamaha RX11.
The Drumulator had 12 sounds, real-time programming with auto-correction, swing and independent volume, and accent control. To keep the costs down, the shared sample memory was just 64kB! This meant eight-bit samples, and very short sample times. A MIDI In port was added in 1984 once Emu saw that MIDI would replace their favoured (and faster) serial interface.
The Drumulator was basic, but it still sounds good today, thanks to the unique design of the analogue filters on the voice channels. This includes SSM2044 filters, just like those on the PPG Wave 2.2. The drum machine was a major success for Emu, and it converted them into a medium-sized company.
However, if the truth were known, the Emu team were rather disappointed at the sample quality of the Emulator I. Dave Rossum was convinced he could achieve a better sound from just eight bits, and he made sure the next Emulator was a massive improvement on the original.
The sampler that took on the world and won — the Emulator II. Photo courtesy of The Emulator Archive.
The Emulator II became the sampler of the mid-'80's, and the aspiration of countless musicians until the Akai S1000 arrived in 1988. It was a development of the original Emulator, but with eight analogue 'synthesizer' voices, improved sample quality, up to 1MB of sample memory and an easy-to-use disk-based operating system with LCD display. It was launched at Winter NAMM 1984, and became available in June that year for $7995.
Dave Rossum put together the best software and hardware engineers in Silicon Valley to develop the Emulator II, drawing in new skills in digital signal processing. But the project was very challenging and it was soon running late, with Dave under tremendous pressure to complete the design. As a stopgap measure, Emu launched the E-drum in the winter of 1983, licensing the Clavia ddrum from Sweden. But this small drum pad for playing digital samples on cartridges was a complete failure. By spring 1984, Emu Systems had run out of money, and they were forced to borrow from their UK distributor to stay in business. Fortunately, the new sampler proved a massive hit, and around 3000 were sold over the next three years.
The EII had a sampling rate of 27kHz, and a unique proprietary encoding system ('companding') to increase the apparent resolution to 14-bit. The warm analogue filters and the grit of the low sample resolution gave the sampler a desirable character, although it remained rather sluggish over MIDI.
Emu continued developing the EII until late 1987, with a memory upgrade, a 20MB hard disk, the world's first sample CD-ROMs, and Mac editing software from Digidesign. The operating software grew to include a sequencer, SMPTE and a multitimbral MIDI mode. [For more on the EII, see the two-part Retrozone article in SOS August and September 2000 — Ed.]
Once the Emulator II sales ramped up, it was time to address the drum machine market again. Always loath to compete with the Japanese manufacturers, Emu went for the high end, and designed a sampling drum machine that would use their Emulator experience and enable customers to sample their own drum sounds.
The new product was developed during 1984, and a prototype Drumulator II made its preview at the 1985 Winter NAMM. Six months later it was officially launched as the SP12, and it was soon available in shops at $2745.
The SP12 was a direct descendant of the Drumulator, with much of the design being re-used and extended. The main changes were the linear 12-bit user sampling and the improved user interface. The underlying sample-replay electronics remained pretty much unaltered, but with a new set of 12-bit ROM samples from Digidesign. The SP12 was a true team effort, with Dave doing the electronics, Scott designing the patented touch-sensitive pads, and Marco Alpert doing the functional design.
The success of the Emulator II brought in much-needed revenue, and by the spring of 1985, profits were at $100,000 a month. This huge improvement in financial stability meant Dave had the time and funds to build a digital sample replay engine onto a single chip — the E-chip — improving reliability and cutting manufacturing costs at a stroke.
In 1985 a new mid-range sampler took shape on the drawing board. It would replicate the Emulator II, but at less than half the price. A move to a 16-bit sampling resolution, however, was ruled out as too expensive, so the existing 12-bit companding technology was re-used. Financial constraints meant that the E-chip had to use a primitive form of sample transposition, which did not sound as nice as the EII. But the budget did stretch to a 32-bit microprocessor, which opened the door to digital signal processing (DSP) techniques, such as sample convolution and additive synthesis.
The Emax, seen here in its January 1987 SOS review.The new $3000 baby, the Emax was launched at the 1986 Summer NAMM show, in both keyboard and rack formats, and it gained positive reviews and reasonable sales. Emu continued to develop the Emax platform, and launched a hard disk version in 1987, new sample-processing tricks as an SE software upgrade, and added external SCSI in late 1988. The Emax brought quality sampling within the reach of the average musician, and it competed well against the Japanese 12-bit samplers.
Emu Systems were now growing at 60 percent per annum, which required a move to larger premises in Scotts Valley in December 1985, and the injection of external business leadership skills. Scott and Dave recruited Steve Tritto to run the day-to-day operations, whilst Scott remained President and CEO, and Dave continued as lead engineer. The arrival of Steve in mid-1987 marked the start of a new phase in Emu's business strategy, with the growing desire in both founders' minds to make some real money from the business.
In 1987 the company was on a roll, with strong revenues and profits, brand-new offices, and an extremely talented team. The next product from Emu Systems was to be the fulfilment of the company vision — the ultimate affordable sampler.
The Emulator III marked the inevitable conquering of the 16-bit stereo sampler market place, and the culmination of six years of dedicated work. This was a product that would not be compromised in terms of sonic or engineering quality. The new sampler offered audio CD-quality sound, used CD-ROM players to load sample libraries, and stored samples on SCSI hard disks. With new DSP software features, and a promise of hard disk recording, this was the Emulator to compete with Fairlight and New England Digital, whose Synclavier was the desirable sampling system of the time.
Launched at the Summer NAMM show in 1987, and more generally available from the start of 1988, the 'Digital Sound Production System', was a major leap forward in sampling technology, offering stereo sampling at 16-bit/ 44.1kHz, 16 analogue voices, huge RAM for the time, an internal 40MB hard drive, external SCSI, and a brand-new operating system using a four-line LCD. The flagship Emulator III was available as both a keyboard and rack version, with 4 or 8MB of RAM and a price tag of US$15,000.
The engineering quality and the sound were, and still are, awesome! The EIII took centre-stage in high-profile studios and post-production suites across the world — but then it broke down and failed!
The first production run of the Emulator III suffered catastrophic failures, which took months to diagnose. Faulty memory sockets and problems with the hard drive forced Emu to undertake an embarrassing in-field product recall, and their reputation with dealers and customers took a nosedive. Whilst the EIII was never planned to sell in high volumes, it sold only 1200, and it showed that Emu had a big problem getting a product to market. Worse still, the company was once again in a major cashflow crisis, and in 1988 they faced extinction. Only some personal financial help from Scott Wedge, and careful negotiation by Steve Tritto with the banks kept the company afloat.
Amidst this turmoil, a new legend was being born, the SP1200. This sampling drum machine was the antithesis of the huge and expensive EIII project. Emu made some minor improvements to the existing SP12 in the spring of 1987, and created a product which continues to inspire a legion of musicians.
The SP1200 was a short, low-risk development that was triggered by the need for a better sample storage device than the clunky external 5.25-inch Commodore diskette drive used by the SP12. The Emu team re-used the sample-replay engine and analogue filters that dated back to the Drumulator, and thereby unknowingly ensured that the SP1200 had a warm, gritty sound that even improved on that of the 16-bit sampling drum machines from Japan. They doubled the sample memory to 10 seconds, and added an internal 3.5-inch floppy drive. That was enough to make the SP1200 the longest-lived Emu product ever made (see box opposite)!
The SP1200 was launched at the 1987 Summer NAMM in Chicago, and it sold well for years, until it was discontinued in 1990. Emu thought the product was outdated and unloved. Far from it — the SP1200 had gathered a strong following in the emerging hip-hop scene. Emu re-issued the SP1200 in 1993 with a cool black casing, and modifications to comply with the latest electrical regulations. Production runs continued until a final batch of SP1200s was made in the spring of 1998.
In the early '90s, Marco Alpert proposed an 'SP1600' using first the sampling engine from the Emax II, and then the one from the ESI32 sampler. Product concepts were drawn up, but they were never approved. The new attitude that pervaded Emu was to build low-cost modules and achieve massive revenues. Marco took the idea (and his job) to Akai, and launched the hugely successful MPC2000 instead.
Will Emu ever manufacture the SP1200 again? The simple answer is no — too many of the parts are obsolete. There is certainly customer demand for a 21st-century 'SP2400' or the like, but Emu have consistently avoided niche products since being bought by Creative.
Meanwhile, Emu spent 1988 getting closer to extinction! They had successfully diversified the product range from one unfashionable analogue synthesizer to a range of three cool digital samplers, and revenues had increased to $10 million. But the product line was weakening as competition intensified from Japan, and the founders were tired of lurching from feast to famine, and the lack of personal financial reward from years of hard work.
On the horizon there were two technologies that could alter the course of Emu Systems. Firstly, Dave Rossum was working on a new set of custom chips that would revolutionise digital sampling and filtering. Secondly, the IBM PC was starting to dominate the personal computing market, but it needed a soundcard for use in multimedia and games. Here was an opportunity that could open up massive business revenues.
In the spring of 1988, Emu Systems reviewed progress on the new generation of chips that Dave was now furiously developing. The sample replay G-chip was close to manufacture, but the digital filter H-chip was nine months away. This meant that a fully digital sampler would not come on-stream until mid-1990 — by which time the company would be out of business!
A new product that used just the G-chip, with no analogue or digital filters, was urgently needed. Dave and Marco struck upon the idea of a 'Band in a Box'; an instrument that would replay a wide range of short 16-bit samples, and which sold for under $1000, giving the musician a complete band (bass, guitar, strings, and drums) in a small, affordable 1U rack unit. A development project, called 'The Plug', was soon underway.
The Proteus 1 — at the time of its launch, it saved Emu.Photo: Mark Ewing
The Proteus 1 was launched at the 1989 Winter NAMM, and within a few days, there was a back-order for 5000! The new synth module brought 32 voices of high-quality EIII samples into the hands of ordinary musicians, with samples that transposed cleanly over a 10-octave range. Ace sound developer Kevin Monahan crammed the 4MB of sample memory with over 100 samples.
Emu struggled to ramp up production of the Proteus 1, as they were hit by chip-manufacturing problems, and then the San Francisco (Loma Prieta) earthquake. However, by the end of the year, it was clear that Emu had created another major product breakthrough, and they quickly followed up with a set of orchestral and world sounds in the Proteus 2 and 3, piano samples in the Proformance, and a set of drum samples in the Procussion. Only the keyboard version, the Proteus MPS, proved to be a mistake, with its lack of workstation facilities and high price.
The Proteus series saved Emu Systems from disaster, and by mid-1989 Emu had both G and H chips in production. This enabled the release of the all-digital Emax II as a stereo 16-bit, 32-voice sampler in 1990. It was a big step forward in sample quality and had fantastic digital filters that emulated an analogue low-pass filter. This was a first in the sampling marketplace, and Emu remained at the leading edge of digital filter design until the arrival of virtual analogue synthesis in the late '90's.
But there were major management stresses behind this latest recovery, culminating in Steve Tritto leaving, and Scott being sidelined as a new President, Charlie Askanas arrived in late 1990. Charlie immediately brought in a new management team and implemented 'Total Quality Management'. Emu spent the next year learning all about quality as a result of the Emulator III problems!
Charlie was brought in to drive the next stage of the business strategy. The bold plan was to enter the PC soundcard market with a business partner, so that revenues could quadruple to $100m. This was how investors would be attracted in, and how the founders, staff and shareholders could make some real money. Whilst an internal battle raged for two years on whether to build an all-digital Emulator (finally released as the EIIIX and EIIIXP rack in 1992), Dave Rossum created a new G-chip for use in PC soundcards, and the existing Proteus chip featured in Turtle Beach, Digidesign and IBM soundcards.
But this progress proved insufficient to quadruple revenues, and in 1992, the search for a business partner became more acute. A number of major US manufacturers were courted, including Steve Jobs at Apple, but in the end it was the top dog in the soundcard market, Creative, that could see the potential. They signed a licensing deal in July 1992, and implemented Emu technology in the MIDIBlaster soundcard.
Creative became a public company a few months later, with an ambitious plan to dominate the PC soundcard market. They soon realised that Dave Rossum's digital engineering skills could form the basis of this plan, and that an acquisition of Emu Systems would ensure exclusivity. The deal went through in March 1993, and Emu Systems became a Creative subsidiary. The founders, shareholders and staff shared many millions of dollars, but the following morning Scott was sacked, and Charlie made his exit. It was the end of an era, and also the end of the partnership between Scott Wedge and Dave Rossum.
In 1993, Emu Systems seemed to have finally achieved a financial stability that would guarantee them a thriving and exciting future, and over the next few years they revitalised the product range with the budget ESI32 and the Emulator IV, and an updated range of Proteus modules. The Creative relationship was productive, and Emu soon moved to using surfacemount chip technology to reduce costs and achieve higher quality. The new products were successful; once again musicians were being inspired by the magic at Emu Systems.
The budget ESI32 sampler, from 1995...The business strategy was to exploit the silicon and samples that had been developed through much personal hard work during the '80s. Emu was not about to switch from this path, and they concentrated their sound synthesis ideas on the breakthroughs that Dave Rossum had created. The G-chip ensured they had the edge in multi-voice sample-replay quality, and the H-chip opened the door to a vast new world of Z-plane digital filters, thanks to Dana Massie's DSP skills.
... and the EIV rack, from later the same year.Creative set up the Advanced Technology Centre next to Emu Systems to enable Dave to lead the development of new digital chips for the soundcard market, which culminated in the recent Audigy chip and soundcard. During the mid-'90's Emu boldly tried to break into the digital workstation market with a Digital Audio Recorder (Darwin, shown right) and a stillborn digital mixer entitled Mantis. Whilst the technology was impressive, these projects did not go well. These aborted projects scarred the relationship with an impatient owner who wanted a financial return, and proved that Emu and Creative could not compete with Roland and Yamaha.
The late '90's saw Emu retrench, with a reworking of the Proteus concept into a third generation, and steady improvements to the Emulator sampler, including a 32-bit effects card spin-off from the aborted Mantis mixer. The ESI sampler, which dates back to the Emulator IIIX design of 1992, was neatly resprayed with a new front-panel colour and sold at a lower price. The new Proteus 2000 (see below) and its related P2K range of modules gained internal sample ROM cards and excellent new software features, such as arpeggiators and a Beats mode. Some cool sound design by Emu and Rob Papen, and the new front panels, masked the fact that this was the same underlying 10-year-old technology manufactured at a lower cost.
In 1998 Creative bought Ensoniq for their PCI soundcard technology, and forced them to merge with Emu. This proved unsuccessful, with only the Ensoniq PARIS digital mixer making a short-lived appearance as Ensoniq were closed down completely.
In 2000 the music technology market shifted towards software sampling and synthesis, leaving Emu Systems high and dry, with collapsing Emulator and ESI sales, and a Proteus design that was struggling to compete with new virtual (and resurgent real) analogue designs. Previous famines had been overcome with new technology from Dave Rossum, but he was now concentrating on Creative products and he was no longer involved at Emu.
This time it was another reworking of the Proteus into Command Station and Keyboard formats that stopped the company sliding into the red. Emu Systems downsized in 2001, cut back in all areas and started manufacturing in China. This has enabled them to survive yet again, and provide musicians with some remarkably low-cost synthesizers.
Emu's Head Office in February 2002.Photo: Rob Keeble
Emu Systems have come a long way in 30 years, from pioneers of new technology to masters of a mature market. The fast pace of innovation has subsided to be replaced with corporate steadiness. Attempts to enter new markets have largely failed over the last 10 years, and Emu would be wise to focus on creating exciting niche products with new sound synthesis ideas.
Dave Rossum and Scott Wedge have moved on from designing synths and samplers, and they have been replaced by a new generation of music technologists, who are poised to launch new ideas that combine the best of software and hardware. The first of these will be Emu's Emulator 5 software sampler later in 2002, offering 24-bit sample streaming and integration with the hardware Emulator Ultrasampler. This will be followed by further exciting combinations of software and hardware, and we hope to see new digital filters and better control surfaces — maybe even an SP2400 and a virtual Modular or Audity in 2003!
Let's hope that Emu's birthday party in November celebrates some new ideas for the future, as well as the awesome products from the past.