Pride of place in the Studio A control room goes to a magnificent vintage Neve console with an unusual and powerful architecture.
The recording industry has always been a tough business, especially for studios located in larger cities. Too many famous recording venues have been forced out of business because they couldn't keep up with rising rents and other expenses. Columbia 30th Street in New York, Olympic in London and, recently, The Magic Shop are just a few prominent examples.
The spacious live room in Studio A.It's easier for a studio to survive if the business owns the building — and this, fortunately, is the case with Question de Son in Paris. Located in the Porte Saint-Denis district, a cosmopolitan are where gentrification hasn't yet taken its toll, this new studio has quickly become an established part of the French music business.
Originally built for EMI, the Neve desk houses a pair of their legendary TG12413 limiter modules.
The impressive effects rack in studio A.Question de Son's owners, Jordan Kouby and Frédéric Vectol, had been working at large studios like La Grande Armée and Davout before deciding to start their own studio — initially a single-room facility in the 11th arrondissement. The idea was to offer the "philosophy of a big studio in a smaller place", as Vectol puts it. At the time, the two were running a studio service firm of the same name as well, and with the studio having only one room, one of them ran the service business while the other occupied the recording space. Most of the outboard gear, and the console which now resides in studio B, an SSL 4048 G+, was already in place. But it was only a matter of time until they would outgrow their space, and so they started looking for new premises.
Eventually, they found a former garment factory in the 10th arrondissement. A detached building with an iron lattice structure, it was built in the 1930s and had been empty for over 10 years. Though larger than they had planned, it would prove an ideal base for a powerful and diverse recording venue. The construction and remodelling of the building began in 2010 and took over 14 months, as everything had to be built from scratch: the main studios A and B, the reception and recreational areas, plus a few additional editing and production suites.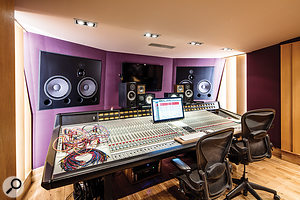 Studio B is home to this G-series SSL.
The outboard rack in Studio B is filled to the brim with vintage and modern goodies.
Inspired by the Fairchild 660, the EAR Limiting Amplifiers have now become classics in their own right.Having worked in the studio service business for so long, Question de Son took care of many construction duties themselves, and carried out all the electrical work to their own standards in order to achieve the cleanest and most stable power supply possible. Question de Son receives its mains power directly from the transformer in the street and they don't share it with anyone else. The whole wiring was carried out so that the audio electricity is on one side of the building and the other electrical supplies run through the opposite wall, with their lines never crossing: an ideal situation to avoid interference and other mains power-related problems.
The first project at the new venue was a mixing session with musician, record producer and songwriter Mark Plati, in 2012, and ever since then, Question de Son has been busy. Studio A, the flagship space, has a live room with three acoustically variable zones: the main area, a stone room, and a separate booth. Initially, it was centred around a Neve VR console, but in Spring 2016 this was replaced by a magnificient vintage Neve desk. Commissioned in 1975 for EMI Mexico, it had already found another home there in the '80s after EMI's local studio closed. Transporting it across the Atlantic and restoring it over a year, and, finally, in March 2016, the desk was back to its former glory. Its most notable features include a total of 24 1093 input modules, a pair of EMI TG12413 limiters and a pretty elaborate dual architecture with a normal recording mode and a mixing configuration that can be engaged at the flick of a switch, bypassing the mic inputs on all channels and sending the signals directly to the EQ sections of the channel. Chunky outboard processors like a Gates SA-39 and a Gyraf Gyratec X complement the equipment collection in this room.
This stompbox siderack in Studio B is designed to allow multiple guitar pedals to be connected within a line-level environment, so that they can be used at mixdown.By contrast, studio B is still home to the SSL 4048 G+ desk that featured in Question de Son's first incarnation. The mixing studio boasts an outboard collection on par with any studio in the world. Besides the inevitable standards, there is a pair of EAR 660 limiters, another Gates SA-39B, a GML 8200 EQ and a set of three Pultec EQH-2s. A very special feature is the stompbox side rack, which holds dozens of pedals and offers all the functionality to combine them within a line-level mixing environment. In addition, the studio takes pride in an exhaustive backline which, amongst many other items, features practically all classic keyboard instruments, including a Yamaha C3 grand piano, Yamaha CP70B, Fender Rhodes and Wurlitzer pianos, a Hammond B3 organ, a midified Minimoog Model D and the entire Roland Juno family of synths.
In 2015, when one of the production suites rented to external producers became available again, Question de Son took the opportunity to integrate a mastering suite into their facility. Overseen and run by their long-term partner Mickaël Rangeard, the space has become an important part of the studio: "It was a dream for us to have all in one place, like in the big old studios!" Frédéric Vectol explains. Question de Son attracted not only many of the greatest French artists, but an impressive roster of international talent including Babyshambles, Beck, Kanye West, Keziah Jones and Frank Ocean, to mention but a few.