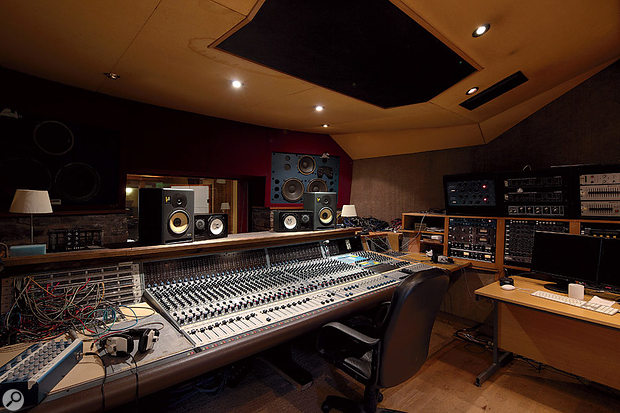 The Coach House control room is centred around a Neve 8128 console, accompanied by eight vintage Neve 1061 modules.
The cosy Quadrangle live area set up for a band recording.
When brothers Kingsley and Charles Ward first recorded their band, the Charles Kingsley Combo, with British studio legend Joe Meek, they had to travel from Wales to London to do so. To make life easier, they set up their own studio in 1961, in the attic of the family home in Amberley Court, Monmouth. At the time, they probably didn't expect it to become a national institution...
A drum kit miked up in the main Coach House live area.
The Quadrangle control room is based around an MCI desk and large quantities of outboard gear.
One of Rockfield's echo chambers, with Tannoy Lockwood speaker and Sennheiser MD421 microphones.
The Quadrangle features six API 550a, 14 Neve 1061 and 10 rare Rosser mic pre/EQ modules alongside the MCI 500-series desk.
Outboard at the Quadrangle includes four 1176LN limiters, a pair of Neve 2254s and other units by ADR, Tube-Tech, Dbx and Klark Teknik.
The Quadrangle's Studer A820 tape machine.
The 'wonderwall', so called because it supposedly played a pivotal role in the development of Oasis's hit single of the same name...The newly founded studio, which employed an Elcom mixer as well as EMI and Ferrograph tape recorders, soon attracted other bands from South Wales and Gloucestershire, and so the studio turned into a commercial venture around 1963. Rockfield became a residential studio in 1965, arguably the first in England, and remains one of the longest-established recording operations in the UK, second only to Abbey Road.
The Rockfield complex houses two studios, the Coach House and the Quadrangle, which can be operated independently from each other. The older of the two, the Coach House, was built in 1968, and is currently centred around a 48-channel Neve 8128 console. The spacious 150-square-metre live area, with its stone walls and wooden ceiling, still oozes 1960s charm, and the studio also features several isolation booths, which make it a good choice for tracking with maximum separation between the instruments.
The second studio, the Quadrangle, was constructed in 1973, and now features a 42-input MCI 500-series console. The Quadrangle's live area is even larger than that of its sister studio, with 170 square metres of recording space spread between several larger live rooms and a few smaller booths for amplifiers and drum kits.
Unlike many studios, Rockfield have never decommissioned their original echo chambers, and three are in use today, equipped with vintage Lockwood speakers and Sennheiser MD441 and MD421 microphones for capturing their natural reverb. The chambers are accompanied by no fewer than five EMT plates and some industry-standard reverb processors by AMS and Lexicon, as well as more unsual units such as the Ursa Major Stargate 323 Digital Reverb.
As well as the consoles, each control room offers well over two dozen classic preamp/EQ channels, including several vintage Neve 1061 and API 550a modules, and numerous input modules from the three Rosser Electronics consoles that were installed in the Rockfield control rooms between 1965 and the late '70s, before the studios were outfitted with Trident desks.
Both studios at Rockfield also offer a nice selection of dynamics processors such as the venerable UREI 1176LN and Neve 2254, and the microphone lockers hold vintage gems such as the Neumann U67, SM2 and KM64 valve mics and their AKG counterparts the C12a and C28, as well as numerous dynamic and ribbon microphones.
As a true residential operation, the studios offer respectively seven and nine bedrooms as well as a dining room, a lounge, and a kitchen which can provide up to three meals each day.
Of the many famous tracks recorded at Rockfield, perhaps the most iconic, is Queen's 'Bohemian Rhapsody'; Rockfield was also the primary studio for much of the band's albums A Night At The Opera and Sheer Heart Attack. The current studio manager, Lisa Ward, daughter of founder Kingsley Ward, even remembers Freddie Mercury writing parts of 'Bohemian Rhapsody' sitting in the room where the feed and the horse tack for the horses was being kept in those days, and which today serves as the studio's office.
Other classic albums recorded at Rockfield include Coldplay's Parachutes, Oasis's (What's The Story) Morning Glory? and Hemispheres and A Farewell To Kings by Rush. The entire client list reads like a Who's Who of the British and wider music scene of the past decades, and it is far too long to be listed here completely, ranging from Black Sabbath and Motörhead in the 1970s to Simple Minds and Robert Plant in the '80s, Annie Lennox, Ash and Paul Weller in the '90s, and Suede, Kasabian and New Order in more recent years.
In addition to the traditional studio business, Rockfield have recently branched out to offer residential recording masterclasses to groups of up to eight students, as well as running bespoke courses in collaboration with a number of colleges.
Their unique combination of rustic yet cosy rural location, excellent technical equipment and experienced and friendly staff are reasons enough for the studios to be booked solidly even today. Who would have known in the early '60s that Rockfield Studios would still exist in 2013 — let alone that they would be too busy even to make plans for their 50th anniversary celebrations?