Studio File
The control room in Trixx Studio A is based around a modified Tascam desk.
The central Berlin neighbourhood of Kreuzberg is either notorious or legendary, depending on your point of view. Once a working-class district close to the Berlin Wall, it was neglected by city developers in the '70s, and squatters took over the abandoned buildings, turning the area into a focal point for Berliners pursuing alternative lifestyles.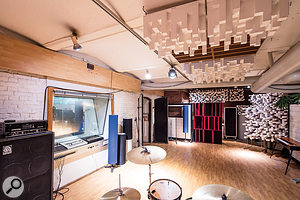 The Studio A live area occupies a basement room once used as a rehearsal space by punk bands.Music has always...
You are reading one of the locked subscriber-only articles from our latest 5 issues.
You've only read 10% of this article, so to continue reading...
Option 1: Buy and download this single SOS article in Adobe PDF format
Buy this article now and immediately download the PDF file to your computer.
Single article PDFs look identical to the printed magazine layouts (but exclude advertisements).
Note: Some shorter articles don't always have a PDF version.
Option 2: Buy the Full Issue PDF **NEW**
From the January 2018 edition onwards, it is possible to buy a Full Issue PDF 'replica magazine' (with adverts) for the price of a handful of single PDF articles, and instantly download it. More info...
Option 3: Buy a Digital subscription from our shopstore
A Digital sub can be bought from our online Shop

Store

and used immediately, or contact our Subs staff to discuss an upgrade price to add Digital access to your existing Print subscription.