The control room in Trixx Studio A is based around a modified Tascam desk.
The central Berlin neighbourhood of Kreuzberg is either notorious or legendary, depending on your point of view. Once a working-class district close to the Berlin Wall, it was neglected by city developers in the '70s, and squatters took over the abandoned buildings, turning the area into a focal point for Berliners pursuing alternative lifestyles.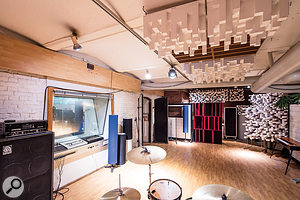 The Studio A live area occupies a basement room once used as a rehearsal space by punk bands.Music has always played an important role in this counterculture, and where there's music, there are also music production facilities. Although gentrification has changed much about Kreuzberg, pioneering recording studio Trixx Studios is still going strong. Begun in 1985, during the heyday of the 'old' Kreuzberg, it has in many ways served as a role model for the other music production facilities that have emerged in the vicinity in subsequent decades.
The huge selection of outboard in Studio A includes numerous Tube-Tech units (centre).
Trixx's collection of electronic instruments includes this incredibly rare Friendchip Mr. Lab sequencer.
If you like tape echo, it's safe to say that Trixx has your needs covered!The studio was founded by musician, engineer and producer Klaus Knapp, who also worked at the famous Hansa Studios at the time. When MIDI evolved and the paradigms of music production began to shift, he saw the opportunity to build his own space, focusing on what was then a niche that traditional recording facilities struggled to cater to. Knapp founded Trixx in the basement of a typical 19th Century brickwall factory building, mostly occupied by a telecommunications firm. The basement had been used by punk bands as a rehearsal space, and this became the original Trixx Studio A; a few years later, Studio B was added next door. With a strong focus on synths and sequencing, Trixx helped to pave the way for much of the music that is coming out of Berlin today. Its acoustic treatment was designed by Mo Stern, a legendary Berlin figure who has also equipped many of the city's famous clubs.
Studio A is built around the 40-square-metre control room. Equipped with a modified Tascam M700 console with 56 channels, this studio is suited to both mixing and recording projects. A vast array of outboard processors are available for the former, while direct access to a versatile live area supports the latter. With a total floor space of 80 square metres, the live area of Studio A consists of two rooms: the large 50 square-metre main room with its stone walls and wooden flooring, ideal for drums, plus a second, slightly smaller and more dry-sounding space which is home to a Bechstein Model B grand piano. This room also doubles as the production suite Studio C. Built around an SSL X-Desk and a Universal Audio Apollo interface, it is ideal for pre- and post-production and editing jobs.
The huge rack of Studio A outboard includes a large selection of Tube-Tech units plus other high-end items such as the Avalon AD2077 mastering equaliser, a range of Neve and Focusrite preamps, and dynamics processors including a pair of Audio & Design F769-XR Vocal Stressors, a dbx 160SL and a Tube-Tech SMC-2BM multiband mastering compressor.
The Studio B live room, with Hammond organ and massive ceiling-mounted diffuser.
Legendary Neumann mics in Studio B: from left, U47, U67 and CMV 563a.The 40-square-metre Studio B is based around another 40-channel Tascam M700, and it also boasts a 30-square-metre live area with two separate amp booths. Again, there's a high-end technical setup which includes a Tube-Tech MEC 1A channel strip, a Manley Stereo Variable Mu compressor, a pair of Lorenz RFT V241/1a preamps from the East German broadcast networks and a pair of AMS Neve 1081 preamps. Throughout the entire facility many classic reverb and effects units are in use, including EMT 240 gold foil reverbs, an AKG BX20 spring reverb, Lexicon 480L, TC M5000 and a Sony S777 convolution reverb. In addition, Trixx boasts an exhaustive backline including a 1969 Fender Stratocaster and a Precision Bass from the same year.
Many classic synths and drum machines are also available, including Roland TR-808 and 909 units, a Minimoog, Sequential Prophet 5, an Oberheim OB8 and electromechanical keyboard instruments like the Fender Rhodes Mark I, Hohner Clavinet D6 and Hammond C3 organ. There also is an ultra-rare Friendchip Mr. Lab hardware sequencer — fewer than a dozen of these units were built, and Kraftwerk famously put it to use on the Computerwelt album. As befits a Berlin studio, Trixx is also stuffed with classic Neumann mics, including a very early U47 (serial no. 45!) and a CMV 3a bottle with various capsules, as well as several SM69 FETs, KM54s, U67s and TLM170s, amongst others.
A rare pair of East German RFT V241/1a preamps.Early Trixx clients included the band Plan B, Rammstein, Einstürzende Neubauten and Fleetwood Mac, while Bryan Ferry, Erlend Oye, Grandmaster Flash, J Mascis, Maceo Parker, Nina Hagen, Nicki Minaj, Ton Steine Scherben, Tracey Thorn and Wu-Tang Clan have also worked here. More recently, the team around Klaus Knapp and his son Tim have been doing sessions with the Chainsmokers, Wolfgang Tillmans and Machine Head. With unparalleled history, an excellent technical setup and a diverse and international client base, Trixx remains one of the landmark Berlin studios.