Stand and accessories manufacturer begins 70th anniversary year with new products
Stand and accessories manufacturer König and Meyer celebrate their 70th anniversary in 2019.
König & Meyer, the German microphone stand and accessories manufacturers, turn 70 this year — a perfect example of a company that produce such reliable, high-quality products for so long that they have literally become part of the furniture where studio owners and users are concerned. Still a family concern — Gabriela König, granddaughter of one of the founders, is now Managing Director — the company continue to innovate, producing 95 percent of their designs and completed products to stringently certificated eco-friendly standards at the company headquarters in Wertheim, south of Frankfurt.

At NAMM recently, K&M introduced a new series of lockable, hard-wearing $470£300 loudspeaker/lighting stands in discreet white for events such as weddings (see below).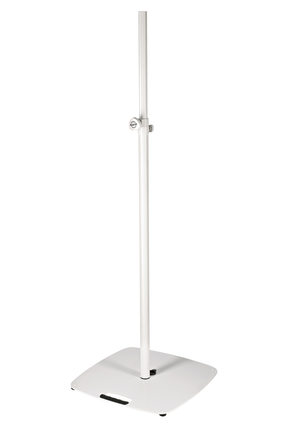 The company also announced the Omega E (pictured below), an £883 $1699 height-adjustable keyboard stand which accommodates loads of up to 80kg and can be raised and lowered via Bluetooth with a smartphone app. The product has already won a design award for its height-adjustment mechanism (below right).
http://www.k-m.de