Graham Woodcock (on the right) and Andy Bramhall (left) in the Master Tone control room.
I don't know about you, but I spend a fair bit of time dreaming of having a better recording studio than the one I own. If this rings a bell, you'll probably experience some irritation as you eye up the amazing photos of Master Tone Studios that accompany this extended Readerzone feature. Indeed, if you've already glanced at the photos, you're probably wondering what on Earth a studio like this is doing as the subject of an SOS Readerzone article in the first place. But amazingly, Master Tone is pretty much the handiwork of just two men, Andy Bramhall and Graham Woodcock. They planned it and financed it entirely by themselves, drained the profits of their daytime businesses, went hopelessly over‑budget, and exhausted their families' life savings to complete it. And they built it almost entirely by themselves, too, picking up what they could of acoustic theory and the principles of soundproofing, and then working on it almost every day for six whole months. The result, as you can see, is a studio that exudes a sense of the totally professional from every ADAT optical connector and tastefully fitted pine cladding batten. And all this, because they, like many of us, dreamt of having a decent place to indulge their love of recording. Graham: "This place is a testament to what two geezers can do if you've got a passion for music. Having said that, knowing what we went through, I can honestly say that if I had to do it again, I'd think twice... "
If all this seems faintly terrifying, perhaps it's time you packed up your Portastudio and took up fly‑fishing...
The layout of Master Tone Studios.
Graham and Andy have been collaborating musically for years. Graham was once the keyboard player in a prog‑rock group, The Quest, who were literally big in Japan, and Andy is a guitar player with a long‑held interest in samplers, live sound and lighting. For the last few years, both men have held down busy day jobs running their own companies — Graham spec'ing and supplying networked PC systems to businesses, and Andy running a road haulage firm. But all they really wanted to do was play and record music, as Andy explains. "We were both sick to death of not having anywhere decent to record or rehearse... so we decided to build somewhere."
It might sound a simple enough idea, but even finding suitable premises in the North‑West of England proved difficult. Several months passed before, in early 1999, Graham and Andy found something they thought had potential — a borough council‑owne d industrial unit on the edge of a large town. Located near Graham's family home and thus within easy reach, the unit had other advantages. Firstly, the council were landlords who Graham and Andy could be fairly sure were unlikely to go bust or rescind the lease on a whim, and furthermore, the council were offering Graham and Andy a long‑term lease — an excellent deal. Andy: "For anyone who's thinking of doing something like this, a council‑owned industrial unit is an ideal way of doing it, really. The unit was also brand‑new, and really quiet at night; there's no‑one on this estate during the week after half four or five o'clock, which is when our sessions tend to start. And at weekends, there's no‑one here except us."
All well and good, but surely the chief noise‑related concern was that Andy and Graham's recordings would inconvenience everyone else on the estate? Graham: "We did have some sleepless nights, wondering whether we'd be able to achieve the quality of soundproofing we'd need. It was absolutely critical to get official approval, even though that meant going through loads of council bureaucracy, and delaying the whole process by three or four months. We basically said we wouldn't sign the lease to the unit unless they gave us the right to run a music recording facility there. The only way we could do that was to get an official sound measurement by an Environmental Health officer. If we hadn't done that, it could have been a very expensive mistake — they can just shut you down later if you don't have everything just right."
Armed with Andy's old PA and a Metallica CD, the duo borrowed the keys and set up the speakers in the empty unit. The results were interesting. Graham: "With the music on full blast in this empty shell, the council guy wouldn't even go into the building with his measuring equipment. It was massively over the legal limit, which is 10dB above background noise. However, we'd befriended the guy in the unit next door, and asked if we could also come in and test for noise in there. Even though there was no soundproofing at that stage, and we had the PA pumping out 'Enter Sandman' at well over 100dB in here, there were only two frequencies that were over the 10dB limit."
Andy: "We knew then that the structure of the building was half‑decent to start with and that if we put some decent soundproofing in, it would be OK."
.. and before. The industrial unit shortly after Andy and Graham moved in.
Graham and Andy obtained the keys to their unit at the start of November 1999, and began to read up on the best way to soundproof the building. The sources they consulted — an old BBC textbook, free documents from the web site of American acoustics and soundproofing company Auralex, and series on soundproo fing and acoustics in past issues of SOS — all pointed to the classic 'room within a room' solution as the best. In this construction, a second room 'skin' is built within an existing structure, mounted on acoustically deadening rubber such as neoprene to prevent sound escaping. The second skin also leaves an insulating layer of dead air between the two walls to further reduce leakage.
The room‑within‑a‑room construction is both costly and labour‑intensive, but Graham and Andy knew what they wanted and were prepared to work for it. Even at this stage, they weren't concerned with function alone. Andy: "We wanted the place to look good as well as just work. The gear had to be right too, of course; we wanted serious stuff capable of delivering fully mastered, finished albums."
Naturally, such lavish principles meant that the studio was going to cost a lot. Initially, the musical partners sought financial assistance, investigating the possibility of a startup business loan. Andy explains what happened: "The banks were prepared to lend us anything as long as we signed away our houses, which we weren't prepared to do. There were also plenty of loans available if you were prepared to accept a really high rate of interest. Barclays, for example, said they'd lend us whatever we wanted, but at 16 percent for a startup loan. For a startup loan! No wonder so many businesses go bust in their first year! So we financed it between us.
"I would advise anyone reading this feature to use their own money if they can. It is stressful, but much better in the long run. If it takes you years to save up for your dream, then so be it! We set a budget of around 20 thousand to cover construction and equipment, reckoning we could build the inner skin for about 12 grand."
After: The finished Control Room at Master Tone.
But almost immediately, the budget started to look stretched. The construction Graham and Andy chose provided for stud walls sitting on neoprene, supported by a timber floating‑floor frame within the unit, resting on yet more neoprene. Graham: "The first truckload of timber cost six and a half grand — and that wood was used up within three or four weeks! The neoprene wasn't even in our budget..."
"... and it costs 150 quid for a six‑by‑three sheet!" adds Andy. "We spent nearly three grand on neoprene rubber alone! Within six to eight weeks, we knew we were going to go seriously over budget."
However, the pair refused to temper their spending, instead putting more and more of their personal resources into the project. Graham: "We could have compromised on the building work, or on the the gear, getting second‑hand stuff, and taking several years to build it up. But we had decided that there was no way we'd be happy with some old 16‑track analogue nonsense. That's why I drive around in a battered old Cavalier, and Andy has a knackered old van, when we both run successful businesses! The money's all in this place."
Bloody‑mindedness wasn't enough to keep the pair going, though; sheer desperation played its part too, as they both ate into their life savings to complete the project. "We got to the point of no return" admits Graham, "if we hadn't carried on spending, we would have lost all the money we had put in. You can't sell half an unfinished studio."
Andy: "We just had to call on each other's finances more and more. I started off paying for the building originally, and then Graham started paying too. By the end, Graham was paying for everything because I'd spent all my money. It was a huge stress for me and my wife, and for Graham's wife and kids. Our friendship was really tested, but we managed to stick together."
One of the timber floor joists during the construction, on its neoprene deadening strip.
Despite their troubles, Andy and Graham soldiered on, and the construction work got underway in earnest. The floor‑ and wall‑building work proved arduous. Several dozen neoprene sheets had to be cut to run under every timber frame, and the room‑within‑a‑room was topped by a vast false roof, supported by 1 2‑by‑two roofing joists, themselves in homemade neoprene 'chairs'. Construction of the stud walls was no easier, due to both partners' high standards. Each wall consisted of several layers; first, two half‑inch layers of plasterboard, sealed at all joins with vast quantities of silicon mastic and laid perpendicular to one another so that joins would not match up. This layer was screwed to the timber stud frame, which was in turn filled with a Rockwool acoustic slab. Finally, there was a further half‑inch plasterboard layer. The entire stud‑wall construction was then mounted on neoprene on the floating floor such that the rear plasterboard face was about two inches off the real wall of the unit.
The all‑important internal wall between the control room and the live room consisted of two stud wall panels placed together, with a two‑inch gap in the middle for further insulation. Andy and Graham were just about to lift this double‑thickness control‑room wall into position on the new floating floor when Graham realised that the floor had been built as one piece under the control room and live room area, and that vibrations would be capable of passing between the rooms under the wall. "It could have been very serious, that... but we realised in time and were able to cut the floor in two."
All this was as nothing to the effort involved in building the floating ceiling. Graham: "We had these 12‑by‑two joists, and somehow we managed to get two tiers of plasterboard up there, in eight‑by‑four sheets, 12 foot up in the air. We hired scaffolding bays, and started drilling and screwing the boards up. The most soul‑destroying thing was being 12 foot up a ladder, masticking — because yes, all the ceiling boards needed sealing as well. There were probably 30 or 40 boards up there... you'd spend an hour and have done one little part of it. I can honestly say that whole days went by that I don't remember. But then I must have been on auto‑pilot. We'd do a full day's work, then come in here and get on until two three, or even four in the morning... and then go into work again three hours later!"
the Live/Recording room at Master Tone, with Andy's multiple coloured light channels on to full effect.
By February last year, the inner skin and internal walls of the room‑within‑a‑room were complete, and it was time to start adding windows and doors. As far as the former were concerned, the biggest challenge was posed by the window which looks from the control room on to the live room. It took Andy, Graham, several of their friends, and the assistance of a specially hired joiner to fit the window, which comprised two separate double‑glazed panels, making up a quadruple layer. The colossal weight of the glass was one reason, but it was also because the joiner had had to make the wooden window frame extremely snug to ensure maximum soundproofing. As Graham now admits,"There was about 1mm of tolerance all round. We didn't want to undo all the hard work that had gone into making the wall!"
Andy: "You can imagine the stress we were under trying to fit the glass — and if it had fallen, it would have killed us all."
The design of the studio doors changed at the last minute when the company supposedly delivering finished sliding patio doors to Master Tone went bust the day before the delivery was due. Despite this, Graham remains pleased with the replacement doors, which were organised quickly. "You can have a six‑piece band going full tilt in the live room. You can hear it in the control room, but it's background noise. You can have a quiet conversation there and not be disturbed.
"That's where all our mastic went, mate..." interjects Andy, drily.
One corner of the live/recording room, showing the door through to the entrance hall and the quadruple‑glazed control room window.
March and April 2000 saw the finishing touches being added to the inside of the studio, but after fitting laminate flooring and pine cladding throughout the unit, Graham and Andy at last began to hand over some of the work to others. Graham: "We've probably done 95 percent of the DIY, but if we'd done that last five percent, it would have looked crap, whereas by giving it to others, it stayed looking good. Like the floor and wall carpeting. We got someone in to do that, because if we'd done it, we'd have made a complete hash of it."
A flurry of last‑minute bargains completed the work: a chance meeting with a ceiling salesman who happened to be a musician and was fascinated by what Graham and Andy were building ensured that they got a good deal on a suspended ceiling. Andy used his lighting expertise and a six‑dimmer‑channel lighting controller from an old rig of his to create six independently dimmable light channels in the live room, for instantly changing the mood when recording. And a finishing joiner who had worked on an extension at Andy's house was pressed into service to construct some hand‑made solid ash racks and studio tables for the Master Tone control room. Andy: "If we'd gone anywhere else, these would have cost three‑and‑a‑half grand, but because I knew him, he did it for us for just over two grand. It was important to us to finish the studio off with something that looked good." "By that point, you see, the aesthetics of the building had got to such a standard that new stuff had to be of a certain quality" says Graham, "we couldn't have just nipped to Ikea and got a couple of pine veneer tables in."
"Also, because these racks are custom‑built, they're better for it," adds Andy. "The racks are all modular and removable on wheels."
The very last part of the studio's construction was the completion of the unit's electricity supply arrangements, which had been undertaken by an old friend of Graham and Andy's, working alongside them at key points in the construction process. "We've got four separate ring mains, so that there's no interference between the supplies" explains Graham. "The control room's on one, the live room's on another, the lighting's on one, and the heating and kitchen are on the last one. We didn't want customers coming in with dodgy old valve amps, for example, and fusing the PCs' power supply. That can't happen now. We also have an intelligent uninterruptable power supply.
"We were fortunate that the electrician was another mate of ours, because the separate ring mains and UPS would have cost a fortune otherwise. But that's true of everything here, really..."
"The gear cost just under 30 grand, and the construction cost about the same" says Andy. "That's a lot of money, but that's nothing to how much it would have cost an architect and a builder to build it. The joiner who worked with us told us that his boss would have charged between 65 and 75 grand just to put the inner skin in! So, expensive and scary as all this was, we still saved maybe 35 to 40 thousand pounds doing it ourselves."
All this effort, of course, would be worthless if the studio's soundproofing didn't work. But, as Graham proudly admits, "You can have a band going at 110dBs in there and you can't hear anything at all outside. We've been in the neighbouring unit again, and you can hear a low‑end bass rumble in there, but it's now well within the legal noise limits."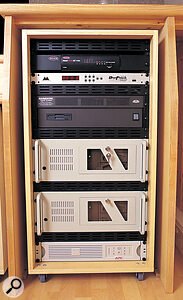 The two racked PCs Graham spec'd and built, together with the PC brain of the Mackie D8b.
The last construction work is complete, the Master Tone racks are filling with equipment (see the 'Into Gear' box on page 215). Graham and Andy are making preparations to begin recording an album with a drummer, bassist and the vocalist from Graham's old band The Quest, but they're also taking public studio bookings. Graham: "This was never intended to be an investment, a studio we thought we'd make loads of money out of. It's primarily a love of music that motivates us. But if we can make a bit on the side, then great!"
But before they can begin, there's one last task — acoustic treatment. "It's always the last thing you can do" shrugs Graham. "You really have to wait until you've got gear in the place, seats, decorations... only then is it worth trying to do any acoustic measurements. Even then, you should really do a few mixes to get used to the untreated sound of the place before you start work."
At the time of writing, Graham and Andy are awaiting a crate of treatments from the US acoustic consultant Auralex — diffusers, bass traps, and so on — which the company has shipped in reponse to a detailed plan of the studios Andy and Graham sent over, but so far it hasn't arrived. Graham: "Unfortunately, we just couldn't source that kind of stuff reliably in the UK, so we had to get it from the States. Once again, we're doing it properly... but it costs a hell of a lot to freight it all over! It's the law of diminishing returns, studio construction — you have to pay a fortune to get the next tiny incremental improvement in sound reduction or aesthetic appearance."
Andy smirks at his musical partner. "We could always have saved ourselves some bother and used egg boxes, eh, Graham?" Graham laughs. "Yeah, imagine that — we build a studio like this and then just stick a few egg boxes on the wall for the acoustics... that'd look lovely, eh Andy?".
Andy pauses, then deadpans. "You know, I think we missed a trick there, Graham."
https://web.archive.org/web/2015...
https://web.archive.org/web/2015...
Both Graham and Andy openly profess their love of their D8b desk, but the delays they had experienced while awaiting the release of the desk's version three operating software and its various plug‑in options meant that they had fewer kind words for the parent company at the time of my visit to see them.
Graham: "Don't get me wrong, I think Mackie are a really innovative company, and the D8b is a fantastic piece of kit. It's just irritating that Mackie have been telling everyone that the stuff that goes with it is available when it's not.
Andy: "We bought the D8b and thought we could get plug‑ins for it straight away, like Drawmer's gates, Massenberg's EQ, and the version three software! We've rung Mackie in the States, and even they can't tell you when things are going to be finished. We wanted to know about the Drawmer gates particularly, because the ones in the D8b at the moment aren't frequency‑dependent. The only alternative would be to go out and buy some separate hardware Drawmer gates, but that totally defeats the point of having the gates in the desk, which is that you have total recall of their settings!"
Rather as with the neoprene rubber, Graham and Andy completely forgot to allow for silicon mastic in their construction budget... and then used 350 tubes of it to seal all the joins on the plasterboard in their stud wall panels.
Andy: "We read an article which said you could get results as good as the professional studio designers on a budget..."
"...by getting about 18 grand's worth of mastic!" grins Graham. "To be honest, I've no idea how effective the mastic's been, and we'll never know. But that's the way we chose to do it. It cost 1300 quid, actually."
Andy: "We were going through the tubes like you wouldn't believe. Box after box... there's 25 tubes in a box and they were lasting us about half an hour."
Graham: "We had to keep phoning this builder's merchant up... 'Hello, we need another box'. All he could say was 'What the hell are you guys up to?'. He must have thought we were sniffing it or something."
Windows PC running Steinberg Cubase VST24 v5, with RME Hammerfall digital I/O card.
Mackie D8b digital console.
TC Electronic Finalizer 96K.
Tascam DA45HR 24‑bit DAT.
Master Tone Studios — Selected Gear
COMPUTERS & SOFTWARE


Primary Recording PC (Windows 98SE)


19‑inch rack unit.

256Mb PC100 SDRAM.

Abit BE6II BX chipset motherboard.

IBM 8.4Gb ATA33 boot/OS hard disk.

IBM 18.4Gb LVD SCSI hard disk.

Intel Pentium III 700MHz CPU.

Matrox G400 32Mb Dual‑head graphics card.

Midiman USB 2x2 MIDI I/O.

Netgear 100Mbit network card.

Removable ATA33 hard disk bay.

RME Hammerfall 9652 Digital I/O.

Tekram LVD SCSI PCI card.


Secondary Recording PC (Windows 98SE)


19‑inch rack unit.

256Mb PC100 SDRAM.

Abit BE6‑II BX chipset motherboard.

Frontier Designs Wavecentre PCI card.

HP 9210i SCSI CD‑RW.

IBM 8.4Gb ATA33 boot/OS hard disk.

IBM 30Gb ATA33 backup storage drive.

Intel Pentium III 650MHz CPU.

Netgear 100 Mbit network card.

Removable ATA33 hard disk bay.

Tekram Ultra Wide SCSI PCI card.

Software


Nemesys Gigasampler.

Steinberg Cubase VST/32 v5.

Steinberg Wavelab v3.0.

KEYBOARDS & SYNTHS


Emu Proteus 2000 module.

Korg Triton workstation.

Roland Vintage Keyboards module.

Roland String Ensemble module.

RECORDING


Beyer DT150 headphones (x6).

Eventide DSP4500 effects.

Furman headphone distribution system.

Mackie D8b digital desk.

Mackie HR824 nearfield monitors.

Rode Classic II valve mic.

Shure Beta 52a mics (x2).

Shure Beta 56a mics (x4).

Shure Beta 57a mics (x5).

Shure Beta 58 mic.

Shure Beta 87 mics (x2).

Shure SM81 mics (x3).

Tascam CDRW700 CD‑writer.

Tascam DA45 24‑bit DAT.

TC Electronic M3000 effects (x2).

TC Electronic Finalizer 96K.

Yamaha 01v digital desk.

GUITARS & AMPS


• Bognor valve head and cab.


Custom Bartolini Strats (x4).

Custom rack.

Custom Warmoth 7‑string.

Godin LGXT 6‑string/acoustic/MIDI.

Godin Multiac. 6‑string acoustic/MIDI guitar.

Groove Tubes II speaker simulator.

VHT Classic valve power amp.

MISCELLANEOUS


Akai S3000i sampler.

Alesis DM Pro drum machine.

APS1400 rackmount smart UPS.

Belkin SE4 switching unit.

Elka PM13 MIDI bass pedals.

M Audio Digipatch digital patchbay.

Premiere 7‑piece drum kit.

Roland GI‑10P guitar‑MIDI interface.

Roland MIDI bass pedals.

Roland SP20 drum trigger.
If you look carefully at the diagram of Master Tone on page 210, you'll notice there's one common feature of a typical modern studio that's nowhere to be found — a vocal booth. Andy and Graham don't have any acoustic screens, either, but far from being an oversight, it appears the omission is deliberate. Instead they've invested in high‑quality guitar DIs and a five‑way Furman headphone distribution system which allows five different headphone mixes to be sent to headsets in the live room. Andy explains: "Each musician is able to have their own headphone mix. We've got no screens or booths here because we're trying to concentrate on getting high‑quality DIs and only recording drums via live mics. We've just bought a Line 6 Pod Pro and Bass Pod Pro, and they'll be our live DIs for guitarists and bassists.
Graham picks up the explanation. "So, say we have a four‑piece band in, and they want to take stuff live. We'll put the kit in the middle of the room, and close‑mike it as usual. The bass and guitar will be DIed via the Pods, so there won't be any spill there, and you can record them at the same time as the drums, with the drummer reacting to the guitar and bass over the headphones.""That's why the headphone monitor mixes are so important, so people can get a buzz as they play" affirms Andy. "And if someone comes in with nice amps and really wants to mike them up, you just need to think a bit laterally. You can still do guide guitar via the Pod so the drummer's got something to play to, and then you can add the miked‑up cabs as an overdub after the drummer's finished" offers Graham."
Glancing around Master Tone, you soon realise that just as much thought has gone into choosing the equipment as went into the construction of the place. There's plenty of gear here, but it all seems to be here for a reason, to fulfil a purpose; you can't imagine much of it languishing unused for long. Graham confirms what I've been thinking; they spec'ed the gear list pretty rapidly, having a fairly clear idea of what they wanted, and after a brief bidding war, Chris Orchard and Doug Sinclair of The M Corporation were handed a big shopping list.
"We knew pretty quickly that we didn't want an analogue desk or recorder. I think that if you're going to record seriously to analogue, you have to spend a lot of money. The cheaper analogue open‑reel stuff is great for budget studios, but technology's moved on — those pieces of kit would be a limitation now. Also, I've recorded albums on Neve desks and SSLs, and if you've had that experience, you demand that quality. Whatever you can do to get close to it, you'll do it, and I think digital systems are now the cheapest way of achieving that."
Initially, the pair thought of purchasing a Yamaha 02R, but concerns about insufficient I/O led them to look upmarket. "There is really only one option beyond the O2R, unless you want to start paying silly money, and that's the Mackie D8b" explains Graham. Unsurprisingly, given Graham's professional involvement with PCs, when it came to choosing a recorder, the pair plumped for two well‑specifed PCs, one to run MIDI editors and Nemesys's software sampler Gigasampler, and one to run Cubase VST/24. Graham assembled the PCs himself, using his hard‑won professional knowledge to avoid the common PC pitfalls. "You don't need leading‑edge components to record reliably on a PC, you just have to select your components carefully. The biggest problem people have when they're trying to build a PC system for music is that they want a bargain and they want their PC to do everything, so off they go down to PC World. They don't realise that if it's going to work, your music PC has to do one job only. Our main PC has got no software on it other than Cubase VST and Wavelab 3. I've even taken half the operating system out of it.
"Our two PCs weren't bargains. They cost us three grand each — but they do the job they're supposed to do, totally reliably. The Matrox graphics cards in them, for example, are not great for playing the latest 3D games, but they've been around long enough to be totally stable.
"They're not to be used as PCs at all, really — we look at them as dedicated workstations, one recorder and one sampler and editor."
With the PCs and D8b at the centre, Graham and Andy have crafted a superb recording system. Graham: "We record from the Mackie via the three ADAT lightpipes to the RME Hammerfall in the recording PC, via an M Audio Digipatch. Fantastic piece of kit, that. Two of the eight‑channel ADAT connections are hardwired, but the third is flexible, and can be patched from any digital source in our studio: our CD player, our Tascam DA45HR 24‑bit DAT, the TC Electronic Finaliser 96, the second PC, our Yamaha O1v desk...
"The second PC has a Frontier Designs Wavecentre card in it, because it's the only card that offers Gigasampler‑format low‑latency monitoring and digital‑only I/O. All I wanted was an ADAT out so the output can come straight out and back into the Mackie, or into the Digipatch and back into the main PC.
Perhaps curiously for a studio running Cubase VST, Graham and Andy do no host‑based processing. Instead, they pipe audio digitally from the PCs via the D8b and out via AES/EBU into their two TC Electronic M3000s or Eventide DSP4500. Who needs plug‑ins?
Graham: "We can record the 100 percent wet signal back into Cubase without losing any quality. Then you can submix the dry and effected signal from inside Cubase. That gives you an effectively unlimited number of Eventide channels on hand from Cubase VST. We don't run any plug‑ins here; when you have DSP like that, you don't need anything else."
When recording is complete, mixes can be done to the 24‑bit DA45HR DAT, or dithered down to 16‑bit with the Finalizer 96K or the Apogee UV22 plug‑in in the D8b and burnt to CD‑R.
Fantastically well‑equipped though Master Tone studios is, Graham and Andy are already looking towards their next round of hardware updates. The first purchases will be a new RME Hammerfall card and three Alesis AI3 ADAT optical‑to‑analogue converters, to be used with the Mackie D8b to get around a mixdown problem Graham has noticed.
"I don't think the D8b has enough digital inputs. It's fine having 24 channels of ADAT output, because you're rarely going to be putting more than that to disk at once, but when you're bringing it back in from hard disk or wherever for mixing, you need more than 24‑channel input. What we really wanted was a way of getting another 24 channels. We could have got another D8b, but that would have been very expensive. The plan now is to get another Hammerfall card to send audio out of the main PC, put the AI3s on the ADAT outs of that, and then pipe those signals into the Mackie via its analogue ins. It's a bit annoying after all I said about keeping the studio digital, but it's the best way we can think of getting more inputs at mixdown at the moment.
"Having said that, we'd also like to improve the quality of the analogue input stages at the start of our digital signal chain. What we'd really like is a Focusrite ISA430 as a dedicated channel strip with the digital option, so it can feed straight into the D8b... and then, of course, there's the new Eventide Orville to think about... We have still got empty racks, here, you know! We're compelled to fill them!"