If you're in the market for a portable recorder, there are plenty to choose from, with a variety of different features and at a wide range of prices. Before you buy, consider what you want to do. Some models allow you to use your own microphones, while some restrict you to their built‑in ones. A few are even capable of surround recording, and can record multiple discrete channels, like a compact multitracker. These are just a few of the models that are currently available, with links to the SOS review where available.
Roland R26
A high‑quality recorder that, unlike most similar products, has the ability to record six discrete channels of audio. It has a built‑in X-Y pair of mics, plus two preamps with phantom power, and a mini‑jack input for compact stereo mics.
Zoom H2N
The H2N has no fewer than five mic capsules built in, allowing it to record in X-Y stereo, Mid/Side, Blumlein and surround modes. It offers USB file transfer and headphone monitoring, and has an input‑gain knob on the side to let you adjust the record level without having to navigate the menu.
Olympus LS3
The latest in Olympus' LS range, the LS3 offers 24‑bit/96kHz PCM recording and has three mics built in, adding an omnidirectional capsule to the usual X-Y pair. It also has software features including a pre‑record buffer and automatic file splitting during pauses.
Korg Sound On Sound
The Sound On Sound recorder has just one omni mic built in, but it can accept stereo mic‑ or line‑level source and also has a quarter‑inch instrument jack input. It allows you to layer an unlimited number of recordings on top of each other, hence the name!
Review: /sos/sep10/articles/korg‑soundonsound.htm
Marantz PMD661
Marantz's PMD661 is chunkier than many of its rivals, but it has two mic preamps built in, so you can use your own mics as an alternative to the built‑in stereo pair. It records to SDHC cards (up to 32GB in capacity), at up to 24‑bit/96kHz.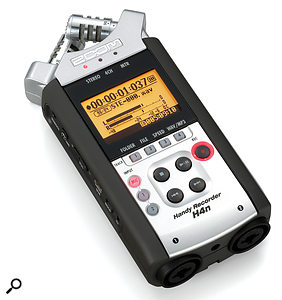 Zoom H4N
Winner of last year's Best Hardware Recorder SOS Award, the H4N has two mics built in, plus two preamps, which can be used in addition to the onboard mics for four‑channel recording. You can even use it with a computer as an audio interface.
Review: /sos/jun09/articles/zoomh4n.htm
Tascam DR2D
The DR2D has two omnidirectional mics built in, and can accommodate external mics and line‑level signals via mini‑jack sockets. It allows you to perform overdubs and has a 'dual‑record' function, which makes a duplicate of whatever you're recording, but at a lower gain setting, in case the original file clips.
Review: /sos/dec10/articles/tascam‑dr2d.htm
Alesis Palmtrack
The Alesis Palmtrack is both compact and affordable, yet it has a stereo pair of mics built in, as well as being able to capture external mic or line sources (via 3.5mm jack). The internal and external mic signals can be mixed prior to recording, and it offers uncompressed 24‑bit quality, up to 48kHz.
Review: /sos/jul10/articles/alesispalmtrack.htm
Sony PCM M10B
One of this model's selling points is that it has 4GB of recording memory built in — and that can be supplemented with a MicroSD card of up to 16GB in capacity, for a total of 20GB! It has a built‑in stereo mic array (as well as inputs for line or mic sources) and a large LCD screen, and comes with a remote control.
Review: /sos/mar10/articles/sonypcmm10b.htm
Korg MR2
Korg's MR2 is unusual for a handheld recorder, in that it offers 1‑bit DSD recording: a high‑resolution format that can be converted to any of the 'normal' sample rates and bit depths, making it useful for archive recording. It has an X-Y pair of mics built in and records to SD and SDHD cards.