Format: AUDIO CD
4/5 stars ****
Rizing Drum & Bass is an extensive collection of drum & bass samples, presented as 64mins 36secs of audio — no Wave or other data formats are available. The CD opens with 30 construction kits, ranging in tempo from 165 to 180 bpm, and the quality of these kits is very high throughout. The production has presence and clarity, but also plenty of edge, and the sound is forceful and never sterile.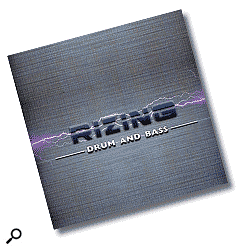 Unsurprisingly, the emphasis is on drum programming, and producer TJ Rizing is clearly an expert in his field. The beats here are tight and compelling, and the programming is lively and very musical. Each construction kit is painstakingly dismantled piece by piece, providing the means for programming your own fills and variations, while also offering an interesting insight into how a convincing drum & bass rhythm track can be assembled.
After the construction kits come eight tracks of individual instrument sounds. As you'd expect, bass is not in short supply, and there are plenty of gut-wrenching sub-bass sounds that you feel more than hear, and some suitably fuzzy and nasty warping bass lines. A selection of keyboard and effects sounds is also thrown in, including a handful of Rhodes samples, plus a dizzying variety of single-hit and drum machine sounds. The collection is rounded off by a track full of 'more or less' usable samples provided courtesy of noted drum & bass record label Trouble On Vinyl.
The only complaint I could make about the content is that it perhaps sounds a little dated, which isn't too surprising bearing in mind how quickly fashions in dance music change, and given that this CD was originally released in 2001. That said, it remains an impressive collection of samples, which could still provide valuable inspiration for producers working on new tracks. While the audio CD format of Rizing Drum & Bass has the advantage of being universal, I can't help feeling that Wave data would have been more useful to the CD's intended audience.
Nitpicking aside, this is undoubtedly one of the better drum and bass sample CDs on the market. With a bit of chopping about, it could also prove a valuable tool for producers working in other dance music genres. A small reduction in the price would make this an absolute bargain, but as it is, Rizing Drum & Bass is still well worth investigating. 
£59.95 including VAT. Add £2.35 per order for p&p.