Apple's new Macbook Pro features the 34mm Express Card slot, as shown here (covered by a flap), to the right of the two mini-jack sockets.
I'm currently living in Ethiopia and my latest volunteer just brought me a new PC laptop, which I thought would let me change from my USB-equipped Focusrite Saffire to my Emu 1616M, which uses the PCMCIA Cardbus connection. The trouble is that the new laptop, a Dell, has no PCMCIA slot, just the new Express Card format. I was always worried about Emu using this out-of-date interface and now laptops like Macs are switching to Express Card slots. Has anyone found and tested a PCMCIA to Express Card adaptor with the 1616M, or do PCMCIA to Firewire or USB 2.0 adaptors exist? 
Dan Harper
PC music specialist Martin Walker replies: I sympathise with your plight, Dan, and you're not alone — several other SOS Forum posters have bought new PC laptops to make the same jaw-dropping discovery. It doesn't help that most of us refer to the interface used by audio interfaces such as Echo's Indigo range, Emu's 1616 and1616M, and RME's Cardbus adaptor as 'PCMCIA', when in fact it was the Personal Computer Memory Card International Association that developed both the older Cardbus and newer Express Card formats.
As you've found to your cost, these two formats are physically and electrically incompatible: Cardbus uses a 68-pin connector with a gold-coloured strip and eight tiny bumps on top, while the two different widths of Express Card (34mm and 54mm) both use a 26-pin connector. You can read more about the differences at the dedicated Express Card web site (www.expresscard.org/web/site/cons_faq.jsp).
There are certainly benefits to be had from the Express Card format, which supports both PCI Express and USB 2.0 standards, has a significantly higher speed than Cardbus, and can be used to add extra parallel, serial, USB, Firewire 400 and 800, or SATA ports to your laptop.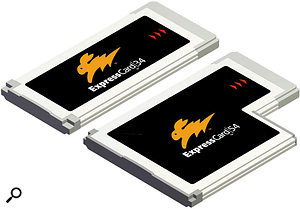 The Express Card is available in two sizes: 34mm and 54mm.However, I don't feel it's quite fair to refer to Emu's Cardbus products as 'out of date', since although Hewlett Packard shipped a system featuring an Express Card slot in late 2004 — as did Lenovo with their Thinkpad T43 in 2005 — very few people had Express Card-equipped laptops when Emu launched their 1616 and 1616M products in mid-2005. Meanwhile, Apple didn't launch their Macbook Pro model until early 2006 when there were still very few Express Card peripherals available, and even as I write this, six months later, there are still far more products on the drawing board than there are in the shops.
Even when they eventually appear, you're unlikely to be offered a 'swap' for your existing Cardbus interface. However, help will soon be at hand, since various companies seem to be actively working on adaptors for connecting older PCMCIA Cardbus cards to the newer Express Card interface.
One example is from Duel Systems (www.duel-systems.com/products/adapters.aspx), who expect to launch theirs by August 2006. It will be compatible with both PCs and Macs, and any Cardbus card. Hopefully it will be available by the time you read this, but I don't know of anyone who's yet tested such an adaptor with an audio interface to see if there are any conflicts, so take care.
Incidentally, Emu 1616 and 1616M users can use a PCMCIA Cardbus to PCI adaptor to connect their interfaces to a desktop PC instead of a laptop. The most widely recommended adaptor is from Syba (www.syba.com/product/43/03/01/index.html), despite having a Ricoh R5C485 chipset (Emu specifically state that Ricoh R5C476 and R5C475 chipsets are incompatible with their 1616 series).
There are a few PCMCIA Cardbus to USB 1.1 adaptors, mostly to connect a specific range of 3G Wireless Data cards to PCs without Cardbus slots. For instance, Elan Digital Systems have one (www.elandigitalsystems.com/usb/u111530.php). However, these are probably only suitable for stereo devices such as Echo's Indigo IO, as they won't provide enough bandwidth for multi-channel interfaces such as the Emu and RME models. I haven't yet discovered a PCMCIA to USB 2.0 adaptor more suitable for audio purposes. Overall, I think your best bet is to continue to use the Saffire until you can buy a Cardbus to Express Card adaptor.