I have a PC with a Q6600 quad‑core processor running Cubase 4, and despite clicking on the Cubase 'Multi Processing' switch, when the Cubase CPU meter reads 90 percent the Windows Task Manager only reads 40 percent. However, if I load a new project with 80 tracks, each using the same compressor and EQ plug‑in and the same audio file, both Cubase and Task Manager read 90 percent. It's really weird!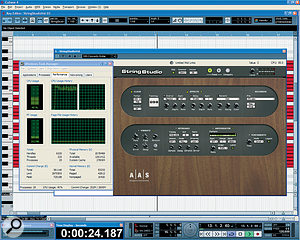 CPU meters don't always agree, but this doesn't mean that anything is necessarily wrong: here Cubase 4 is running a heavy‑duty soft synth that consumes almost 100 percent of a single core of this dual‑core PC. The high Cubase ASIO meter reading (bottom left) simply indicates that one or more cores is approaching its limit, as also seen in Windows' Task Manager, which still shows an average CPU Usage of just 40 percent.
Steven Leduc
Via email
SOS contributor Martin Walker replies: Your apparently conflicting results can be explained fairly easily, although understanding a little more about why they happen may help you and other musicians use more plug‑ins and soft synths before your PC appears to run out of steam. According to Steinberg, the Cubase VST Performance ASIO meter actually displays how hard the audio card driver is working and how much capacity is left before you will experience pops and crackles. In practice, whatever is being measured, comparing the Cubase ASIO meter reading with that of the Windows Task Manager on a multi‑core PC shows that Cubase indicates how close any one of the cores is getting to 100 percent occupied.
Moreover, according to all the tests I've carried out, most audio applications treat each mono/stereo audio track (or soft synth/sampler track), plus associated plug‑in effects, as a single task, and allocate it to a single processor core. You can easily confirm this for your own applications using Task Manager, systematically adding a series of demanding plug‑ins to the same audio track, when you should see one core becoming progressively more loaded.
So if you have one track featuring a very demanding device or chain of plug‑ins (physical modelling synths and convolution reverb are two draining examples), they might consume the majority of one core's processing power, in which case the Cubase ASIO meter would show nearly 100 percent to indicate this loading, while Task Manager might only display an average core loading of 25 percent.
This high Cubase ASIO meter reading can certainly be rather misleading at times, if you still have plenty of processing power available from the other cores to call on, but it's nothing to worry about. With a quad‑core processor, you should be able to create three further identical tracks that would each be allocated by Cubase to one of the remaining cores.
If you started a new project and kept adding audio tracks to it, each with an identical pair of plug‑ins, each new track/plug‑in combination would tend to be allocated by the audio host application to the core that currently had the lowest load. As you continued adding tracks/effects, the load should therefore end up shared out fairly between cores, just as you found with your 80 tracks, each with an EQ and compressor. If you get a high reading on the Cubase ASIO meter with any multi‑core processor, just remember that this indicates that one core is nearing its limit, but that the other cores may still have plenty of power to spare. You can check occasionally in Task Manager to confirm this, but don't worry about any imbalance you see there. Even at the 90 percent Cubase meter reading you've noticed, your audio should carry on running smoothly, and only if one core approaches 100 percent will you experience audio glitching as the plug‑ins and/or soft synths allocated to it run out of processing power.
If you do run into problems with one particularly complex track maxing out one of your cores, consider moving some of its plug‑ins to a new FX track so that Cubase can allocate them to a different core, and then use a send from the original track to route the original audio to this new channel.