More on DP4 and OS X, including the new 'Freeze Tracks' feature...
The new Freeze Tracks feature is a great addition to DP, and especially so if you own an older or more modest Mac. There can't be many DP users out there who haven't pushed their Mac's processor to the limit whilst working on a project. Extensive use of effects plug-ins sap processor power, resulting in an increasingly sluggish user interface, pops and clicks in audio, and even system instability. Getting around this problem has always been possible, by creating a new voice track, routing all the tracks laden with software synths or plug-ins to it via a buss, record-enabling it, making a recording pass then disabling the plug-ins. It's straightforward in principle, but a really tedious chore that can take 10 minutes to set up, and even then, it results in the loss of individual control over the tracks you've just bounced.
This is where the new Freeze Tracks feature comes in. In a single action it takes any tracks you've selected (whether they have plug-ins on them or not), creates the same number of new tracks, bounces the selected tracks to them, and then disables the audio voice assignments in the original tracks it has just 'frozen', freeing up processor power. The advantage of doing it this way is that although you don't get to tweak plug-in parameters any more, you maintain individual control over level and pan, and can of course add more plug-ins!
Using Freeze Tracks isn't difficult. You select an audio track by clicking its name or dragging over a part of its track in an editing window, hold down Control and Command/Apple and hit the 'F' key (or choose 'Freeze Selected Tracks' from the Audio menu). Your new track appears and the original is 'frozen'. If you want to return to the original track select it (not the bounced track), hold down Control, Shift and Command/Apple and hit the 'F' key again (or go to the Audio menu, hold down Shift, and select 'Unfreeze Selected Tracks').
The above works for multiple tracks, and also Aux tracks, so it'll be possible to freeze software synths in this way too. Also bear in mind that Freeze Tracks is perfect for capturing the output of external effects processors being brought into DP via an Aux track — freeze the Aux and you have a 'hard copy' in DP that you can mix, tweak and edit to your heart's content.
Although early DP4 adopters have had to make do without the vast array of MAS format plug-ins that were available under OS 9, they're perhaps compensated to a certain extent by the promise of native support for Audio Units later in the year. Audio Units (or AUs) may well become the standard format for audio plug-ins under OS X, so it makes sense to start getting a feel for them now. But how can DP users do that?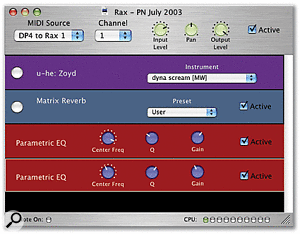 Granted Software's Rax, a stand-alone AU host application that you can use with DP4.The answer lies with Rax, an application by Granted Software (who also make the iMIDI utility featured in Mike Watkinson's Apple Notes column back in February). Rax is perhaps the first stand-alone Audio Units host, and although it's still in a relatively early stage of development, it nonetheless offers robust support of most Audio Units plug-ins, including software synths and effects. Operation is simple — after you boot it up you're asked to select an Audio Unit synth plug-in from any of the ones you've put in Library/Audio/ Plug-Ins/Components (the OS X location for plug-ins, as explained in last month's Performer Notes). You can then play the synth plug-in by selecting an appropriate MIDI source from the dedicated pop-up menu. AU effects (including the handful that are part of OS X; there's a surprisingly good reverb) can then be applied to the output of the synth.
What makes Rax really useful is that you can play it from within DP4, and here's how. First of all, start up DP before you boot up Rax. Go to the Setup menu, select 'Interapplication MIDI...' and create an Output called (for example) 'DP4 to Rax 1'. Now, close Interapplication MIDI, start Rax and select an AU instrument. Here's the clever bit — from Rax's MIDI Source pop-up menu select 'DP4 to Rax 1', which Rax recognises because DP4 has 'published' it to the Core MIDI part of OS X. Back in DP, you should now find 'DP4 to Rax 1' in the output menus of all your MIDI tracks. Record-enable one of them, and you'll be away.
Whilst the combination of DP4 and Rax is useful, it has a major shortcoming in that there's currently no way to get audio from Rax (or any other application that doesn't support Rewire) into DP4 without it having to pass in and out of your Mac via some sort of audio interface. Before OS X, DP users had a solution to this problem in the form of AudioTap, a little MAS input plug-in which could take any audio being handled by the Mac's Sound Manager and route it into a suitably record-enabled DP audio track. It was great — oddball software synths, RealPlayer, DVD soundtracks and system sounds could all be recorded in DP and take advantage of DP's mixing and processing architecture — but now AudioTap is gone for good.
Using Audio Hijack Pro, all sorts of system and application audio can be recorded ready for inclusion in DP. It can also make quick MP3 mixdowns of DP4 sequences.However, there is some brighter news, in the form of the Linux 'audio server' Jack, which is currently in an advanced stage of being ported to OS X by Stephane Letz, a French software developer. Jack makes it possible for Interapplication audio to take place on a very flexible basis, but the downside is that audio applications have to be specially adapted in order to use its features. But before you quite rightly exclaim, 'MOTU will never do that!' there's more. A freeware OS X framework called Application Enhancer (or 'APE') can 'patch' existing applications to give them additional features, and it's highly likely that soon any audio application using Core Audio (ie. anything that runs under OS X) will be able to be patched to allow it to be 'jackified'. Stephane Letz already reports success with patching DSP Quattro X, so with any luck DP4 will soon have interapplication audio capabilities once more.
In the meantime, if you want to get a feel for what APE can do, have a look at an application which relies on it, Audio Hijack Pro. This is a kind of 'mini'-DP/ AudioTap combination — a stand-alone audio recorder that supports AIFF and MP3 file formats along with VST and AU effects plug-ins, and can record audio from any application that uses OS X Core Audio (including DP4). Audio Hijack Pro is a pretty nifty bit of software to own even if Jack for DP4 is in the pipeline, because along with letting you, amongst other things, record iTunes internet radio streams, you can also use it to do really quick MP3 (or AIFF) bounces of DP4 sequences. Just set it up to record DP4's output, and make sure that any external sound sources in DP4 are being brought into the Mixing Board via Aux Tracks. Then start Audio Hijack Pro recording and hit play in DP4. It's great for collaborative projects, or for just knocking out something to listen to on your iPod.
 
Current Versions
 
 

MOTU Digital Performer: v4.0 (OS X).
MOTU Digital Performer: v3.11 (OS 9).

 
For more info on all this, surf to http://jackit.sourceforge.net (Jack), www.unsanity.com/haxies/ape (Application Enhancer) and www.rogueamoeba.com/audiohijack (Audio Hijack Pro).
Although it has never happened to me in over a year of using OS X, it's perfectly conceivable that certain applications may end up with corrupted preferences files from time to time, particularly following a crash. Since trashing preferences was, sadly, so much part of life with DP and FreeMIDI under OS 9, it's probably worth knowing how to do the same under the new OS. OS X maintains preferences on an individual user basis, so if you experience problems with DP4 that you suspect might be solved by trashing its preferences, the place to look is Users/[your username]/Library/Preferences. Here you'll find a number of files relating to MOTU and DP4, such as 'com.motu.DigitalPerformer.plist' and a folder named 'Digital Performer' containing files such as 'Preferences' and 'Command Bindings', very similar to the one that used to be in the Extensions folder if you used DP under OS 9.
First of all, the plist file (which, in OS X terminology, is a 'property list') stores information relating to DP's use of OS X's navigation services — the default locations in an Open or Save dialogue box, for example. Though it's unlikely you'd ever need to, trashing it does no harm at all, since a new one gets written the next time you boot up DP. If you're really curious you can open plist files, which are in XML markup language format, in an application like BBEdit or the dedicated Property List Editor which is installed as part of the OS X developer tools package. It's probably best to resist the temptation to change anything you see, though!
However, the heart of DP4's preferences is in the 'Digital Performer' folder, but again you can't do any harm by trashing these files. 'Preferences' seems to be DP4's fundamental preferences file, whilst 'MOTU Audio System Prefs' is probably the prime suspect for audio-related gremlins. Interestingly, it appears that DP4 is largely compatible with preferences files produced by DP3, to the extent that you can use an OS 9 'Command Bindings' file to carry over carefully-honed keyboard shortcuts into the new operating system. The next time you boot up DP4 it recognises the fact that you've fed it an 'old' file, and offers to update it for you to take account of some system-wide shortcuts that might cause a conflict (see the 'Quick Tips' box later for more on this).
Last month I mentioned that DP4's MAS plug-ins appear in the Finder as files with the name 'something.bundle', and said that although they look like folders they can't be opened. Well, that wasn't strictly true, because like Audio Units (which are called something.bundle) they're actually 'packages' whose contents can be examined by control-clicking (or right-clicking) on them and choosing 'Show Package Contents' from the pop-up menu that appears. Most of the contents of packages like these will only be of interest to programmers, but it's interesting to note that inside Contents/Resources/Presets are individual Effects Settings Clippings that correspond to presets which show up in the plug-in's pop-up menu inside DP. Their existence is worth bearing in mind for two reasons. First, despite what you might expect, user presets are not stored amongst them — they're still saved within individual project files, so if you want to build up a 'user bank' of presets you need to use DP's Clippings as before. Second, you can actually delete, replace or add to them, for the ultimate in user personalisation — but don't even think about trying this unless you're completely confident about what you're doing! Nonetheless, DP4's bundle files are yet another example of how things have fundamentally changed under OS X. And on that note, be sure to read next month's Performer Notes, in which I'll be looking in detail at the new XML patchlist format that DP4 employs.
If you're using DP4 to play synths in Reason (or a VST or AU host application) you might, like me, have experienced interapplication MIDI communication ceasing when you switch out of DP (to adjust synth parameters, for example). In DP3 this could be remedied by selecting 'Play In Background' in Preferences and 'FreeMIDI applications only' in FreeMIDI Setup's Preferences. To achieve the same in DP4, you need to go to 'MIDI Patch Thru...' in the Studio menu and select 'Patch Thru in Background'.
Two important DP keyboard shortcuts have changed in DP4. Heal Separations is now accessed by holding down Alt/Option and hitting the 'H' key, to avoid a conflict with OS X's 'Hide Application' function. Play Selection is now accessed by holding down Alt/Option (not Command/Apple) and hitting the spacebar. The keystroke with the Command/Apple key is now used to cycle through international keyboard layouts.