Apogee's fabulous Duet 3 audio interface and Duet 3 Dock are up for grabs this month, along with three top-class plug-ins: Clearmountain's Domain, Spaces and Phases (worth £1300$1375).
Way back in 2007, premium A-D/D-A converter and interface manufacturers Apogee pioneered the desktop interface format, with the original FireWire Duet. The concept of a combined interface and monitor controller/encoder has since become hugely popular, copied by a number of other manufacturers and also updated and refined by Apogee themselves.
The latest iteration of their groundbreaking design is the Apogee Duet 3, a sleek, glass-and-aluminium desktop audio interface that maintains the original's 2‑in/4‑out format and bus-powered portability. The conversion specs, however, are significantly enhanced, while the preamps now supply up to 65dB of gain — enough to work with any microphone, modern or vintage.
Perhaps most significant, though, is the inclusion of an internal DSP engine. This is capable of running Apogee's own ECS Channel Strip plug‑in, designed in collaboration with none other than mix legend Bob Clearmountain. It incorporates a parametric EQ, a compressor, and a drive stage, and because it runs on the Duet 3's internal DSP, it adds no extra latency, making it suitable for tracking.
Check out the full SOS review in our April 2022 issue
The Prize Bundle
Apogee Duet 3 inserted into the Duet 3 Dock
For this month's exclusive Sound On Sound online competition, we're teaming up with Apogee to give you the chance to win a Duet 3 of your very own, as well as a Duet 3 Dock. The Duet 3 Dock is designed to live on your desk permanently, and houses full-size connectors for all of the Duet 3's I/O. This way, you can still easily carry your Duet 3 around with you for mobile work, but as soon as you're back at the studio, all you have to do is dock the interface and all your microphone, instrument, line‑level and USB connections will be restored in one fell swoop.
Clearmountain's Domain plug-in
To further sweeten the deal, Apogee are also bundling three of their acclaimed plug-ins, again developed with the help of Bob Clearmountain. Clearmountain's Domain is a multi-effects plug-in based on Bob Clearmountain's very own effects rack, and it includes presets based on some of his most famous mixes for the likes of Roxy Music, David Bowie, the Stones, INXS and many more.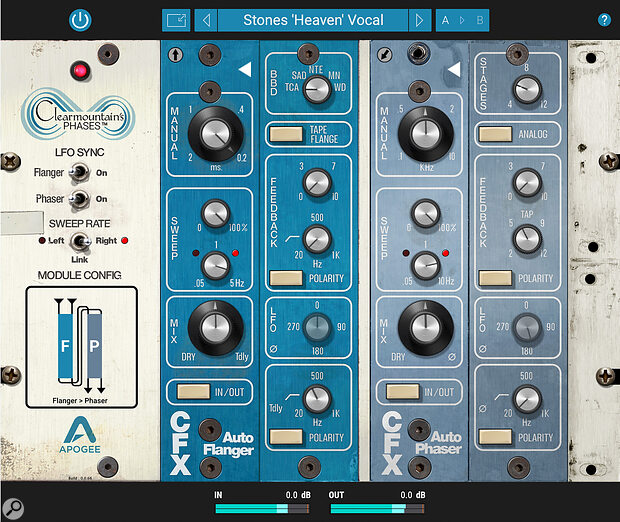 Clearmountain's Phases plug-in
Clearmountain's Phases, meanwhile, is a faithful recreation of Bob Clearmountain's rare MXR Auto Flanger and Auto Phaser processors. As well as offering a flexible signal path, plus a few features not found on the originals such as a tape flanging mode, this again boasts presets based on iconic tracks like 'Kashmir' by Led Zeppelin and Bowie's 'China Girl'.
Finally, we have the excellent Clearmountain's Spaces, a convolution reverb that includes impulse responses captured at Bob Clearmountain's own studio, among many others.
Clearmountain's Spaces plug-in
Perhaps most significant is Duet 3's inclusion of an internal DSP engine. This is capable of running Apogee's own ECS Channel Strip plug-in, designed in collaboration with mix legend Bob Clearmountain... this adds no extra latency, making it suitable for tracking.
How To Enter
To be in with a chance of winning this fantastic prize bundle, simply fill out the form to the right, answer all the questions and submit your entry by Friday 1st April 2022. Good luck!!
Prizes kindly donated by Apogee.
Competition Rules
Only one entry per person is permitted.
In entering this competition, you confirm that you are aged 18 years or older.
By submitting your entry, you agree to supply Sound On Sound and the Prize Donor with a photograph of you and the prize(s) plus some words about winning the prize. This may be used on each company's website, email newsletter announcements and/or social media channels. Your name will be abbreviated to first name last initial and your town/city/country, eg. Mike R of Bonn, Germany.
Please DO NOT ENTER if you do not agree to these terms.
Employees of SOS Publications Group, Apogee, and their immediate families are ineligible for entry.
No cash alternative is available in lieu of the stated prize.
The competition organisers reserve the right to change the specification of the prize offered.
The judges' decision is final and legally binding, and no correspondence will be entered into.
No other correspondence is to be included with competition entries.
Please ensure that you give your DAYTIME telephone number on your entry form.
Prize winners must be prepared to make themselves available in the event that the competition organisers wish to make a personal presentation.
The winning entrants name and county/state will be made available upon request.