There are plenty of good reasons to build a studio in the city centre: convenient access, an abundance of dining options on the street, access to other businesses such as music shops, and so on. However, there can be equal benefits in leaving urban areas behind. Recording artists can focus better on their work, and travelling to a remote space together can be a great experience for a group. In at least one case, though, all these factors are secondary to something else, namely the amazing scenery.
Located in the centre of the building, the spacious control room houses all the outboard gear in low-profile racks below the listening position.Located on the slopes near La Calera, a few kilometres east of the Colombian capital of Bogotá, Altar Audio boasts a spectacular mountain panorama which alone may justify the 40-minute drive from the metropolis of eight million people. The studio was founded by Juan Valencia, a native from Bogotá who studied guitar in New York and engineering in Ontario, Canada. After graduating from the OIART institute, Valencia had to choose whether to pursue the conventional career path in Canada, filling assistant positions in existing studios, or to return to Colombia to start his own venture. He opted for the latter and was given the opportunity to build what became Altar Audio, a top-class recording facility in a rural area.
Finding a suitable piece of land was the first challenge. "We wanted to be in a very inspirational and beautiful place, but we had to be really close to Bogotá," says Valencia. "We wanted the best view possible, the best vibe, but we needed a place that wasn't completely shut off from civilsation. We have to be commercially relevant even though we are far away in the mountains."
The main live area houses the studio's Yamaha grand piano, with plenty of space available for other instruments too!
A vocal booth and a very reflective echo chamber complement the main live room.Construction took two years, and the acoustic design was jointly overseen by John L Sayers and Lucas Serrano of Bogotá-based architecture firm Aqstica. The project was finished by the end of 2015, and setting up and wiring the gear was completed in Spring 2016. Altar operated under the radar for a few weeks before officially opening its doors in the Summer of 2016.
Despite its location on the tranquil, serene mountain slopes over 2700 metres above sea level, the acoustic and soundproofing properties of the building are just as solid as if it had been built in a busier place. Juan Valencia explains: "We are out in the middle of nowhere without much surrounding noise, but we still made everything super-thick. The soundproofing is like we were in the middle of the city. It's really highly efficient, it could be storming outside and you wouldn't know."
All musical spaces are located on the ground floor, with a kitchen/dining area placed on top, so that the structure resembles a Mayan pyramid just like the one in the company logo. Valencia chose the studio name to reflect his sonic ambitions: "The studio is an altar to audio, to music. The only priority for us is to make things sound as good as possible!"
The outboard collection includes audio processors and synthesizers such as these Korg Radias and Moog Voyager rackmount units.The facility offers around 170 square metres of production space, with the spacious 60-square-metre control room in the centre surrounded by a number of different live rooms — and by the mountains, which can be seen from almost every angle in the light-filled spaces. There is a 100-square-metre live area with variable acoustic properties, a highly reflective 'echo chamber' booth and a conventional vocal booth, and some hallways can be converted into isolated recording spaces, too.
The studio was conceived with maximum flexibility in mind, and covers the full process from pre-production, through recording and mixing to mastering, with a gear collection assembled accordingly. The SSL AWS 948 mixer offers pristine sonics and ample routing capabilities with a comparatively small footprint, and the outboard racks include a range of recreations of vintage classics by Warm Audio alongside high-end units such as an Innertube Audio Atomic Squeezebox, a Manley Voxbox, a pair of Universal Audio 6176s, various Focusrite and Vintech preamps, and a 500-series chassis with a pair of Rupert Neve Designs 5052 Shelford channels.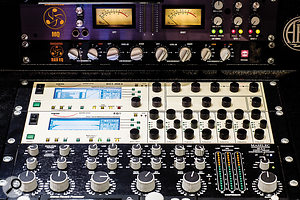 The mastering chain is based on Dangerous Music, Weiss and Maselec processors.A mastering rig is based on processors by Dangerous Music, Weiss and Maselec, while monitoring systems range from the large soffit-mount PMC BB5i down to ATC SCM25A and Yamaha NS10 nearfields. In addition, the studio has over 70 microphones and an instrument collection that includes a 1964 Yamaha G5 grand piano as well as various synths, drums, guitars and amplifiers.
The first recording visitors, before the offical opening, were Guatemalan singer-songwriter Ricardo Arjona, who was recorded by Carlos 'El Loco' Bedoya — both Grammy award-winners in their fields — Argentine bandoneon player, composer and arranger Rodolfo Mederos and Colombian DJ/producer Julio Victoria. Altar Audio is looking back on a successful first year and now aims to expand its client base to the North American markets, which will find a world-class music production facility in a spectacular place, which can operate at a much lower cost than studios in the US recording centres. With a large share of the international Reggaeton movement coming out of Colombia, and many Hollywood film productions being brought to Bogotá, the local scene is flourishing — and Altar Audio has appeared on the map just in time to play a vital role.