The Neve desk in Studio 1 was once located at New York's Hit Factory, and used to record John Lennon's last album Double Fantasy.
Many world-class recording facilities have built up their reputations over half a century or more. Clouds Hill, however, has risen to the top in a mere decade. What started in 2005 as a one-man shop relying on the fading powers of an almost-broken Amek console has grown into a multi-room facility, boasting an enormous equipment arsenal and attracting international celebrity clients.
Studio 1's capacious live room.
Clouds Hill is located on the top floor of a mid–19th Century warehouse in Hamburg's borough of Rothenburgsort. Despite its being very close to the centre of Germany's second–largest city, genrification has mostly passed by this part of Hamburg's vast harbour area, and this was even more so when Johann Scheerer founded the studio in 2005.
Unusually, the Studio 2 live area is almost as large as that of Studio 1.
Studio 1 boasts an extensive collection of tape echoes, including this very rare Evans ES–5 Super Echo.
A staggering number of guitar pedals ready for deployment in Studio 1!
Studio 2's control room is centred around a vintage API 3232 console.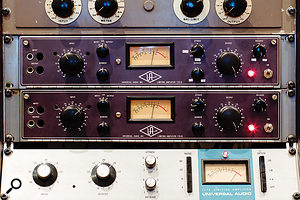 Clouds Hill has a large selection of classic dynamics units, including these Universal Audio 175B, 'blue stripe' 1176 and RCA BA6A limiters.
Vintage German Siemens and Telefunken preamps in Studio 1.The studio takes its name from the country cottage of TE Lawrence, aka Lawrence of Arabia, and Scheerer's aim was to combine the advantages of a city location and a remote residential studio in a single operation. The old brick building is surrounded by industrial no-man's land, with a scenic view over the Elbe river and the adjacent harbour area; yet it is located only a few minutes away from Hamburg's central station. The area is picking up much interest from the creative community, and could well become Hamburg's next 'go to' neighborhood in a few years.
Johan Scheerer scored his first record deal with Sony/Epic at the age of 16. He honed his producing and engineering skills in several studios in Hamburg and New York, and although he's still only in his mid-30s, can already look back at a career that spans more than two decades. Surrounded by a team that is, at least in parts, even younger than him, Scheerer has developed Clouds Hill into a multi-faceted venture with two world-class consoles at its heart. Yet the 600-square-metre venue also includes office spaces for publishing, booking and artist management; Clouds Hill operates a record label that started out releasing collectible seven-inch vinyl records; and the space is also home to the Soundgarden Mastering Suite. There's also a large residential area including six client bedrooms, with river views and the charm of a Nordic boutique hotel from a bygone era.
Studio construction was overseen by engineering company Taubert & Ruhe, who recently were also hired as consultants for Hamburg's new Philharmonic Hall. The centrepiece of Clouds Hill's Studio 1 is a vintage Neve console of extraordinary provenance. The 8068 desk was commissioned by Sir George Martin and manufactured by Rupert Neve in the late '70s. In 1980 John Lennon used it to record his last album Double Fantasy at Hit Factory, New York, before the desk was sold to Daniel Lanois, who carried out a few interesting modifications. Fred Hill refurbished it before it was installed at Clouds Hill.
With a 56–square–metre control room, a 90–square–metre main live area and an additional 15–square–metre booth, Studio 1 is a generously sized room, and it is equipped with an outboard selection to rival almost any facility in the world. There is a Fairchild 670, two pairs of RCA BA6A and Universal Audio 175B limiters, a rare 'blue stripe' 1176, several Neve units, Focusrite channels, Pultec and Massenburg EQs, not to mention Telefunken/TAB and Siemens outboard preamps, a Lavry Gold A-D converter, a Studer A820 recorder and numerous reverbs such as EMT 140 and 240 units, a Lexicon 224 and 480L, and an AKG BX15.
Johann Scheerer considers himself a collector — as an eight-foot-high rack of Copicat echoes testifies — but his primary focus is on sound quality; quoting German photographer Christian Gundlach, he says: "A collection without a system is merely an accumulation." And this spirit shines through in every aspect of Clouds Hill's collection, including the equipment in Studio 2. This studio boasts a live area of similar proportions to Studio 1's, and a vintage API 3232 console that was acquired from Ocean Way Recording in Hollywood. Studio 2 also boasts a Studer C37 and a two-inch Studer A820 modified for eight–track recording, as well as an array of 19 vintage German valve preamps of V72, V77, V76 and V41 types (all equipped with variable gain facilities), and an original Universal Audio 610 preamplifier.
Studios 1 and 2 also share a selection of microphones and backline equipment which greatly exceeds the scope of this article. Key pieces include vintage Neumann, AKG, Sony and Telefunken microphones of virtually all well-known types, several vintage Ludwig and Slingerland drum kits, a Steinway & Sons D274 grand piano, two Minimoogs, a Chamberlin Mellotron M4000D, and many more precious keyboard instruments and guitars.
It goes without saying that Clouds Hill hasn't only attracted domestic German projects so far. The client list includes names Albert Hammond Jr, Faust, Gallon Drunk, James Johnston, Boy, Die Sterne, Nicholas Jaar, Phantom Ghost, Sportfreunde Stiller, the Killers, the Whitest Boy Alive and Tokyo Hotel. Pete Doherty's latest solo album, which was recorded and produced by Johann Scheerer, will be released soon.