The Magic Shop's control room is based around a unique 56-input Neve desk, configured in 'wrap-around' format.
The Magic Shop is not the oldest studio in New York, yet it is one of the few major recording venues left in Manhattan. Over the past 25 years, founder and owner Steve Rosenthal has proved that it doesn't necessarily take half a century to become a landmark studio. The downturn in the music industry and high real-estate prices have hit New York studios particularly hard, but the Magic Shop has kept its doors open in its original SoHo neighbourhood, only a few blocks away from the financial district around Wall Street.
The Magic Shop story began in the late '80s: at a time when electronic dance music produced with MIDI, synths and samplers played a dominant role in the global music business, the idea of building a recording studio with a large live area and an enormous discrete Neve console seemed like an anachronism. But only a few years later, with the rise of grunge and alternative rock, studios the size and scope of the Magic Shop were in vogue again.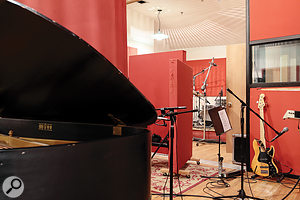 When The Magic Shop opened its doors in the late '80s, studios designed around big desks and live rooms were out of fashion, but its impressive live area soon became an asset once again.Steve Rosenthal learned his craft as a mixing and mastering engineer from a true legend — Herb Abramson, co-founder of Atlantic Records — and he honed his skills on one of the chunky and still highly regarded custom-built Atlantic consoles. So there was no question that he would look for a similarly powerful recording and mixing desk for his own studio, which he eventually found in the impressive discrete 80-series Neve console, with no fewer than 56 inputs, that still resides in the control room of Studio A. Rosenthal describes owning such a console as being like "owning an old Thunderbird: it takes a lot of tender love and care, but the results are beyond comparison". This behemoth soundboard came to life when two BBC Neve desks with 32 and 24 channels were combined in a 'wrap-around' style, in a project overseen by original designer Rupert Neve himself. According to Rosenthal, both consoles had been originally commissioned for the legendary BBC Maida Vale studios, and there were only four desks of this kind made. Surprisingly, he found one of them in a hospital in Scotland, where only three channels had been used for their internal radio system — two for the record decks and one for the microphone to call out the doctors!
A rare Gates SA-39B compressor.The studio was finally built around the console's transportation crate, as there would have been no other way to move the Neve inside the building once the construction was finished. And there was another surprise after the console was
 unwrapped: though everything seemed to work fine, there was no sound at all coming from the board. It took them a while to figure out that all the faders were mounted in reverse, BBC-style, so that when you pushed them all up, there was nothing to be heard. As Rosenthal reckons, the idea behind the reversed faders with the full level in their lowest position was that the engineer would be able to "pull the sound into the room" — quite an interesting perspective! Once this was sorted, the studio was open for business.
Close-up on the Neve desk showing the compressor/limiters and talkback section.In the first 18 months Rosenthal worked almost exclusively on his own projects, as artists and record companies seemed reluctant to book time in a new studio without a proven track record. The breakthrough came around 1990, with albums such as 99.9F by Suzanne Vega, Magic And Loss by the late Lou Reed and, not least, Sonic Youth's Dirty. Productions like these put the Magic Shop on the map, helping to establish their reputation. Recent notable productions include Coldplay's Viva La Vida, Medúlla by Björk and albums by Pink, Bat For Lashes and the East Coast jazz trio Medeski, Martin & Wood. Another project of historic dimensions was David Bowie's first album of new material in 10 years, The Next Day, which was both recorded and mixed at the Magic Shop.
A Chandler TG1 limiter doing its favourite thing, crushing the drum room mics.As for the whole city — and for the world, for that matter — 9/11 was a major turning point for the studio.

Located only 13 blocks away from the World Trade Center, Rosenthal did not have access to his premises for a few days, and subsequently clients from California, Chicago or even Japan stayed away from the Magic Shop. "This whole time was very New York-centric, kind of like running a corner deli!" Rosenthal recalls. But he used the time to install a second studio on the premises; the Blue Room is mostly dedicated to transfer, restoration and mastering. Steve landed a big job with the first project that was taken on there: remastering the first 22 Rolling Stones records. Since then, a second mastering facility, the Red Room, has also been added to the complex.
A classic Neumann U47 microphone.In the Magic Shop, Steve Rosenthal created the blueprint of a 'boutique studio' long before the phrase was coined. He has also been operating the Living Room, one of New York's most important live music venues, for a long time, which has helped to build a community around the studio, and to attract new clients to their recording, production, mixing and mastering services.
The Blue Room is mostly used for mastering, transfer and restoration duties.Despite a few setbacks, Steve Rosenthal's vision has proven successful, and to date the Magic Shop remains one of the few large Manhattan-based studios, among other legends such as Avatar, Electric Lady and Sear Sound. It takes a lot of love and dedication to maintain uncompromisingly high production standards in the current music industry, yet Steve Rosenthal and his staff keep the spirit of a recording environment with a classic aura alive.