We've discussed how to set up your label and integrate it with the UK music business. But how you run it from day to day, and who you employ to help, is up to you. We look at how two own-label bosses manage...
One of the things that must surely be abundantly clear to anyone reading this series is that there is a lot of work to be done when starting your own label. There's the legal side, involving contracts and licences, and there are your dealings with the collection agencies, to say nothing of your business with the people who manufacture, distribute and retail the products you'll be selling, which we haven't covered yet. Many of these transactions are time-consuming and involve such dull items as barcodes, IRSCs, and endless forms for bureaucratic minutiae such as VAT registration and Income Tax assessment. All this is quite a lot for a fledgling label to take on, and we haven't even considered the other creatively draining tasks, like writing, recording and mixing!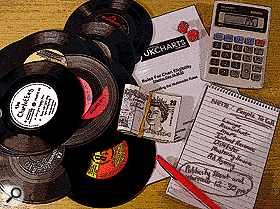 Only you, as label owner, can decide how much time you need to put into the music-making part of the process, but it's probably fair to say that if most of your time is spent running your business, then your music is not going to receive the attention it deserves. And if you still think you can handle all the above on your own, you'd only be ignoring other things like gigging and promotion, which we will be taking a look at later.
If you are to get all those label-related jobs done and still find time to eat, sleep and breathe, you will almost certainly have to employ some other staff to help out. The most immediate solution is to employ freelance workers rather than full-time or part-time payroll staff, as that neatly avoids any of the paperwork and legal obligations that are a requirement for an employer.
Assuming funds for paying wages are limited, you will have to decide how much of the work you can do yourself and which jobs are best done by hired help. This month, we hear from two own-label owners how they managed their businesses. As their very different experiences show, there is no right or wrong way to divide up the labour.
David Gedge now runs his own Scopitones label for the release of Cinerama records (see the 'Close To The Gedge' box at the end of this article), but due to a lack of time and personal experience, he hires a freelance label manager to do most of the label's day-to-day administration. Gedge explains why he decided to use such a person. "At one time, many major record distributors provided label managers for all the little labels who were selling small numbers of records. They probably still do provide a label manager for a label the size of Creation, but if I went to a distributor like Vital or Pinnacle, they would probably tell me it was not worth their while for the amount of income they were likely to receive from Scopitones. At the time I decided to set up Scopitones, Cinerama were still signed to Cooking Vinyl, who employed a product manager called Steve Young. Steve was leaving to set up his own label-management company and he offered to manage the label for me, so I hired him for Cinerama's Disco Volante album.
"Steve put a small label-management contract together, which outlined his services and fee: it was basically all the stuff that a product manager would do if you were signed to a proper label, and that included administration, marketing, sorting out promotion, and so on. It all looked fine to me, so I didn't add or subtract anything. We agreed a sliding-scale percentage deal where I think he took something like 20 percent off the income he received on my behalf from the distributor. The sliding scale meant that it reduced to 15 percent after a certain amount of income.
"In practice, Steve did general coordination like making sure the master tapes got to the manufacturers and that the sleeve got printed, and he always sorted out things like barcodes. Another part of his job brief was to estimate how many records we were going to sell and to decide how many records to press on that basis. Some estimates can be based on orders from the chains, so Steve would talk to distributors and the big chains like HMV and Virgin to get an idea of how many of our records they were willing to take. If, for example, HMV requested 1000 albums and Virgin wanted 800, Steve would add those figures and use that to estimate a figure for the other shops. It's also possible to get a ballpark figure by looking at the sales of your previous record releases. Fortunately, today's technology means that the turnaround on CDs is a lot quicker than it used to be, so you can aim low with your sales estimates, and then, if shops say they are selling out, you can press up an extra couple of thousand in a few days.
"A label manager should also organise things like recording sessions if you want them to, but I tend to do all that, because I know the people I want to work with and I know the places in which I want to work. For me, that is just a matter of me ringing producers like Steve Albini and saying 'I want to be in your studio for two days'."
Today, Brian Hallin has taken over from Steve Young as label manager for Scopitones, picking up on the relationship he originally had with The Wedding Present back in the late '80s, when he managed and published the band. Having a label manager has significantly reduced Gedge's workload, leaving him more time to concentrate on his primary objectives of writing and then recording good songs, and touring to promote the releases. Nevertheless, he still keeps control of the tasks that he feels are best suited to his abilities — and Scopitones' accounts are an area of the business he has chosen to partially tackle himself. "I used to do all my own accounts, but now just I do the book-keeping part and then, at the end of the year, I hand them over to an accountant who puts them in a form the Inland Revenue will understand. I've got a degree in mathematics, so doing calculations is not a foreign subject to me, but I do find it tedious and quite time-consuming. I think if you have any level of success in a band or with a record label it soon gets out of hand, especially when you are having to do the accounts and paperwork for the PRS, MCPS, PPL and all those different organisations. You can find it's three in the afternoon and you've been doing administration all day when you should have been writing songs!
"Quite soon you realise it's good to get people in to help, but of course you've got to pay for those people, so it's a double-edged sword. Whether it is worth it or not depends on your sales, because if you get someone to do your work and your sales dive, you've still got to pay them. Unfortunately, it requires the same amount of paperwork whether you are selling loads or very little: you still have to make the same number of calculations, but instead of writing 100,000 sales, you're writing 10,000!"
Before starting his own label, Toby Marks was a gigging guitarist playing solo and in covers bands in various bars and venues in the UK and Portugal. "I ran a small PA company, did sound engineering — I did anything to get by until I got my big break" he explains. "By the mid-'80s, I was writing stuff I thought was good enough to release. I thought people would buy it if I could record it properly, but all I could afford at that time was a four-track. I made my first demo in 1990, and the cheapest, easiest, and most efficient way of doing it was on cassette. I was printing the labels on a dot-matrix printer, colour-photocopying the sleeves and cutting them up by hand."
After his first releases, Toby was eventually signed to Planet Dog records, who sub-licensed Banco De Gaia to Ultimate Records, as explained in the first part of this series. After Ultimate went bust, Toby retrieved his independence and went looking for a deal with a new label, which eventually caused him to start up his own. "At the beginning of 1999, I was looking for a deal, and at that point there weren't any record labels that were particularly appropriate. It was at that time when Universal were merging with Seagram, and lots of their major labels, like Polygram and the A&M group just ceased to exist. Smaller labels at that time tended to be quite narrow, so I couldn't find a label that I was happy with. In the end, I decided to make that label myself to release things the way I wanted. I thought, 'how hard can it be?'
"Selling a few cassettes by mail order is one thing, and I didn't handle any of the legal side of things back then, but I soon found out that everything seems to take a lot longer than you think, and there always seem to be unnecessary complications. People forget to do things, or there's a mistake in the manufacturing, or the artwork gets lost in the post at the last minute. A million little details end up being a major headache if you are doing it all yourself.
"One of the difficulties is balancing what you have time for, especially if you are the artist as well. In my case, trying to find time to run the label, work on live performance, on new material and develop side projects means I have to make sacrifices between what I do and don't have time for.
"In a quiet year, I spend about half my time running the business, but now I am going to have half-a-dozen old Planet Dog albums going through my label as well as the new ones, so I am going to spend more than half my time running the label. The plus side is that I don't waste time trying to communicate with label people, or spend hours in meetings arguing over artwork, or trying to convince my label to pay for tour support, because I am the label! I learnt from the beginning that there is no point having emotional arguments about tour support, because it doesn't matter how much better it will look or how it will make people cry at the encore if you have a certain type of lighting, because to label people, the important thing is money, figures and business.
"That's one of the weirdest things about running my own record label; half the time, I'm supposed to be a creative, emotional artist, and the other half I'm supposed to be an accountant and a lawyer. You have to be very clear about when you're switching from one role to another, and make sure you switch off one half when it's time to concentrate on the other."
Another artist and writer who has run his own label for several years is Toby Marks, the creative force behind the music of Banco De Gaia. However, with his Disco Gecko label, Toby hasn't taken on the assistance of a label manager, although there are still many other freelance professionals who he employs to handle the rest of the label jobs. The closest equivalent to a label manager in Toby's setup is Eugenie Arrowsmith who does the label's PR (public/press relations) and also acts as label assistant. Toby: "I didn't have an assistant when I started in 1999, so as well as writing music and making policy decisions, I had a lot of day-to-day things to do like checking quotes for artwork. It's a lot easier having someone to do those extra jobs.
"We did agree a contract, but Eugenie is so committed, she has done more than what I can afford to pay her to do. I've been paying her a weekly fee, but because I had a Banco De Gaia compilation CD release in September, I've ended up effectively hiring her for the whole year. I assume that labels who have staff to do their day-to-day administration will just hire an external agency or PR company as the release date approaches."
In Toby's case, publishing duties have been passed on to a publishing company, thereby relieving him of some of the potential workload that David Gedge and his label manager do for Scopitones, as explained in the second part of this series (see October 2002).
Disco Gecko's accounts are also handled differently from the impressively DIY Scopitones example, as Toby explains: "I have an accountant who does my tax returns, and a book-keeper who does my monthly VAT returns throughout the year. The book-keeper takes my receipts and invoices as they come in and compiles that information into a form that the accountant can prepare for the tax-return forms."
Since buying the rights to his old Banco De Gaia recordings back from the Planet Dog label (see the 'Small Print, Big Problems' box in Part 1 (September 2002) of this series for the full saga), Toby has claimed a lot of unsold stock from record distributor Pinnacle, and he is now making it available for sale though his web site, having recently arranged for his site to handle on-line credit-card transactions. The card service supplements an older mail-order cheque and postal order service, and all orders are handled in-house rather than by another company. "My wife started off doing the mail order for me, because it wasn't much work," admits Toby. "She is still doing it today, but she also has her own career, so the extra card transactions make it harder for her — but on the plus side, it doesn't cost Disco Gecko. I don't have the time to do it myself, so we may have to employ someone to come in one day a week. It basically requires someone to go to the PO Box to pick up the postal orders, and download the credit-card orders, and then process everything — it's probably half a day's work."
The other external help Toby calls on regularly is his lawyer, who is needed every time legal advice is required — and in the modern music business, that tends to be quite often. All of Toby's staff are freelancers, and for the time being he intends to keep things that way: "I don't know much about the legalities and complications of employing others, but I do know that when you do that, you also take on a lot of responsibilities and legal requirements like National Insurance, and putting up health-and-safety notices in your office! It's really hard to say how much it costs to employ all those people, even without them being on the payroll, but it's got to be between five and 10 thousand pounds a year."
David Gedge has experienced just about every permutation of recording, publishing and distribution deal since he released his first independent single on The Wedding Present's own Reception Records label. Many years on, he runs his own label and controls his own publishing, having built up a firm following of loyal fans, but his time in the industry has given him valuable experience of the various ways record, distribution and publishing companies function and work together. David tells the story. "When The Wedding Present were getting started in Leeds in 1985, we spoke to quite a few record labels, but they were all labels that had signed bands we really liked, so some of them were completely inappropriate. There was no firm interest, so we just decided to do it ourselves, under the name Reception Records. By then, we had made a few demos and we decided to make one of those into a single; I just looked in the back of the NME for places that manufacture records! I contacted one in London, took them the quarter-inch tape recording for mastering, and gave the master to a company who pressed seven-inch singles. A few weeks later, I collected them in my mum's suitcases and brought them back to Leeds. We got the labels printed at a local printer, cut them out ourselves, and glued them on the singles. Then we went to see Red Rhino Distribution in York, who did a sale-and-return deal on the lot. It was only after that that we started doing things properly. That single was more about putting a record out than starting a label, in the same way people make CD-Rs now.
"At that time, I didn't know anything about publishers, so I didn't sign up to one. A friend drew my attention to the PRS and asked me if I was a member. He ran a company called Cubic Music publishing which specifically published bands who didn't know what to do, and he offered to publish tracks for the single. There were no advances or proper accounts or anything — it was just like an admin service, really, so we did that. I suppose we should have just joined the PRS — and I would imagine we didn't do anything about the MCPS whatsoever!
"The first single sold really quickly, so Red Rhino got in touch and asked us if we wanted to do some more. Then they offered us a manufacturing and distribution deal. At that point, things like MCPS were taken care of by them and we started receiving royalties.
"After the first couple of singles we met a proper publisher called Brian Hallin, and he offered to manage us in tandem with a publishing deal, so many early singles were published by Hallin Music. We did have a proper publishing contract, but he was always more like a publisher/manager looking for a sub-publishing deal. Most importantly, we got an advance, so it was really a way of giving money to the band so we could carry on. At the same time, Brian didn't want to be out of pocket, so straight away he was looking for other publishing deals, and he soon sub-published to EMI music and Sony Music. His deal gave him a cut of everything as a manager apart from the publishing, because he was the publisher as well!
"By the time our first album, George Best, was released, we had a proper publishing deal with EMI. We still had our own label, because Red Rhino weren't a record label, but to confuse matters they paid for it, so it was a sort of co-ownership. I don't know how that would stand up in court, but they went out of business shortly after that, so it never came up!
"At that time we wanted to keep our own label for Britain and license it to major labels around the world, so we spoke to loads of major labels, but they wanted everything or nothing, so we just continued — until we heard a rumour that Red Rhino were in difficulty. We managed to sign to RCA before Red Rhino collapsed."
The Wedding Present remained on majors for their career to date, moving from RCA to Island after a couple of albums, but the band have been inactive for a few years now. When Gedge decided to start his Cinerama project, he returned to his indie-label roots. "I signed to Cooking Vinyl; they offered a recording and publishing deal, and that was the first time I've done that. Somebody told me years ago that you shouldn't really sign a recording deal and a publishing deal with the same company, because it puts all your eggs in the same basket, but I suppose they might have withdrawn the offer had we said no to the publishing. Cooking Vinyl then sub-published me through BMG Music. Now, of course, I look after my own label and publishing myself."
So far this month, we've named a few of the people needed to run a label on a basic level — but a record label won't get far without promotion and publicity. A fairly obvious way to promote or publicise a product is to pay for an advert in a magazine, as that will secure a certain amount of page space and will be distributed in a fairly predictable way, according to the publication's circulation. But there are many other forms of publicity that cannot be bought so directly — an interview with a BBC Radio DJ would be a good example — and that is where professionals like promoters, publicists, pluggers and PR agents become useful allies. In brief, PR (press/public relations) companies and publicists act as the 'voice' of a company, distributing its press information and relaying information between the company and the public or media, and will also actively work to get stories out into the media so as to enhance the media profile of the company. A plugger is usually expected to 'push' the company's products to influential people in the media — in the case of a record plugger, in a bid to generate airplay or TV exposure for the record or artist.
The indispensable Showcase Music Business Guide is still available as a £50 book annually, but some information is also available at the company's web site.All of these professionals offer different strategies to target the various facets of the media, although techniques like press-release mailing tend to be common, and distinctions between the professions are sometimes blurred. The Showcase Music Business Guide is the UK's first port of call for listings of relevant PR companies, promoters, pluggers and publicists. The full guide in book form is £50, but much of its content is searchable on-line at www.showcase-music.com.
As time is precious, David Gedge relies completely on external agencies to promote his recording activities to the world, and at the time of writing, he uses three different companies to cover as much of the media as possible. "I've just started using a West London publicist, Alan Robinson at Indiscreet PR, for national press," says Gedge, "then I use Pomona, a company in Hebden Bridge, Yorkshire, for regional press — I've known the boss of Pomona for years. Finally, there's Overground Promotions in Newcastle, who I use for national and regional radio promotion — they're kind of alternative music specialists.
"I didn't draw up any contracts with any of them, because their job is obvious compared with the job of a label manager: they just do mailouts and then follow them up with phone calls to try to get features and reviews and stuff. They all work on a fixed-fee basis, but the national-press people seem to charge a lot more for less work, in my experience. Of course, if they get results, it becomes worthwhile because of the larger circulation, but it is a gamble, because they might get nothing! I've also used record pluggers before, who also charged a fixed fee, but often they'd tie in bonuses so that, for example, they'd get an extra grand or something if the single got playlisted for radio.
"I'd say publicists or promotors are worth using regionally, because you'll always get some coverage. They are also worth using nationally, but only if you can afford to lose a couple of grand without anything to show for it, in the worst-case scenario! Indiscreet is the only one I'm worried about, because I am paying for someone's contacts and relationships rather than actual record mailouts, so it's a gamble."
Label essentials like doing the accounts or managing the mail-order merchandise are fairly self-defining and finite in terms of what needs to be done. Conversely, there's no way to establish clearly how much PR, publicity and general marketing you should do. It's probably fair to say that the more you do, the better, but that's not much help to a beginner label on a tight budget, for whom some sort of realistic limit on PR spending is a must.
As discussed above, Toby Marks relies on his label assistant, Eugenie Arrowsmith, to handle all Disco Gecko's PR, although he admits that he would love to be able to hire radio pluggers and regional/national press officers if it were not for his strict marketing budget. Considering that the majority of any label's income will be generated by record sales, Toby has quite logically linked the marketing budget to record sales. Toby explains how he makes his calculations. "I get my sales figures from my distributors Pinnacle every month, so I know how many copies I have sold, and over time I can put together a sales history. From that, I estimate how many sales we are likely to have. Thanks to things like CD-R and MP3-burning, the current trend is for everyone to be selling less and less. I try to estimate how much less we will sell, but it is an inexact science. It is very difficult for new labels if they are trying to sell unknown artists, because there will be no data on which to base the guesswork.
"For my Magical Sounds Of Banco De Gaia album campaign in 1999, I hired someone to give marketing and promotional advice based on their experience of working at various record labels. From their advice, I went on the principle of spending one pound for every album sold. That was based on earning about £4 per album, so that is actually 25 percent for marketing. The same percentage went on manufacturing, which leaves the other 50 percent for artist royalties, publishing royalties and label profit. I reckoned we would sell 10,000 copies in the UK, so I set my advertising budget at about £10,000. It worked out being slightly over that and we sold slightly less, but it was more or less right. I was happy with that, and I don't sit here thinking 'I would be 10 grand better off if I hadn't wasted it on advertising', or that we could have sold twice as many for another 5,000 pounds. You never know what's going to work, because marketing is a matter of informed guesswork. Will putting an advert in Mixmag be better or worse than putting one in DJ magazine? Is it worth that big poster campaign, or are you better off hiring a radio plugger? I don't like gambling, so for me that is one of the worst things about running a record label.
"Many years ago, a band I was touring with were about to be on the cover of the NME, and then Kurt Cobain killed himself. Not surprisingly, they lost their front cover, which made a significant impact on their whole campaign. All the media were focused on the Cobain story, so everyone else got less exposure than they would have done. On the other hand, you never know what's going to happen — it could be the week that Madonna asks you to do a remix for her. The bottom line is that you have to decide how much money you are prepared to lose."
Gigging is another important promotional tool for any record release, but like all the other promotional activities we've talked about so far, it has to be financed from label income. A spectacularly successful tour may even bring in enough revenue to make a profit, but as Toby Marks explains, the income is often not enough to cover costs. "Back in the days of huge rock and roll tours, taking out a huge band with lots of equipment and roadies would often make a loss, but record companies knew that a gigging band would sell more records, and thereby earn them more money, so as far as they were concerned, it was a marketing expense. The catch for the artist is that it was often recoupable, which means that it came out of the band's pocket. There is a classic story of an American heavy-rock band that was on the road for two years playing huge arenas, which helped them to sell millions of albums, but they still finished up two million dollars in debt to their label, because the label had been pumping so much money into tour support. There are bands who think it's all free, get to a hotel and decide they want the top suite — but they will have to sell another 1,000 albums to pay for it! I only have so much money in the bank, and it's not always enough to pay for tour support. If I lose it on a tour, I don't have any for advertising or to press the next record, so I have to juggle my resources. What's more, it's still hard to make a profit with even a small entourage — people expect high production values like spectacular lighting."
That's all we have space for this month, but there'll be plenty more about the day-to-day running of your own label in Part 5. Distribution, Internet promotion and on-line credit-card handling will be the main subjects under discussion, and label owners Toby Marks and David Gedge will be back giving us the benefit of their experience.