The spacious Studio A live room can cater for up to 60 musicians.
Most of the independent studios that date back to the founding era of our industry were started by single entrepreneurs. Studios Ferber, still one of the largest music production facilities in Paris, is a great example. The venture opened its doors in 1973, but the mastermind behind it, René Ameline, was already a successful engineer and producer — so much so that he had outgrown the capabilities of his previous workplace, Studios Davout. Having worked with famous artists such as Françoise Hardy, Ameline knew what he wanted to get out of his workspace, and that was a drier, more controlled acoustic.
The recording venue he conceived is located on the Rue du Capitaine Ferber in the 20th Arrondissement of the French capital, not far away from the P re-Lachaise cemetery and the final resting place of Doors legend Jim Morrison. Named after its street location, Studios Ferber is a large facility: the main live room of Studio A can host ensembles of up to 60 players, yet it sounds pretty controlled for such a big space — an acoustical property that was achieved by, amongst other measures, carefully selecting the types of wood installed on the surfaces.
Studio A's control room is based around a Neve 8248 console.
Like that of Studio A, the Studio B live room features variable acoustics.
The control room of Studio D is mostly suited for film mixing and post-production, boasting a 5.1 monitoring setup and an SSL E-series desk.
An impressive array of classic vintage gear occupies the main Studio B outboard rack.
Some of the desirable outboard gear at Ferber: top, a rare Quad Eight CPR16 digital reverb; below, Moog and Roland phasers, and the unique Cooper Time Cube, which generates delay effects from a length of hose.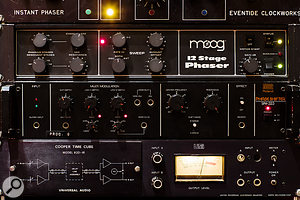 Racked Neve channels and a DW Fearn VT2 dual-channel tube preamplifier.In the early '70s the record industry was flourishing in France, due to a large number of local talents emerging at the time, and this vibrant scene soon attracted artists from other countries, too. Studios Ferber started with two seperate rooms, but eventually grew into a six-room facility not only catering to a record-making clientele, but also operating as a recording venue for film music. The impressive dimensions of Studio A were partly the result of the need to accommodate large orchestras for soundtrack recordings. With a 190-square-metre tracking space and a ceiling height of six metres, the hall also offers two isolation booths and a stage, plus eight large modular panels that can help to modify the acoustic properties of the room.
When Ferber was opened, the 40-square-metre control room was equipped with a quadrophonic 32-channel API console, but in the '80s, this made way for a Neve 8248 console with the same channel count — a desk, that, according to the studio, was jointly designed by Rupert Neve and David Manley. Keyboard instruments in Studio A include a Steinway B grand piano, a Fender Rhodes Suitcase and a Hammond B3 organ.
With a tracking space of 85 square metres and a 35-square-metre control room, Studio B offers a more confined environment, but it still remains a large and versatile studio. Today it is centered around a Neve V3 console with 48 inputs and Flying Faders automation, and the live area offers an iso booth as well as five modular panels to reshape the room. Studio C is currently under a long-term lockout and not available for bookings. However, Ferber also offers Studio D, a 45-square-metre control room ideally suited for film mixing and post production. It is equipped with a 48-input SSL 4000 E-series console and a 5.1 monitoring setup based on Dynaudio and PMC speakers. What's more, Ferber is expanding: additional production suites will expand the mothership to 11 rooms, and they will mostly be rented out to third-party producers.
All rooms at Ferber offer a wide variety of outboard equipment. The studio boasts a collection that integrates both the typical studio standards as well as more unsual vintage units. For example, Studio A offers rare vintage effects units such as Moog, Roland and Eventide phase shifters, a Quad Eight CPR16 reverb and a Cooper Time Cube delay, which employs a long plastic hose as a hardware delay line. The impressive outboard wall in Studio B offers half a dozen vintage Pultec equlisers, from the venerable EQP1 via MEQ2 and EQH2 units to a passive LCS2 filter, and also several 1176 compressor variants, including a pair of 'blackface' units and a 'blue stripe' version. Notable classics in the mic locker include a pair of AKG C12s, Neumann M49, U47, U67, U87 and TLM170 mics, a pair of Coles 4038s, several Royer, Schoeps, B&K and Beyer types as well as a Manley tube mic.
Founder and owner René Ameline passed away in 2013, and since then, the studio's operations have been overseen by Renaud Letang. An accomplished sound engineer with a long track record, Letang was personally chosen by Ameline as his successor. Other producers/engineers associated with Ferber include Jean Lamoot and Philippe Avril.
In the early years, Studios Ferber made its mark hosting sessions by famous French and international artists such as Serge Gainsbourg, Frank Zappa, Black Sabbath, Jacques Dutronc and Jean-Michel Jarre. Jane Birkin, Vanessa Paradis, Alain Souchon, Seu Jorge, Feist and the Kills have worked at the studio, and recent clients include Nick Cave & The Bad Seeds, Franz Ferdinand, Bryan Ferry, Manu Chao and Bernard Lavillier, as well as legendary French group Louise Attaque.