Overhauled MixConsole, new MIDI editing capabilities & much more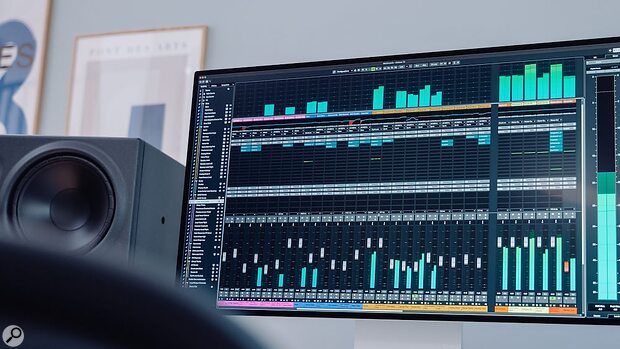 The latest version of Steinberg's popular music production-focused DAW has arrived, bringing with it a whole host of new features and enhancements. Cubase 13 delivers a refreshed MixConsole design, expands the capabilities of the Key and Drum Editors and adds some new plug-ins, as well as reintroducing the Vocoder.
Cubase has long been praised for its MIDI editing capabilities, and the latest version continues to expand and improve the DAW's powerful toolset. A new range tool in the Key Editor and Drum Editor windows makes quick work of applying changes to multiple notes or MIDI messages, and both editors also benefit from a new Visibility tab, which makes it possible to quickly switch between editing multiple parts, whilst a Track view provides a timeline display of the parts from within the editor window.
The Project window has also gained a new Channel tab, which provides channel strip-style access to all of a selected part's mixer parameters — including routing, inserts and sends — without needing to switch windows.
The update brings with it a number of new plug-ins, including VocalChain, a comprehensive vocal processor packed with filter, EQ, dynamics and effects modules dedicated to crafting professional-sounding vocals. VoxComp then provides a compressor specifically designed for vocal tracks, whilst Black Valve promises the warmth and character associated with vintage valve compressors, and a pair of EQ-P1A and EQ-M5 plug-ins offer Pultec-style EQ options. The release also marks the return of Vocoder, which comes loaded with 24 filter bands capable of adding some interesting textures to instruments or creating robotic vocal sounds.
There's a vast collection of other improvements and enhancements, too, including a new Spectral Warp mode for the Sampler Track, new video editing and export capabilities, new chord pads that offer musical starting points, a compact Iconica Sketch instrument that provides composers with an all-in-one orchestral scoring tool and much more.
We've been putting the latest version to the test here at SOS, with a full review planned for the upcoming December issue.
Compatibility
Cubase 13 is supported on PCs running Windows 10 or 11, and Macs running macOS 12 or 13.
Pricing & Availability
Cubase 13 is available now, with pricing as follows:
Cubase Pro 13:

$579.99

£497 including VAT

Cubase Artist 13:

$329.99

£282 including VAT

Cubase Elements 13:

$99.99

£85 including VAT
There are also a range of upgrade options available for existing Cubase users.