Creating Future2Future & Touring In Surround
One of the most influential jazz keyboardists ever, Herbie Hancock is renowned for his innovative use of electronics and new production techniques.
Photo: Paul Bergen/RedfernsHerbie Hancock describes his most recent album Future2Future, released in Autumn 2001, as "a bold statement of creative possibilities for the 21st century". It features drum machines, turntablism, sampling, Pro Tools, legendary New York producer and bassist Bill Laswell, and several musicians at the forefront of American electronic music who were themselves influenced by Hancock's 1970s and 1980s experiments with electronics. For them to participate in a new Hancock album is a little like coming full circle. In seeking their collaboration, Hancock shows that his desire to be at the forefront of music has still not left him at the age of 62.
When I meet him in a London hotel, he's relaxed to the point of being laid-back: all this unexpectedly changes, however, towards the end of the interview, when I ask Hancock about the gear he's been using on his latest tour. He becomes unstoppable, running the interview over time to excitedly explain the ins and outs of the equipment he uses live, including the virtues of an electronic turntable that Yamaha have given him, the DJX10. This sudden change of pace illustrates what a writer for Jazzwise magazine recently observed: "More than any musician I can think of, Herbie just loves technology, new bits of kit that do things you couldn't do before."
Given Hancock's fascination with gear and his status as one of the pioneers of electric jazz and funk, it is rather surprising to learn that he once prided himself on being, in his own words, "a jazz snob". Born in Chicago in 1940, Herbert Hancock was a child prodigy who performed Mozart at the age of 11. In his late teens he became interested in jazz, went professional, releasing his first solo album Takin' Off in 1962, and joined Miles Davis's band a year later. Hancock never seems to tire of elaborating on the strong influence Davis had on him. One of the big turning points came on December 28, 1967.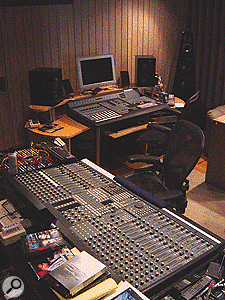 Herbie Hancock's Garage Sale Recording studio is based around a Euphonix CS2000 mixing desk (foreground) and a Digidesign Pro Tools system with Pro Control fader surface (background).Photo: Dave Hampton"We were doing a recording session with Miles and when I came into the studio I didn't see any acoustic piano anywhere," Hancock recalled. "In the corner of the room was only this Wurlitzer electric piano that I'd never played before. I asked Miles what he wanted me to play, and he said 'Play that.' I was thinking 'That toy?' Then I turned it on and was really surprised by the sound. It sounded beautiful! From that I learned not to form an opinion on something you have no experience of. And Miles was already listening to Jimi Hendrix and other rock artists, and flamenco and classical music and opera. When I saw this from my musical mentor I started to think 'What's wrong with me that I'm closed-minded and he is open-minded?' So I changed my whole attitude."
Since that fateful day in 1967 Hancock's career has zigzagged between critically acclaimed acoustic jazz albums and often pioneering and influential electric jazz-funk albums, on which he lives out his love of technology. He continued participating in Miles Davis recording sessions between 1967 and 1972, playing Fender Rhodes, Wurlitzer, electric harpsichord and organ. Hancock's first crossover solo recordings, Mwandishi (1970) and Crossings (1971), featured the keyboardist on Mellotron and acoustic and electric pianos, while for the experimental funk of Sextant (1972) Hancock expanded his keyboard arsenal to include ARP synths and the Hohner Clavinet.
In 1973, Hancock released one of the most in fluential and successful jazz-funk albums of all time, Headhunters (which, if you count it as jazz, is still the best-selling jazz album ever), on which he played Rhodes, Clavinet, and ARP Odyssey and Pro-soloist synths. Since the 1990s, Headhunters and Sextant have provided a fertile sampling ground for a whole generation of techno and hip-hop musicians.
Several more crossover albums followed during the 1970s until Hancock made his biggest commercial splash with Future Shock (1983), which contained his million-selling single 'Rockit'. Future Shock was conceived and put together with Bill Laswell, and featured Hancock on Fairlight CMI, Rhodes Chroma, Apple IIE, Yamaha DX7, Emu 4060, Minimoog, Clavinet, Dr. Click rhythm controller, Alphacentauri, Yamaha GS1, Sennheiser vocoder and Yamaha CE20. 'Rockit' was strongly influenced by the emerging hip-hop culture, represented by Grand Mixer DST on turntables, and became a huge influence on turntablism the world over. In addition, the track's sequencer-driven rhythms were, according to Laswell, influenced by Kraftwerk and Mantronix, and therefore deliberately 'stiff'.
Laswell and Hancock also put together Sound System (1984) and Perfect Machine (1988), while Hancock's next big crossover project was Dis Is Da Drum (1995), which married, in his words, "West African influences, orchestral thinking, jazz improvisation, chants, vocals, rap, pygmy music, hip-hop, acoustic instruments, and electronics".
New York bassist and producer Bill Laswell has achieved near-legendary status as a pioneer of hip-hop, ambient, avant-funk and world music. He has worked as a producer with Herbie Hancock, Brian Eno, Afrika Bambaata, George Clinton, Mick Jagger, Sly & Robbie, Tony Williams, Ryuichi Sakamoto, John Lydon, Steve Vai, Whitney Houston, Archie Shepp and Fred Frith. He has also released many albums under his own name, incorporating influences from almost every musical style and culture known to man. Future2Future is Laswell and Hancock's first collaboration since 1988. On the phone from New York, where he had just arrived after a 13-hour flight from Japan, Laswell lifted some of the veil on the making of Future2Future.
"The making of the four albums Herbie and I did together happened through a fairly similar process, whereby I originated pretty much everything, and Herbie responded to that," Laswell explained. "But his involvement in Future2Future went much further than with the 1980s albums. He seemed a lot more involved and focussed in our latest project. In the 1980s he pretty much soloed on top of backings I'd made, but now he created parts that could be used as structure. Of course, the tracks we did in the 1980s were much more minimal, with less harmonic content and less freedom for improvisation. At the time techno had not really happened yet, so what we did was a juxtaposition of repetitive electronic music originating from Europe and hip-hop that at that point came from the south Bronx, and mixed this with Herbie's basic jazz riffs.
"At the time it was unheard-of to have jazz-related chord movements and solos over basic, repetitive rhythms. But today it is quite common. Carl Craig, who performs on Future2Future, creates techno patterns with jazz material on top. And Rob Swift, another collaborator, started playing turntables because when he was 11 he heard 'Rockit'. Herbie also influenced techno with a track called 'Nobu' from an album called Dedication [1974] that was only released in Japan. 'Nobu' was a live track with sequencers and it was really the foundation of techno. Future2Future is interesting because of these artists that have come full circle in now working with Herbie. It is very rare that an artist can come back to recapture the flow from what he did 20 years ago, and at the same time extend the direction into something new. I think we were able to utilise Herbie's jazz capabilities to a much larger degree on Future2Future.
"The basic tracks for Future2Future were created pretty much the way people build drum & bass or hip-hop: from the rhythm up. Like a hip-hop MC who will tell someone to give him a beat so he can throw things on top of it, I asked people like Karsh Kale, Gerald Simpson, Rob Swift and Carl Craig to create rhythm tracks, which I then developed. They delivered their stuff to me on DAT or as Pro Tools files.
"Craig's track ['Kebero'] was pretty much a fully realised musical idea to which we just added vocals, keyboards, and bass. For the tracks that I began I would start with a tempo and a key line, and then decorate that until I felt I had created enough of an atmosphere, but still with enough space for Herbie. The Tony Williams drum track I had recorded shortly before he died. That was on 24-track analogue, as was some of the other live playing I recorded, like Jack DeJohnette's.
"Everything was loaded into Pro Tools, with backups on Tascam DA88 — I still didn't have a full Pro Tools system, and was worried about having enough memory and losing things. Once I had these blueprints, Herbie came over to New York and for five days just played keyboard parts, using an acoustic piano, Fender Rhodes, Hohner D6 Clavinet and a couple of synthesizers. I can't remember which, but we hardly used the synthesizer material. Synths don't really lend themselves to playing harmonically complex parts.
"After that I worked with the keyboard parts in Pro Tools, moved them around, and began to add vocals. After this Herbie came back for a day of recording with Wayne Shorter, and then spent a couple of weeks listening to what I had done and gave me feedback. Throughout I was very conscious of leaving space on the album, and making sure that chord voicings came through that are characteristic of Herbie.
"Once I had everything in Pro Tools that I felt we needed, we mixed at my studio here in New Jersey, running the Pro Tools material through a Neve desk, onto DAT. I used Pro Tools like an automation and editing system. We'd mix a few bars and then we'd stop, and then we'd mix the next bit, and then stop and edit. The edits were all done in increments. I have never used desk automation like you were riding the faders on one pass of the multitrack tape — I prefer to mix everything in sections and then edit the whole track together from these sections. I find that I get a lot more dynamics and details this way, and each section almost has its own character.
"We used some analogue compressors and other outboard gear when we ran things through the Neve console. These days many very professional records, especially coming from the West Coast, are done entirely in Pro Tools, but I can tell when they have done this. Pro Tools has a sound, just like ADAT has a sound. I can't stand to listen to the latter. When you record on enough different types of machines you can usually tell what was used. I don't know how to describe the Pro Tools sound, but I prefer to run my mixes through a Neve desk and use Pultec EQs and so on, to make a recording warmer and give it a little more bottom and character. I think that as long as I'm using a lot of low end, I'll never completely be able to get away from using those kinds of analogue effects.
"It is hard for bedroom musicians to achieve that kind of objectivity about gear. What I would say is that it is good to interact with anything, even if it's a malfunction, or a disturbance, or an argument with a person, or something totally miscalculated, and then use that. This interaction is much more similar to real life than just typing. I think this is the area where magic happens. It's a mysterious area that words cannot describe. And it is the reason why one record will still sound great 20 years from now, while another record will immediately be switched off. A lot of what is generated with turntables come from initial mistakes, whereas with sampling everything is precise and you clean it up and make it perfect before you apply it.
"Many people using the latest equipment are lost, they are not working in music. They think about how they can do anything with this new machine. But people who can do anything with a machine will do anything with it, and not always based on the idea of composition or re-composition of music. It's mostly based on convenience. LA is full of people telling you how great their latest whatever is, but they are not always producing music of any substance. I think Future2Future is music at the highest level, because it features originators of musical ideas and styles, like Herbie, DeJohnette, Shorter and Williams, together with a new generation. I created a whole page of notes before the recording that was quite abstract and related to writers, books, paintings, technology and religion. This was a kind of futuristic manifesto. We should have left that at the studio door, but Herbie has gone on and talked about it on stage and in interviews. I think some people felt this was pretentious and some of the bad press came from that. But I have to take responsibility for it, because I was the one who produced that manifesto."
Future2Future is Hancock's latest crossover offering, containing as he puts it "music for the next millennium". One wonders what inspired him to make such a bold assertion about his latest venture. Unsurprisingly, his ambitious statements have been panned as pretentious in certain quarters, and probably inspired some lukewarm reviews. Elsewhere (see box) Bill Laswell takes the flak for getting the whole idea into Hancock's head, but given that Hancock has been around for a while, one expects the keyboardist to know what he's talking about, and to mean what he says.
Herbie Hancock playing live on the Future2Future tour, with his Apple Powerbook (right), Korg Karma and Roland MK80 keyboards (left).Photo: IXO Pictures/RedfernsHancock emphasises that his ambitious statements refer to both the Future2Future album and the following tour. On his web site he describes it thus: "The music is unlike anything I've ever heard before. It's very hard to describe, although there are references to some of the new kind of underground things that are happening in music here at the beginning of the 21st century... Every piece has its own character and explores the use of spoken word, songs with a message, African chants, environmental sounds, ethnic sounds from many lands, with jazz, hip-hop rhythmic structures, new electronic ambient sounds, and other musical elements assembled with the latest technological editing techniques. In this environment the spirit is very much one of spontaneity and improvisation."
"The live music is a bit different than on the album," Hancock elaborates, still perched on his London sofa. "On the album there is almost no interaction between players because everything was put together in layers, whereas live we obviously respond to each other all the time. From the standpoint of spontaneity and improvisation the live performances go beyond what jazz artists traditionally do. The improvisations are as far-out as I have ever gone. And DJ Disk does things on the turntables that are so far-out that even I have a hard time keeping up with him. There is an openness that leaves enormous space for the music to use hip-hop, turntables and rap influences, even though we have no rapper. Live we also make our presentation in surround sound, which is a whole new approach to musical performance in any genre."
Herbie Hancock: Steinway Concert Grand, Roland MK80 keyboard (used as controller only), Korg Karma workstation, custom stereo Crybaby wah, Apple Titanium Powerbook running Emagic EVP88 and Clavinet plug-ins in Logic Audio, Emagic EMI2|6 USB audio interface and MMT4 MIDI interface.
Darrell Diaz (musical director): specially modified Kurzweil K2000 and Korg Karma workstations, Emagic EVP88 running in Logic Audio with a similar computer setup to Herbie, Digitech Vocalist effects unit. (The K2000 with sampling has a memory modification developed with Bruce Forat that doubles the standard memory.)
DJ Disk (decks): Technics 1200 Mk II turntable, Vestax 07 custom mixer, various custom effects pedals.
Wallace Roney (trumpet): own signature trumpet line, Digitech Vocalist effects, pedalboard, Shure SM7 microphone.
Matthew Garrission (bassist): Line 6 pedals plus Proco Rat and Morley volume pedal.
Terri Lynn Carrington (drums & percussion): Yamaha custom kit plus an Akai MPC2000XL sampling drum machine, modified by Bruce Forat with double the standard memory expansion and a 250MB Zip drive.
In addition to the album titles, there appear to be many connections between Future2Future and Hancock's landmark Future Shock. Both have Bill Laswell on bass and as producer, and in both cases Laswell's finger on the pulse of new musical developments was crucial. On Future Shock he introduced Hancock to hip-hop, turntablism, and Grand Mixer DST (who turns up again on Future2Future as GrandMixer DXT). On last year's album Laswell employed the services of up-and-coming turntablists, programmers, and drummers such as Carl Craig, Karsh Kale, Rob Swift and Gerald Simpson.
"I didn't know any of these new electronic artists," Hancock commented. "Bill introduced them to me. I was very surprised when I heard that my 1970s and 1980s music influenced many of them. Bill is a guy who gets to many places, and knows something about Middle Eastern music, and African music from different countries, and Asian stuff, and the latest New York underground stuff. I can't keep up with all that! The other thing that Bill brings is his approach to recording. He likes to prepare things on tape, so he worked with these artists, put them on tape or disk, added environmental sounds and bass and drums, and then presented it to me. We also did this in the 1980s, and we would listen to the stuff and decide what to do next.
"The new approach on Future2Future was that when the red light went on in the studio and I was sitting in front of the keyboard, I had not heard the stuff yet. So I had to use my intuition to react to it. We tried to maintain this totally right-brain approach to the music for the whole record. We did not analyse things beforehand, I just went ahead and played. That was something we had agreed on before we began the project. Bill then took what we did away with him and changed things again using Pro Tools. The way the production was put together with all the new technology puts the producer almost in the position of functioning as another musician. He can shape the music by grabbing something from a particular place and make a loop of it, or paste different parts. He can shape the music all the way. Bill used all these techniques in making the record.
"I feel very excited about these new technologies. Future2Future is in many ways influenced by the various areas I have gotten into throughout my career. There are influences of my '60s jazz music, of Mwandishi, Crossings, Sextant, and of the Headhunters period. When I did those albums we did not have the technological advancement that we have today, so I was not able to produce certain sounds that I heard. I could hint at them with orchestral interpretations, but now we have the instruments with which I can create the ambient sounds I have been hearing for years."
Herbie Hancock regards Emagic's EVP88 as the best synthesized Rhodes he's ever played.Hancock's reference to 'ambient' sounds indicates where his strongest interests lie. According to Laswell, Hancock played mainly fairly traditional keyboards such as Fender Rhodes, Clavinet and acoustic piano on Future2Future, because they allowed him to perform more harmonically complex parts. Hancock's interest in soundscaping relates therefore more to the Future2Future tour, which relied heavily on samples, environmental sounds and special effects, all placed in surround sound. Hancock's interest in surround sound has been intense for several years, as is obvious from a number of keynote speeches he has given at music industry seminars, where he has sometimes illustrated his points using old material remixed in 5.1. In these speeches and on his web site, Hancock promotes what he calls 'immersive mixing'.
"Surround sound is what we perceive, it is what is natural," he explains. "Not stereo. When we walk down a street we hear sound all around us, we are immersed in it. That is the dimensional perspective that we need for our music, especially with the live music from Future2Future, since one of the elements we use is environmental sounds. I wanted a wide enough aural arena for the placement of instruments and sounds, and the ability to move them around. Many of the sounds are spacey things that beg you to move them, because they are not static instrumental sounds. And when I put the live band together, and realised we had two keyboard players, a guy on turntables, a bassist, and a drummer, I wondered, are all these rhythmic elements not going to be in each other's way? That also got me to think about a larger dimensional mixing field."
The Future2Future album features, in addition to Hancock, Laswell and the above-mentioned up-and-coming electronic artists, an array of well-known musicians such as saxophonist Wayne Shorter, drummer Jack DeJohnette, bassist Charlie Moffett, singer Chaka Khan, and even legendary (and now deceased) drummer Tony Williams. The tour band was smaller, consisting of Hancock plus Darrell Diaz as second keyboard player and musical director, Wallace Roney on trumpet, DJ Disk on turntables, Matthew Garrison on electric bass and Terri Lynn Carrington on drums and drum machines.
"We had a limited number of people on stage, compared to what we had on the record," Hancock recalls. "Since so much stuff on the record was done entirely intuitively, how do you translate that to a live situation? We had to make a decision as to which things would be crucial for the audience still to be able to recognise certain tunes, while retaining the spirit of intuitive playing. Our solution was to have Darryl and Terri Lynne trigger samples taken from the record. For instance, there is a track called 'Kebero' that features African chants, and Darryl triggers them from his keyboard.
"I'm not playing any samples, I'm doing more pianistic things. My keyboards are a Steinway Concert Grand, the Roland MK80 as a controller, and the Korg Karma. I'm actually using software instruments, which is totally new in the music scene. I have an Apple Titanium Powerbook on stage with Emagic EVP88, the virtual Rhodes plug-in, and a virtual Clavinet. The EVP88 sounds more like a Fender Rhodes than any other synthesizer I have ever heard! And the Clavinet sounds like a real Clavinet. There are even software pedals like Crybaby wah-wah and Morley pedals that also sound like the real thing. Most musicians still seem to be afraid of using software instruments, because they fear that the computer may crash, and all sorts of other problems. So they have real instruments for backup. But we don't need backups. We did the whole tour with software instruments only, which were both still in beta stage, and we had no problems with them, they worked perfectly."
Hancock is now on a roll, and continues enthusiastically: "One of the things I like about the Karma is that it has a lot of real-time controls, just like the old analogue synths. It is a really cool instrument. When you hit a program you're not just stuck with that sound, you can manipulate the sound as you play, which is wonderful. Another great thing about the Karma is that it has two auxiliary outputs in addition to the stereo output. You can layer up to eight program sounds to create a combination sound, and you can determine to which output each of these program sounds goes.
Photo: IXO Pictures/Redferns"I should explain that we use two engineers live, one who handles the regular front-of-house stereo while the other handles the surround stuff. The auxiliary outputs from both Karmas (Darryl also uses one) go directly to the surround engineer. He has a joystick and can move these sounds where he wants. With the other components of the combination sound coming from left and right stereo, you can get this spatially massive sound that is all around you. It is so cool to be able to do that. In doing this we are using the Karma in a way that it wasn't really designed for. Korg thought that the auxiliary output would just go to a keyboard amplifier and left and right stereo directly to the mixing console.
"I am not using the Karma as a MIDI trigger for the software instruments, because it does not have 88 keys, so right now I'm using the MK80 instead. It has really heavy wooden keys that almost feel like a real piano with hammers and things. I like the way it feels under my fingers, but it doesn't have a very good MIDI implementation, so it is very limited as a controller. But the MK80 does have a built-in Clavinet sound that I really like.
"Yamaha also gave me a DJ box [the DJX10] that has an electronic turntable on it. You can take preset programs and beats and determine the tempo and all kinds of things. It has preset sounds that you can scratch by moving the turntable with your finger. But there's no vinyl record, it's all done electronically. So sometimes DJ Disk and I trade off scratch licks on stage. He has only one turntable, which is unusual as most DJs use two, and also uses some effects pedals.
"The other thing that makes our live tour innovative is the visual aspect. We use G Force software, which is a program that responds to whatever sound goes into the microphone. So we set the computer, a microphone, and a projector on stage, and we play and it reacts to that. It almost seems to have a mind of its own, as if it's an entity that reacts and responds. It's uncanny how beautiful the images are and how often they change. It's a work of art, it's sexy, it's very dynamic and dramatic, and really fits the music."
It's inspiring to see someone at an age when many are looking forward to retirement demonstrate such interest in the new and faith in the future...
Engineer Dave Hampton has 20 years of experience of working in the music industry. Coming to music through electronics, he worked for Oberheim for five years, and has more recently designed recording facilities for artists such as Marcus Miller, Jonathan Butler, Babyface, Bill Withers, Herbie Hancock and many more. Hampton often works as an engineer in Hancock's private Garage Sale Recording studio in Los Angeles. It features a Euphonix CS2000 console, Genelec main, nearfield and surround monitors, and a full-blown Pro Tools TDM system with Emagic Logic Audio used as a front end. There is an extensive array of outboard gear, including Lexicon PCM81 and 91 effects, Eventide H3000 Harmonizers, TC Electronic M3000 multi-effects and DTwo delay, along with high-quality microphone preamps from Avalon, Manley, API and Neve. Favourite microphones include the Neumann U87 and the Elux 251 from Sound Deluxe (a revamp of the Telefunken Elam 251), plus Royer ribbon mics and Sony C800G condensers. The studio also houses many of Hancock's older keyboards such as the Fairlight, Minimoog and ARP synthesizers. Although rarely played, they are kept in mint condition by Hampton.
Hampton was surround sound engineer on Hancock's Future2Future tour, working closely with front-of-house engineer Dave Mann. From Los Angeles Hampton related some of the ins and outs of their innovative approach to live surround mixing: "We use two separate systems live, basically a traditional PA system and a special surround system that we developed with Digidesign. What we do is use Digidesign hardware such as a Pro Control with the Edit Pak, and link it with a full-blown Pro Tools system powered by an Apple Powerbook and an expansion chassis. Our use of Pro Tools for a live mixing console is the first documented use of its kind. I made some special modifications to the gear to make using it in a live situation easier, such as a custom cable harness to link the portable rack with the Pro Control. I also reinforced all of the internal moving hardware with hot glue and silicone. Special clear plastic dust covers prevent damaging the ball-in-socket joysticks that I use to place the sounds in the surround plane.
"We use surround in a non-traditional way. In early quadraphonic all sound came from just four speaker locations, and there was no main system. We take the best from all worlds, including 5.1. We don't really think of our system in terms of specific placements. Instead we think of the sound points coming from the surround speakers as zones. Our system has the potential of using eight zones, which I apply according to the specs of the concert hall. I have used six zones on this tour so far. When we test pan during sound check we don't only check for levels but also for the clarity of definition between the zones of our surround activity versus the stereo front-of-house system.
"We use surround in several different ways. We have ambient noises that help set the mood for a song and that are sometimes used as transitional points from one song to another, or inside of a song to go from one section to another. We work both with stationary placement of a sound or several sounds in the field, and moving the sound around. For example, I could have effects on Herbie's keyboards in motion while he is backing another musician, and when he plays lead again, put it back in a fixed location.
"I don't trigger any samples, but I do add plug-ins sometimes to create a dramatic effect. By using key placement in the surround field along with Pro Tools plug-ins that accentuate certain instruments or create certain effects, you can gain a more dramatic live presence. We have no predetermined surround placements. We leave the moves up to what the music is like on the night — Herbie likes to say that I am the other band member because I improvise according to what happens on stage. But the main thing to remember is that in our shows surround is just another effect used in our presentation. At no time do I compete with or overpower the main mix.
"One of the issues we're still sorting out is that the musicians couldn't hear the surround sound. For future tours we're looking at a combination of in-ear monitoring and the surround headphone boxes made by Studer or Dolby. Also, I just finished producing a DVD of the Future2Future tour, which is in 5.1 Dolby DTS. The DVD has the best of the live situation and the possibilities offered by the studio. I stuck to our original surround mix, but Herbie and I also went for some new approaches with regards to instrument placement in 5.1.
"I think that surround is here to stay. It offers the potential for the artist to deliver his or her material in a more dramatic fashion. How boring would it be for an artist like Herbie Hancock to just come out and play the same old songs with the same old band in the same old way forever? The next frontier is in mixed media. We also experimented with this on our live tour. We used a computer to generate images. Along with the musicians playing and the surround sound, it is what made our show work."