Jeff Lowe
From studio hire to online sessions and non-attended mastering, many professional services are now available to anyone with the money to pay for them. But if you don't have the means or the inclination to have everything done by the pros, how do you choose which bits to do yourself? Do you splash the budget on paying for a good tracking studio and engineer, then take the results home to mix? Or do you try to handle as much of the recording yourself as possible, then hope that an experienced mix engineer will be able to kick your files into shape?
I've heard at least one Playback CD recently where the first option has led to trouble. Jeff Lowe appears to have taken the second, and has fared rather better, thanks to mix engineer Dave Lowe, who has pulled together a pretty slick-sounding album from two years' worth of fairly diverse sessions.
The sleeve notes go into some detail about the creative agonies Jeff went through in producing the album, and I can only assume that he and I don't quite mean the same thing by "experimental", as his "dialectical process" has yielded 73 minutes of polished but fairly safe AOR. There are certainly some nice touches to the arrangements, especially in the backing-vocal department, but I can't help feeling that further experimentation with the keystroke Ctrl-X might have yielded a leaner and ultimately more satisfying album. Sam Inglis
Rough Twist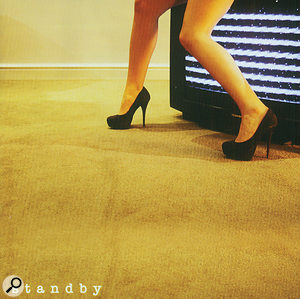 Rough Twist describe themselves as "a six-piece heavy groove-rock bank from Macclesfield". I like the idea of a rock bank, but alas, no-one seems to have deposited any songwriting gold in this one.
The title track is a generic soul-rock stomper, faintly reminiscent of the Black Crowes doing 'Hard To Handle', except not as catchy. The 'B' side is forgettable acoustic meandering in a sub-Faces vein, although, to its credit, it does seem to include the lyric "written in pigeons". It's a pity Rough Twist's songs aren't stronger, because the musicianship is good, and there's a lot to be said for the idea of adding brass to the basic rock-band template. Perhaps they are storing up their better material in anticipation of a forthcoming groove-rock boom? Sam Inglis
Mr Smith featuring Kerem Bashkal
I'm always surprised by how few wannabe chart producers send their demos in to Playback, so it's refreshing to hear some commercial urban music for a change. The model for 'Bonnie & Clyde' is taken squarely from tracks like Professor Green's 'Read All About It' and Eminem's 'Love The Way You Lie', although in this case it's a male vocalist delivering the epic chorus. The mix does a fair job of balancing a ton of harmony vocal parts with a fairly chunky beat, though it doesn't quite have the larger-than-life quality and exaggerated stereo width of its inspirations. For me, though, the track is badly let down by the rapping, which struggles to keep up with the song's tempo. Sam Inglis
soundcloud.com/mrsmithmusic-1/bonnie-and-clyde-kerem
Vadim Mikhailov
Sometimes it's just so very hard to review an album. Most often, the thing that my fellow reviewers and I complain about when reviewing is that so many albums are so similar that it simply becomes impossible to describe them in ever-more unique ways. The opposite problem does exist, however, though not to such an extent. This is the problem of it being virtually impossible to describe something, no matter how hackneyed your choice of description. The words and phrases simply don't exist that do it justice.
It's this problem I come up against with (what I think is called) Claude Debussy 1:1. Using Mikhailov's own description, I can tell you that the intention is for it to exist in the classical genre. The aim is to recreate a selection of Debussy compositions using a synth. However, what the 47 minutes of this album feel most like is the end of 2001: A Space Odyssey. You know, that bit with all the colours whooshing past the chap's head? Yes, that, for 47 minutes.
I'm curiously taken with this, though, I must say. No, I can't honestly say it has anything in the way of a recognisable musical structure, despite any attempted Debussy interpretations, and really very little melody or rhythm is discernable. As a sound-design project (albeit a bonkers one), however, it's pleasingly quirky. Let me be honest, you'd never put this on to listen to because you just couldn't get a particular track out of your head. But it does have a way of transporting you to somewhere completely unrecognisable, and that's a kind of achievement in itself.
As I've said, and as is boldly stated on Mikhailov's website, there is some intended posthumous Mikhailov/Debussy collaboration attempt going on. However, if you weren't told this it would probably take you until track nine to figure it out, and only then by way of a large chunk of 'Clair De Lune' on strings.
So let me tell you this, dear reader. That obscured picture on the front cover is Debussy himself, and when he arrived on my desk from Russia, his eyes lit up with green LEDs that had been drilled through the jewel case... and perhaps that tells you more about this album than I ever could. Nell McLeod
www.cdbaby.com/cd/vadimmikhailov2
SuperCool-Guy
The first track on this album, 'Whatever You Do' has the curious quality of sounding like a three-minute outro.
I wrote that when I'd only listened to the first song, and I can now tell you that a large proportion of them have a similar quality, though some sound like you've arrived right in the middle of a three-minute middle-eight. So, more of a middle-250ish.
The songs are undoubtedly very happy, though, so you can't fault him on enthusiasm. He's clearly enjoying every minute of what he's doing, which is just as it should be. Others may wince at the strong late-'80s pop influences going on (and I mean Kylie style), but for someone who has very fond memories of dancing to 'The Loco-Motion' in her best pink frock and frilly pop socks, this is no bad thing.
Sure, there are other influences here too, such as what could safely and generically be described as 'Latin'. There are also very good guesting singers, who really lift the quality of the production, and these seem to make SCG try a little bit harder.
I have to say, though, that while it may be an album of unrivalled happiness, you can't deny the cheese levels, which are so high that you need a good selection of crackers just to get through it. Nell McLeod
Wilderspin
Full marks to Wilderspin for enthusiasm. They're a really energetic and technically skilled band, with high funk levels and a very solid rhythm section.
To say that there are American influences on this band is putting it lightly. They describe themselves "as folk-rock/country-folk/Americana", and the "Americana" is what gets the most attention. In terms of music and material, this is no bad thing. They do what they do very well indeed. The songs are really easy to listen to and very well arranged. What lets it down for me is what I've spoken about elsewhere in these pages: the very heavy influence of Americana on the lead singer's accent. It's a bugbear of mine, I admit. For some, I'm sure this wouldn't even be noticeable. I like an artist to be themselves, and inhabit that in their music. And I personally would find it very difficult to inhabit who I was fully if I was putting on an accent that wasn't mine.
Having said that, it does bring up something that could totally undermine that argument. If you wanted to go full throttle with country or blues, would it just be wrong for the lead singer to sound as though he was from Stroud, or should he just go for it? I can't say I have much of an opinion on this, I'm just putting it out there for your own deep, personal reflection and possible public debate. I will say this, though. Where the more folky elements of this album really come through, the accent disappears, and it sounds great. The songs feel like they're on a different level to the others. It goes from 'pub band' to 'headliner'. They cite Fairport Convention as an influence, and it's in these moments that you can really hear that.
I've concentrated far too much here on something that's a personal gripe of mine, and that's not fair. After all, Wilderspin are way above average in the talent stakes, so, too, in terms of songwriting. Special mention should go to the fiddle player, who really lifts potentially stodgy moments.
Something To Crow About is a real achievement for Wilderspin. They've obviously worked very hard and care very much about it. It shows that they love what they do and want to do it as well as possible. Nell McLeod
Kristy Gallacher
I won't deny that song titles like 'Quicksand', 'Clones' and 'Until Then' have the potential to make this Playback reviewer's heart sink. These, in particular, suggest themes of despair, yearning and possibly identity crisis! This is absolutely not the fault of the likes of Gallacher, whose output falls back on these tired clichés infrequently enough for it to be inconsequential.
There's edge here rarely found on the albums of singer songwriters who languish in the Playback archives. Kristy's finger-picking guitar style is very American, with lovely walking bass lines and a warm and open acoustic sound. Her midlands vocal delivery contrasts with this, but doesn't jar, Indeed, it works very well. Kristy's vocal talent doesn't bowl you over, but it's gentle, honest and pretty. It's perfect for the style and is complemented well by a handful of basic production decisions, such a double-tracking and hard panning the vocals, for example, that lift the songs in just the right way.
This is a pleasant album of unremarkable but sweet songs. I can't see it heading anyone's top 10 just yet, but if her songwriting skills continue to improve, then there's potential here for real success. Nell McLeod