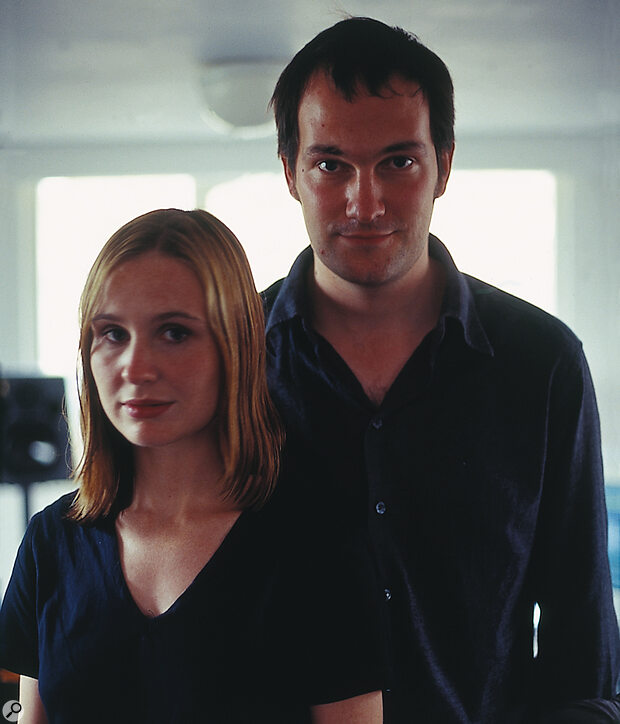 Names: Alistair Cook & Louise Quinn
Studio Premises: Rented loft space in a studio complex in the West End of Glasgow
Main Equipment: Power Mac G3 running Logic Audio Platinum, Prowrite 462 CD writer, Behringer MX8000 mixing console, KRK K‑Rok monitors, Rode NT2 and Shure SM57 mics, PZM mic, TL Audio VP5051 voice channel, Behringer Composer compressor, Zoom 1201 and Lexicon MPX100 multi‑effects, Behringer Ultrapatch Pro patchbay, Samson Servo 170 power amp, Roland Juno 106 synth, R5 drum machine and SH101 synth, Wurlitzer electric piano, Akai S5000 sampler, Hammond drum machine.
The band Quinn, comprising multi‑instrumentalist and studio wizard Alistair Cook and singer/songwriter Louise Quinn, have recently joined the growing number of people setting up small studios and independent record labels. Based in Glasgow, Quinn have founded Lunar Studios and the Lunar Discs record label, and have recently been recording their debut album — the album's first single, 'Brand New Lover', has already been released on their label. They were formerly members of ill‑fated band Hardbody, who were singed to the major label Epic alongside bands such as the Manic Street Preachers. "With Hardbody we were signed to a major label for about two years," Alistair recalls. "Between 1996 and 1997, we released two singles and recorded an album which was never released. We spent a six‑figure sum recording at Axis Studios in Sheffield, and then a month in New Orleans, which was some mad A&R angle; 'send them to New Orleans! That'll be wacky!'"
Hardbody worked with the production team comprising Kevin Bacon and Jonathan Quarmby, who had just enjoyed success with Finley Quaye, but the recordings didn't go as well as had been planned: "I think there are 10 so‑so tracks on that album," concedes Alistair, "with only two really good ones. We just couldn't recreate the feel of the demos. They were really nice guys, but I don't think they were right for what we were doing. I think the label pushed us in a certain direction, and we were very paranoid about sounding like Portishead or Dubstar."
However, working with Bacon and Quarmby had its benefits, as Alistair points out, "I learnt a lot from watching the way they did a lot of seemingly mundane things like placing microphones. I picked up quite a bit like that."
This situation left the band disappointed with the final results. Alistair: "The final mixes weren't really the problem with those recordings, it was just that the actual recordings themselves weren't exciting enough."
Louise sighs, "It was really such a clichéd thing: this energetic young band, bursting with enthusiasm and ideas, taken by the major label and turned into something completely different. Epic had this idea of keeping it all organic, but the demos ended up being more exciting because we mixed electronics and samples with real instruments. When I played the album back I felt like crying!"
They are keen to stress that being on a major label wasn't all terrible. It gave them a chance to pick up lots of useful experience: "I don't regret it at all," insists Alistair. "We did learn a lot out of it. We did have fun. And most importantly, I learnt that you don't have to go to New Orleans to make an album!"
Instead, with remarkable serendipity, the duo found a perfect spot for their new recording studio in the heart of Glasgow's fashionable West End.
Although the outlook was bleak after their experience on Epic, Louise and Alistair decided to branch out on their own. "We were left with absolutely nothing," recalls Louise. "All the money we'd had went on wages for the band, and we were left with just a Juno 106 which Alistair had bought before Hardbody. I didn't even have a guitar. We'd hit rock bottom."
But there was light at the end of the tunnel. Alistair: "Luckily, when we were in the band we hadn't signed a publishing deal, so we were free to move somewhere else and we managed to sign a publishing deal with Chrysalis. Building the studio was something we should have done when we had some money before, rather than spending a quarter of a million recording an album we didn't like!"
"It was the first step," explains Louise. "The money has made it possible for us to build this really nice studio, and this allowed Alistair's production skills to get us to this stage. We did think about recording at home, but our flat is just too small. The way it is now, you feel like you're going to work. You get out of bed early in the morning if you want to get stuff done. We work weekends as well and it's nice to feel that we can come in and record whenever we want. I just fell in love with the room the minute I saw it. What's good about it is that I can look down there at the railway line while I sing, or have a nosey in peoples' windows or whatever. You get this sense of everything else going on around you."
Building the studio was something we should have done when we had some money before, rather than spending a quarter of a million recording an album we didn't like!
"And the actual room sounds nice; you can get a nice lively sound from it," adds Alistair. "We do pretty much everything in there. We did a couple of tracks at Park Lane [Texas' Glasgow studios] and concluded it would just have turned out better if we had done it at our own place. We recorded and mixed the whole of the new single in our own place — even the vocals and drums were done here!"
Alistair and Louise in their Glasgow studio, with (left) keyboards including a Roland Juno 106, Jen SX1000 and Wurlitzer electric piano, (rear) Behringer mixing desk and KRK monitors, and (right) Akai S5000 sampler, with Sonor drum kit just visible behind.
Another of the benefits of working like this is that it has allowed more flexibility within their recording budget. As Alistair explains, "The new single, 'Brand New Lover', took three days to put together, and longer to mix, but the comparatively low rent of our studio meant that we could still justify spending a lot of money on mastering." Which they did, at none other than the legendary Abbey Road studios. Alistair admits it was expensive but something they felt they had to do: "It's so quiet in the mastering suite at Abbey Road, and in an acoustically designed room like that you could hear lots of the little things going on in the mix. We just wanted to legitimise the record in some way. We thought it might sound more like a proper record." He grins. "I think we just wanted to work at Abbey Road, really."
Quinn's new strategy isn't limited just to making records on their own, as Louise explains: "Now that we've set up our own label we can keep the rights to our recordings, rather than signing over our work in perpetuity to a record label. Even if we go for a licensing deal at a later date, we still have a lot of control. But running the label has proved a lot more work than we thought!"
Alistair explains the reasoning behind the choice of equipment in the studio setup: "Including cables, we spent about £15,000 in total — everything we got as a publishing advance we ploughed into the studio instead of paying ourselves a wage, buying a flat or going to the pub! We researched things pretty thoroughly, using Sound On Sound and trawling round the shops, keeping one eye on flexibility and the other on our budget.
"I was always going to buy a Mac, because we used a Mac with Hardbody. We're now using a G3, which is so much faster than the Power Mac I had before. Everything runs really smoothly and there's barely any latency at all, compared to the annoying half‑second delay I had before. I'd been using Cubase VST almost since it first came out, but I started using Logic Audio because they had it at Park Lane and we thought we'd be there a lot. We only have limited I/O at the moment, but not having 24 outs hasn't stopped us making the records. You can bounce down with effects if you want to save on processor power, but I've found I'm able to run lots of plug‑ins without having any problems."
Quinn's Apple Mac G3, running Emagic Logic Audio, serves as the group's main audio recorder as well as carrying out MIDI sequencing duties.
Despite using Logic Audio, Alistair hasn't completely abandoned using his sampler, an Akai S5000: "I use samples to beef up live drums — I'll maybe use a sampled loop with me playing along — and it's still quicker to play around with the speed of loops in the sampler, whereas in Logic you have to do quite a bit of DSP processing, so you can't do stuff in real time. With a sampler you can play the parts till you get the right kind of feel, then just tune it in while the track is playing. There are software samplers which can do these things, but I must admit to liking a separate box."
Nor have Logic's plug‑ins stopped Alistair collecting a healthy number of hardware outboard units: "I use the external processors for weird effects, the Zoom for the funny sounds and the Lexicon for delays or reverbs. I love the Vocoder setting on the Zoom, and I sometimes even use its reverbs for their slightly trashy quality."
A hallmark of Quinn's sound is their unique blend of real and electronically generated sounds, and Alistair is happy to elaborate upon some of his more traditional recording practices. "I play any real drums that are required myself and normally I record them using a PZM mic for the bass drum and a Rode NT2 for the overheads, often just playing around with the positioning to try to balance everything up. I normally compress the hell out of the mics, because we can only record two audio feeds into the computer with my soundcard. Also, the drums are right next to the mixer, so you couldn't get eight mics mixed together unless you did it on headphones. The drum machine is really only used for guides, although I'd never rule out using it again.
"The Rode NT2 is brilliant. Good on vocals and amazing on acoustic guitar. We have a great acoustic, a Gibson G45 — even people we know who have one say it's particularly good. We've got it going through the TL Audio valve amp which warms it up a little. We also regularly put bass and miked‑up electric guitars through it.
"When it comes to mixing, I like the feel of working with an analogue desk. I don't like using the mixer in Logic unless I'm forced to bounce tracks, so I leave the levels flat on the computer and balance from the console. It's good to be able to feel you've immediate control over small tweaks in level. And I'm happy with the KRK K‑Rok monitors. We tried a set of Spirit Absolutes, but we decided the KRKs were the ones to plump for. I can mix at very loud volumes on them, which I find to be a real advantage."
Although Alistair has a CD writer, the studio lacks any sort of DAT machine. "The CD writer is extremely useful because you can back up the hard disk to it and you can knock out demos. However, with hindsight, I would have bought a DAT as well, the main reason being that people often send you stuff on DAT — for example, Louise did some vocals for these guys The Dirty Beatniks in London and everything they sent up was on DAT. We always end up having to borrow a DAT and stick the parts into the computer. Plus, as a standard practice when you're doing remixes, people tend to expect separations down on DAT."
Ongoing plans for the band include some live dates and a project to sell the band's material on‑line: "We're going to have our web site up soon," enthuses Alistair, "which will be launched at the same time as the single. It'll be www.lunardiscs.com and it'll have excerpts of the single and some of the album tracks on the site. We'll probably put another couple of singles out, and then an album."
Having had the opportunity to weigh up the 'major label' approach to making records, Louise is obviously much happier with this more flexible state of affairs: "It's a lot more spontaneous," she beams, "and it's ours... it's all ours!"
Quinn is a collaborative project, although Alistair is comfortable with Louise fronting the band. "We're happy with the focus on Louise. The songs are all written by Louise and, let's face it, she's probably more pleasing on the eye than me."
They are keen to emphasise that the process of recording can only begin when Louise has a finished song ready. Initial demos often consist of nothing more than Louise and an acoustic guitar and Alistair is adamant that this is the best way for them to work: "We always start with the song, putting the guitar and voice into Logic Audio from where we can settle on a tempo."
Notable on many of the duo's records is the use of vinyl scratching. Alistair elaborates, "A guy called Neil McMillan from Hi‑Karate did the scratching for us. Hi‑Karate are a couple of DJs who also did the remixes which appear on the single. Normally we record Neil scratching over the whole length of the track and then lift out phrases or parts we can use as a solo. I really love hip‑hop, so it seemed natural to me to put in scratching where a guitar solo might normally go."