This month's Sound On Sound includes our 2003 Reader Survey, with a printed survey form inserted in the magazine. In an area that's changing as quickly as technology-driven music, it's vital that we keep up to date with what you expect from your monthly issue of SOS. Not that you have to wait for a survey, of course — we're always open to email and telephone calls, and have even been known to open the odd old-fashioned letter! We're always keen to hear your feedback.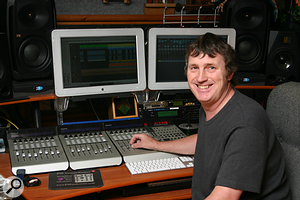 Now, I know as well as anyone that filling in long and tedious survey forms is a total bore, so we've tried to be as concise as possible, but by way of compensation and as an incentive, we do have a competition tied in with the survey (international readers filling in the survey online are still eligible to enter the competition). By completing the questionnaire, you'll be entered in a prize draw to win a Focusrite Voicemaster recording channel and a BLUE Ball dynamic mic, two bits of kit which, we hope, will be a welcome addition no matter what kind of studio setup you have, and, what's more, should continue to be useful no matter how that setup changes.
The reason surveys are never quite as short as we'd like is that the answer to every question seems to spawn a dozen other questions. From my own standpoint, I'd like to know what proportion of you prefer recording using hardware and what proportion think software is the only way to go. But if you ask this question, then you have to start asking about plug-in instruments and processors. Are they better than their hardware counterparts, are they easier to use, or are they simply different? If you are one of the many people who prefer a hardware-based solution, then do you use an all-in one digital workstation or do you prefer the separate mixer-and-recorder approach? What about mastering — do you do your own, or do you have your material professionally mastered?
We'd also really like to know which types of articles you like best. Our Studio SOS series seems popular, but what do you think about it, and for that matter, do you have any audio problems of your own that you need help with? We can't guarantee to visit everyone who asks, but we will do our best to give advice over the phone providing you don't catch me during the last few days of magazine production, in which case you're more likely to be greeted by a Basil Fawlty-esque 'Hello, Yes!!'
In fact, there's lots I'd like to know about the musicians and composers who read Sound On Sound. For example, how many work for commercial profit? Who has managed to set up a successful independent record company, and how? What do you think about surround sound — is it really the future of consumer audio or just a monumental red herring? Do you play live, or do you keep all of your musical activities confined to the studio? Would you like to see more practical features on studio acoustics and issues such as studio layout and wiring, or do you prefer to read about music production techniques? How much value do you place on the SOS web site and do you use the forums regularly?
If you feel strongly about something that you feel we've missed out, please send us an email and let us know. We will read it, and we will take notice. And to those of you who intend to fill out the survey (or already have!), many thanks and good luck with the prize draw. The odds are a lot better than the national lottery!
Paul White Editor In Chief