Apple's 17-inch Macbook Pro has both attracted and put off potential purchasers because of its size. But, with a new higher-resolution display and the latest mobile technology, is it now a must for those seeking the best in laptop performance?
It's been two years since Apple announced their adoption of Intel processors, and a year since that transition was completed. While in the Power PC past it was hard to speculate on future Mac products, one interesting side-effect of the Intel transition is that it's now really easy to predict Mac hardware development, since it's pretty much the same route everyone else in the 'Intel Inside' industry is taking. The eight-core Mac Pro was one example of this: after Intel released quad-core Xeons, it was only a matter of time before Apple used them.
More recently, though, there was much speculation on what Apple would do with their portable line-up after the release of Intel's latest mobile computing platform, code-named Santa Rosa. With other notebook manufacturers enthusiastically announcing details of their new models featuring this technology, it was again a question of when rather than if Apple would update their own products to adopt the new development. Sure enough, Apple launched updated 15- and 17-inch Macbook Pros on June 5th, and a few weeks later they were kind enough to send us a brand new, top-of-the-line 17-inch Macbook Pro to play with.
I have to confess that when Apple released their first 17-inch laptop a few years ago it really wasn't a product that appealed to me. The main problem was that it was big and heavy: two qualities that tend to conflict with my aesthetic sensibility of what a laptop should be. However, despite this earlier opinion, I was eager to try out the latest 17-inch Macbook Pro to see if my perspective had changed.
The first thing I did when I took the 17-inch Macbook Pro out of the box was to place it on top of my first-generation 15-inch model. To my surprise, the 17-inch really didn't seem that much bigger; maybe an inch wider and half an inch deeper. (The exact measurements are 14.1 x 9.6 inches for the 15-inch model and 15.4 x 10.4 for the 17-inch; both models are only an inch thick.) In terms of weight, the two Macbook Pros also felt quite similar, with the 17-inch weighing in at 6.8lbs (3.08kg), compared to the 15-inch at 5.4lbs (2.45kg).
The 17-inch Macbook Pro is designed to be Apple's top-of-the line laptop, and as such comes with a 2.4GHz Intel Core 2 Duo processor (featuring a 4MB cache). All Macbook Pro models come with 2GB memory, Nvidia Geforce 8600M GT graphics with 256MB dedicated memory, an eight-speed double-layer Super Drive and a 5400rpm 160GB hard drive.
As you would expect, there are a number of build-to-order options to consider as well. One thing that's worth considering if you want to do audio recording without the aid of an external drive is the 7200rpm 160GB drive option. If you opt for capacity over speed (which is fine if you want to store samples that will get loaded into memory rather than being streamed from disk, for example), the 17-inch can be kitted out with a 4200rpm 250GB drive instead.
In terms of connectivity, you get three USB 2.0 ports, one Firewire 400 and one 800 port, a Gigabit Ethernet port, a dual-link DVI port (capable of supporting the 30-inch Cinema Display), headphone and microphone stereo mini-jack sockets, and an Express Card slot. For wireless networking there's the usual Bluetooth 2.0 with Enhanced Data Rate (EDR), and the Macbook Pro now offers 802.11n (the new Airport Extreme) as standard, meaning that you won't have to worry about firmware enablers, as with the previous generation.
Apple quote a maximum of six hours battery life for the 15-inch model and 5.75 for the 17, which isn't bad considering that a larger screen will draw more power. As usual, though, the manufacturer's quoted battery life shouldn't be taken too literally. Leaving the 17-inch Macbook Pro continuously playing a Logic song with moderate CPU load, disabling the wireless networking and halving the display's brightness, I got two hours and 20 minutes of battery life. Not amazing, but not terrible. In general use (web browsing, word-processing, and so on) the battery would normally last three to four hours.
Santa Rosa is the code name given to Intel's fourth-generation Centrino platform. We looked at the original Centrino platform in Sound On Sound way back in February 2004 (www.soundonsound.com/sos/feb04/articles/centrinos.htm), and while Apple have chosen not to use Intel's Centrino branding for their Macbook and Macbook Pro product lines, it's basically the same technology underneath the aluminium exterior. Unlike the third-generation Centrino platform, on which the current generation of Macbooks (and the previous generation of Macbook Pros) is based, there isn't a major new processor revision in Santa Rosa, so the new Macbook Pros use the same Core 2 Duo processors as before, but with a little bit of a speed bump.
Perhaps the most significant features of Santa Rosa for those running demanding music and audio software are the faster 800MHz system bus (versus the 667MHz bus on previous models) and the ability to expand the memory to 4GB. As you can see from the Logic performance results in the main text, the faster bus makes quite a difference. And having 4GB installed (which the review model did) means that Logic can theoretically access the maximum 3GB address space that Tiger provides to 32-bit applications, giving you more space to load up EXS24 instruments (or use Audio Units) on a mobile system.
In terms of specifications, the real highlight — and the reason why you'd want the 17-inch Macbook Pro — is the screen. The very first 17-inch Powerbook featured a display that offered a resolution of 1440 x 900 pixels, which is now the same resolution as the screen on the 15-inch (or, to be more precise, the 15.4-inch) Macbook Pro. Later revisions of the 17-inch Powerbook (including the 17-inch Macbook Pro) offered a resolution of 1680 x 1050, the same as a 20-inch Cinema Display, and, indeed, this is still the resolution of the standard 17-inch Macbook Pro. However, what's really great is that Apple are now offering a 1920 x 1200 display as an option on the latest 17-inch Macbook Pro — the same resolution as a 23-inch Cinema Display (or a 24-inch iMac) — for only £60 more.
While the 17-inch Macbook Pro is often regarded as being rather large, when placed beneath the 15-inch model you can see that it really isn't that much bigger in terms of its footprint.The 17-inch model I received from Apple for review has the higher-resolution display, and I have to say that it's absolutely gorgeous. Not only is the display bright and beautiful, 1920 x 1200 is typically the resolution I work at on my desktop computers and to have this on a mobile system is just incredible. For example, with Logic Pro I could comfortably work with 64 tracks (vertically) on the Arrange window, although with the track height at the smallest setting you can fit a total of 109 tracks in the same window. And in the Track Mixer window you can see 29 tracks (horizontally), or 30 if you choose to hide parameters.
The only slight drawback to having more pixels on the same size screen is, of course, that everything appears slightly smaller. I had no difficulty working with the resolution myself, but if you prefer objects not to be so small on your display, you might want to order your 17-inch Macbook Pro with the standard screen instead, at least until resolution-independent interfaces start to become more commonplace.
Responding to concerns from environmentalists, Apple had previously announced that they would ship the first Macs with LED backlights in 2007, and the latest 15-inch Macbook Pros do indeed now feature LED backlighting. Unfortunately, the 17-inch Macbook Pro still uses a fluorescent lamp, although Apple state on their web site that "Our ability to completely eliminate fluorescent lamps in all of our displays depends on how fast the LCD industry can transition to LED backlighting for larger displays." (See www.apple.com/hotnews/agreenerapple.)
When it comes to performance for music and audio applications, Apple assert that the new 2.4GHz Core 2 Duo Macbook Pro is 55 percent faster than the original 2.16GHz Core Duo-based Macbook Pro when running Logic Pro. This is quite a claim, although it's worth bearing in mind that the comparison is indeed against the original Macbook Pro, and not a more recent, second-generation model with a Core 2 Duo processor. However, that's not to say that the new Macbook Pro is anything but impressive when running Logic Pro.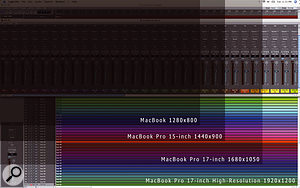 This is an illustration of how many Logic tracks you'll see on both the Arrange and Track Mixer windows, with the various displays Apple use in their range of laptops.
Starting with 'ye olde how many Platinumverb s' test, the new Macbook Pro managed 150 instances, with Logic Pro showing 176 percent usage in Activity Monitor, and the User usage at 88 percent. By comparison, my original 2.16GHz Core Duo Macbook Pro managed 94 instances in the same test, so it would seem as if there's some truth to Apple's performance claim. As a side note, Apple mention that they also used reverb plug-in instances to calculate their results, stating that the new Macbook Pro ran 255 instances of an unnamed reverb plug-in, while the original Macbook Pro managed only 165 instances.
Staying on the theme of reverb plug-ins, the new Macbook Pro could handle 54 simultaneous Space Designer instances with about 180 percent Logic usage and 88 percent User; the old model could handle 30.
Moving on to instrument voices, the new Macbook Pro produced 160 Sculpture voices (versus 96 on the original Macbook Pro) with 173 percent Logic usage and 87 percent User usage. With the EXS24, using 16-bit sample storage and the filter disabled, the new Macbook Pro played 896 voices (compared with 832 on the older model) with 168 percent Logic usage and 85 percent User, while enabling the filter reduced this number to 512 (448 on the older model) at 170 percent Logic usage and 88 percent User usage. Enabling 32-bit storage without the filter, the new Macbook Pro produced 1600 voices (compared with 1408) and enabling the filter brought this down to 640 voices.
Overall, these results are quite impressive compared to the older Macbook Pro, and especially when compared against an old G4 Powerbook (see diagrams below and overleaf), with the exception of the EXS24 results, which I would have imagined to be more significantly different given the improved system bus. However, this could be an issue with EXS24, since the reverb and Sculpture results indicate quite a difference in performance, although none of these plug-ins are quite as memory intensive as EXS24. For the record, EXS24 's Virtual Memory option was disabled for the tests.
Apple claim that the new 2.4GHz Core 2 Duo-based Macbook Pro is 55 percent faster than the original 2.16GHz Core Duo-based model when running Logic Pro. As you can see from these results, for reverb plug-ins that claim seems about right.
Aside from pure processing performance, I also tested the capabilities of the internal drive (the review model came with the 7200rpm 160GB drive) for recording and playing back audio tracks. As with the original review of the Macbook Pro, I used an RME Fireface 800 interface to record sets of 24 mono tracks at 44.1kHz/24-bit, while playing back the previously recorded sets simultaneously until I reached the limit. Recording 24 tracks in this way while playing back 96 tracks caused Logic to produce a 'disk too slow' error, and the maximum number of tracks I could record while playing back the 96 tracks was 22. This is quite similar to the original Macbook Pro with the 100GB 7200rpm drive, where I could record on 20 tracks simultaneously while playing back 96.
For only playback of audio tracks, though, the new Macbook Pro could manage 138 tracks simultaneously, a notable improvement over the 118 tracks that could play back on the original model, although this probably has more to do with the improved system architecture than the disk itself being significantly faster.
One footnote to the performance tests is that, as with most laptops, when the CPU is running flat out you really do notice the fans kicking in. And, like the 15-inch Macbook Pro, the 17-inch can get exceptionally hot in places: notably towards the back of the laptop, underneath and on the small area between the keyboard and the screen. This isn't a problem if you're working on a desk, and one good thing about the 17-inch is that the front of the laptop tends to stay cool (unlike the 15-inch), thanks to the slightly larger surface area.
In addition to being a great laptop for Mac users, the 17-inch Macbook Pro is also a potentially great laptop for Windows users as well, thanks to Apple's still-in-beta Boot Camp software. Since I use Boot Camp on my 15-inch Macbook Pro to run Windows XP, I thought I would take the opportunity to try installing Windows Vista (Ultimate) on the 17-inch and see how the experience compared. Installing Boot Camp and then Vista is extremely easy, although once Vista boots for the first time you'll need to install the Boot Camp driver CD (which the Boot Camp wizard creates for you before you start installing Windows) to access all the features of the laptop in Windows.
After I'd installed the Boot Camp drivers (including the all-important Nvidia 8600m graphics driver) the advanced Aero graphics in Vista were still disabled. Vista has a feature that rates your computer's overall performance so it can figure out whether some of the more advanced bells and whistles (such as Aero) will be activated, but when I tried to rate my Macbook Pro Vista told me it couldn't rate the system while it was running on battery power and I should plug in the power adaptor. This wouldn't have been a problem except that the power adaptor was already plugged in, but I toggled the power connection, checked that Windows indeed saw the power status as plugged in, and finally got to rate my system. After this I was finally rewarded with the hardware-accelerated Aero user-interface graphics.
While this experience highlights a very minor point, and for the most part Boot Camp really does work quite well, until Apple release the final version with Leopard I would say that minor issues like this make the Macbook Pro better suited to users who want to run Mac OS X for most of their computing tasks, with occasional trips to the Windows world, rather than the other way around.
I wasn't sure what to expect from the new 17-inch Macbook Pro. With my past prejudices against this model and the fact that my daily life revolved around a 15-inch model (which I always considered to be the perfect form factor), I was surprised when I opened up the 17-inch Macbook Pro for the first time and experienced the technological equivalent of 'love at first sight' (highlighting the fact that I really do need to get out more). But when you consider that, with all the optional extras, the Macbook Pro can be a laptop with a 1920 x 1200 display, a 2.4GHz Core 2 Duo processor, 4GB RAM, a Super Drive and a 160GB 7200rpm drive, it's perhaps not hard to see why this machine is so desirable.
The number of voices that the new 17-inch Macbook Pro can play back when using Logic's built-in instruments is impressive, although EXS24 doesn't see quite the same performance boost as Sculpture.
The desirability of a 17-inch Macbook Pro specified like this will, however, mean that it costs you accordingly. The fully-loaded configuration I just described comes in at £2439, compared to the base £1799 model — although when the first 17-inch Powerbook G4 was reviewed back in July 2003's issue of Sound On Sound (www.soundonsound.com/sos/ jul03/articles/powerbook17.asp) it carried a £2599 price tag. Technology falls in price all the time, of course, but the good news is that even compared to other manufacturers who offer Windows-only laptops, Apple's laptops are competitively priced given the feature set — and it's often quite difficult to find a similarly specified machine from other manufacturers at any cost. Finding a DVI output on Windows laptops can be harder than you might think, for example.
There are exceptions, of course, where products from more specialist companies like Alienware offer high-end features such as dual graphics cards in a laptop, or multiple hard drives with RAID configurations, although these laptops are more expensive, not quite so sleek, and aimed at the high-end gaming or graphics markets.
If you're looking to buy a laptop for the first time, or are replacing an older G4 Powerbook (or possibly even a first-generation Macbook Pro), a new Macbook Pro is an excellent choice, whether in the 15- or 17-inch form factor. But if you want the larger or higher-resolution display and don't mind dealing with a slightly bigger beast, the 17-inch model is, as I've mentioned already, highly desirable. 
Pros
Provides absolutely top-of-line mobile performance that might easily be enough to make this your main machine.
The higher-resolution display is fantastic and well worth the small extra charge.
Cons
It can get a little hot in places, and the fan noise can be distracting when you're running the machine flat out.
Summary
The 17-inch Macbook Pro is stunning. Its sheer performance, combined with the new high-resolution display option, make this is a laptop that will satisfy even the most demanding mobile user.
information
£1799 including VAT.