The Main screen provides options for configuring the performance features, like defining the Keyrange for each channel and the neat fade‑in/fade‑out feature.
Chris Hein's OCTA instrument is truly greater than the sum of its parts.
Making a living in the highly competitive world of film and TV scoring is undeniably challenging but, when it comes to the tools available to actually create the music, media composers have never had it so good. Chris Hein is a well‑established developer in this field and his latest product, OCTA, is aimed firmly at that audience.
Combining sample‑based organic instruments, various types of drums and percussion, and a range of synth sounds, OCTA ought to be suitable for the type of hybrid 'organic/orchestral‑meets‑electronic/synthetic' scoring styles that are so prevalent in modern film and TV music. In addition, while running as a Kontakt (full or Player version) instrument, OCTA is Chris' first release that utilises a new bespoke engine known as Mega Structure. Further titles based upon this engine are already planned but, on paper at least, it would appear to offer some impressively deep possibilities.
OCTA's 25GB of sample data delivers 100 individual instruments in three broad categories; organic 'real' instruments, synths, and drums/percussion. The 64 acoustic instruments span quite a range of sources and, while there are certainly instruments that fall under the 'orchestral' banner here (and Chris Hein is perhaps best known for his orchestral and guitar libraries), this selection is dominated by some of the less mainstream options.
For example, the acoustic instruments provide a selection of different vibraphone, marimba, xylophone and glockenspiel instruments. You also get hang drum and tongue drum options, harp, vibes, acoustic and electric piano and guitar/bass. There are some string options (including sustained and pizzicato styles) but it's clear that the design intention was not to compete in this area with more conventional orchestral libraries. The synth sounds span various pad types, a selection of plucked sounds, some basses, and a number of synth leads. The drum/percussion group provides a selection of conventional drum kit sounds, wooden and metallic percussion and hang drum percussion. Each of the presets includes a wide range of individual sounds mapped across the keyboard. As we will see in a minute, OCTA's engine provides plenty of ways to modify the supplied sounds.
OCTA's front end allows you to create a preset using up to eight of the individual sounds at once. The supplied presets offer both individual instrument options and (of course) plenty of combinations. When using multiple sounds within the same instance, you get a range of different options to either select specific combinations from those currently loaded (via keyswitches) and to adjust the blend between any active sounds. The key element in the latter is the X/Y pad located top right, which features eight 'nodes' and, via the UI's Main page, you can allocate any of the eight sound slots to a specific node and then use (or automate) the cursor within the pad to adjust the blend in real time.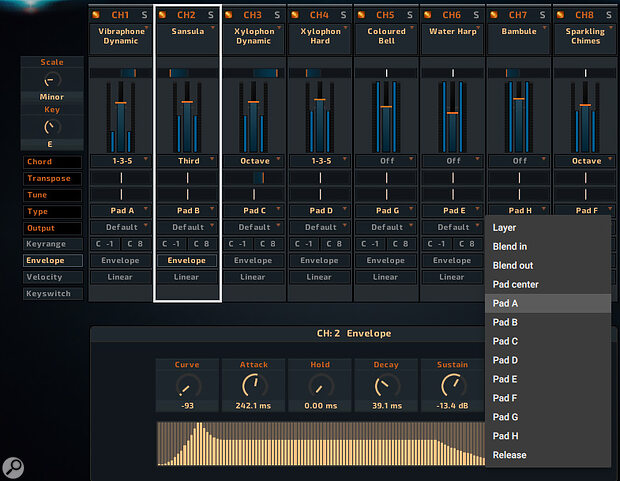 The Main page is also where you can configure if/how each channel responds to the X/Y pad.
Alongside some impressive effects processing options that are available for both individual instrument channels and globally, the engine also offers some neat MIDI performance features (including key/scale note correction and key/scale‑aware one‑fingered chord generation). However, perhaps the highlight of these additional features is the sequencing engine. This gets pretty deep, but it's very impressive. I'll...
You are reading one of the locked Subscribers-only articles from our latest 5 issues.
You've read 30% of this article for free, so to continue reading...
✅ Log in - if you have a Subscription you bought from SOS.
Buy & Download this Single Article in PDF format

£1.00 GBP

$1.49 USD


For less than the price of a coffee, buy now and immediately download to your computer or smartphone.

Buy & Download the FULL ISSUE PDF
Our 'full SOS magazine' for smartphone/tablet/computer. More info...

RECORDING TECHNOLOGY: Basics & Beyond
Claim your FREE 170-page digital publication
from the makers of Sound On Sound — CLICK HERE