A star Hollywood orchestral library gets an extreme make-over.
In 2003, after a protracted period of anticipation, the cumbersomely‑named EastWest Quantum Leap Symphonic Orchestra was released to much critical acclaim. Three years later, the Professional Expansion (XP) upgrade doubled the size of the library to a stonking 138GB. The whole shebang had been recorded in a large concert hall from three microphone positions, making it 5.1 surround‑compatible. With a cast size and budget rivalling that of Ben Hur, this mammoth undertaking represented a huge commitment by its makers, and that commitment was duly rewarded when EWQLSO became the orchestral collection of choice for many film, television and game composers. The American company kept faith in their grand project and have now re‑formatted the entire library (which was formerly available only in the Native Instruments Kompakt/Kontakt format) to run on their custom Play sound engine.
With its ability to access unprecedented amounts of RAM, the 64‑bit version of Play is particularly well equipped to handle the large numbers of instruments required for orchestral arrangements. However, the 32‑bit Play engine will also run all of EastWest's Play‑formatted libraries with no diminution in sound quality or functionality — the only difference between the 32‑bit and 64‑bit versions (which are both supplied with every Play library) is their RAM usage.
EWQLSO's instruments and articulations were described in detail in the June 2004 and June 2006 issues of SOS, while the Play sound engine was reviewed along with EastWest's Fab Four and Ministry of Rock libraries in the March 2008 edition. In this review we'll concentrate on the new features implemented in the EWQLSO Play Edition.
The Play version of EastWest's flagship orchestra ships in a choice of four precious‑metal varieties (see box elsewhere in this article), catering for buyers ranging from the impecunious amateur to the top professional. The Silver version includes release trails and full sample mapping, but it has no keyswitches and contains far fewer articulations than the other versions. The top‑of‑the‑range Platinum Plus provides 24‑bit and 16‑bit samples, offering buyers the convenience of working with the more CPU‑friendly 16‑bit samples when programming an arrangement, then switching to 24‑bit when it's time to record it.
Surprisingly, it's not possible to directly load a 16‑bit instrument — you have to first load the 24‑bit version, then alter the bit‑depth setting on the interface and wait while the replacement samples load in. Users have asked for this somewhat clunky routine to be streamlined: EastWest's Doug Rogers' response is that although that would be easy to do, "we didn't want Platinum to 'default' to a lower quality so we insist on both being loaded". Platinum Plus users who wish to work 16‑bit are therefore stuck with this procedure. While I can understand EastWest's desire to maximise sound quality, such enforced inflexibility seems counter‑productive to me.
Though the makers have reduced its size by deleting unused samples, this is still a massive collection (the Platinum Plus version contains 194GB of sample data on 28 DVDs). I whiled away the installation time by learning to play the bagpipes, reading the entire works of Shakespeare and translating the Encyclopaedia Britannica into Urdu. After that, the on‑line authorisation procedure went quickly and smoothly. However, the strings, percussion and woodwind refused to utter a peep (let alone a scrape, boing or parp) until I downloaded and installed the latest Play software. I was also obliged to download a 90MB library update, which fixed a problem with some missing flute samples. Such updates‑cum‑running‑repairs have long been par for the course in this industry, but I still hark back nostalgically to the days when products worked perfectly straight out of the box.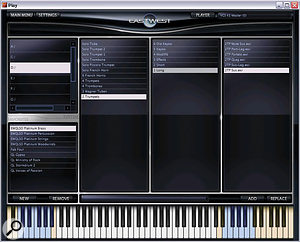 Play's Browser page allows you to create virtual folders containing your favourite instruments.
The EWQLSO Play interface has its own distinctive look, layout and customised controls. The player retains the five‑stage amplitude envelope and convolution reverb found in other Play libraries, but dispenses with the rock/pop‑orientated ADT, delay and filter effects. I found the convolution reverb's 'EW Hall' setting sounded very good indeed when applied to solo woodwind close‑miked samples. The effect worked best when I deactivated instruments' release triggers and backed off the envelope release time.
Three new performance modes are designed to increase realism: a brand new legato script does a very good job of smoothing out the contours of melody lines, and can even cope with fast trills — I found it much more effective than the Pro XP 'zero legato' instruments (also included), which use non‑interval‑specific notes extracted from phrases. 'Portamento' adds a slight pitch slide between notes, effective if used sparingly! Via a combination of randomising functions, the 'repetition' script subtly varies the samples so that no two repeated notes sound identical. These modes can be turned on and off on the fly with MIDI CC commands, a useful expressive facility. However, be warned that the legato and portamento automatically switch on the convolution reverb when selected!
When programming, I like to see parameter settings displayed as numeric values: as well as lending a vaguely scientific air to proceedings, it makes it easy to duplicate settings for different instruments. The EWQLSO Play GUI's envelope and tuning controls have numerical readouts, but its fader levels, pan positions, reverb controls, 'stereo double' amount and velocity sensitivity curve are purely graphic. The articulation slots' loudness controls (which default to 0dB with an extra 12dB of headroom) annoyingly refuse to return to zero once they've been altered — the closest you can get is 0.094dB. C'est un bug, n'est‑ce pas?
The most striking innovation in the EWQLSO Play GUI is the large number of generously sized slots available for instrument articulations: 16 are shown at any one time and more can be viewed by scrolling down. Loading a 'Master' or 'Elements' version of an instrument automatically places all its available articulations into these slots. Masters automatically load articulations with all their samples in place, while the far less RAM‑hungry Elements only load samples for the first two articulations, leaving you free to manually load any others you'd like to hear.
A critical difference between Master and Elements instruments is that the former contain a full set of keyswitches and will play only one articulation at a time, whereas Elements have no keyswitches but can play multiple instruments simultaneously. Elements are thus a good environment for auditioning articulations and creating layered instruments, but as this version of Play doesn't allow you to program your own keyswitches, you're obliged to use a Master as a starting point if you need that facility. Given the Masters' relatively large RAM consumption, it's good practice to discard the samples of any articulations you don't plan to use in a project (by unticking the 'Load' box next to their slots) and then save your setup with a new name for future use.
Instruments default to loading their 'stage' mic position samples, which preserve real‑life orchestral platform positions, with the harp stage right, tuba stage left, and so on. The 'close' and 'surround' versions can then be loaded simply by pressing their dedicated buttons. Each close instrument has its own pre‑programmed pan setting, which reflects the instrument's regular stage position, but you can easily overrule that and centralise the panning if you wish.
With some Master instruments packing over 3000 samples, using multiple mic positions could easily cause CPU or RAM overload, so (as with all orchestral libraries) it's advisable to be thrifty about how many instruments, articulations and mic positions you're using at any one time. Play's 'sample purge' function, which analyses incoming MIDI notes and removes any unused samples from an instrument, is an extremely useful aid to keeping your setups lean and mean, but obviously shouldn't be used on an instrument until you've completed its part!
Keyswitching facilities have been greatly improved. The GUI's keyboard now shows precisely where keyswitches are mapped; if you play a note within the general keyswitch area which has no keyswitch assigned, it no longer cuts off the sound like the Kompakt version did! In addition to the new Master keyswitch sets, the old Professional XP keyswitch instruments are also included, for the benefit of users looking to recreate past projects. However, the original set of keyswitches created for the first edition of the library is now history. The only feature I missed is that currently there's no way of seeing at a glance which articulation is currently active in a Master. Perhaps that's one for a future update?
The 'advanced properties' window contains instruments' global tuning, pitch‑bend and play‑range settings. The last feature is essential for customising keyboard splits and, in this library, would be an invaluable tool for creating your own full strings or brass ensembles. EastWest have now addressed the pitch‑bend calibration issue from Play's early days but, rather idiosyncratically, the bend amount is displayed as a percentage. By trial and error I worked out that the standard two‑semitone bend requires a setting of 17 percent (not many people know that!), but for some reason the default setting is two percent, which produces a tiny pitch deviation of little musical value.
I was pleasantly surprised to observe that the Play keyboard's keys change colour to reflect user edits: for example, if you deactivate a keyswitch within a Master, the hue of its key changes from blue (indicating a keyswitch) to pink (indicating a blank key). Similarly, when you limit the range of an instrument, the keys at the outer limits of the play zone that were previously white (indicating a mapped sample) turn pink as the play range shrinks. Very cool! Such visual refinements eliminate guesswork and make the library much easier and quicker to use.
This reprogrammed‑from‑scratch update of EastWest/Quantum Leap's orchestra goes well beyond cosmetic surgery. The sound — big, bold, naturally reverberant, tailored for the big screen — is stronger than ever and the comprehensive instrumentation and performances (unchanged from the Pro XP version) meet most symphonic requirements. In addition, the Play Edition's new features and improved keyswitching make the library much easier to handle and give increased control of articulations, both vital factors when handling the myriad performance variations of a full score. For once, this is a case of a Hollywood remake that actually improves on the original!  
The other big player in this field is Vienna Symphonic Library, whose 80GB Special Edition includes a complete orchestral instrumentation. The 'extended' version offers a wider range of instruments than EWQLSO Play Platinum Plus and is priced a little higher, while the 'standard' version (which costs around the same as EWQLSO Play Gold) provides a basic working orchestra with a grand piano. VSL's samples are recorded in‑house from a single mic perspective and sound considerably drier than EWQLSO.
If you particularly want a concert-hall acoustic, Kirk Hunter's reasonably‑priced, 21.5GB Emerald collection has some decent strings ensembles, brass sections and woodwinds. With a drier, less dynamic sound but a very comprehensive instrumentation including rare items like the contrabass clarinet, Gary Garritan's small but perfectly formed Personal Orchestra (2GB) provides an economic solution for the cash‑strapped orchestrator.
Platinum Plus (194GB): All instruments, all articulations, three mic positions, 24‑bit and 16‑bit samples.
Platinum (117GB): All instruments, all articulations, three mic positions, 24‑bit samples.
Gold (33GB): All instruments, all articulations, single ('stage') mic position, 16‑bit samples.
Silver (11GB): Essential instruments and articulations only, no keyswitches, single ('stage') mic position, 16‑bit samples, bonus choir and church organ samples.
For a list of each version's contents, go to www.soundsonline.com/EastWest​‑Quantum‑Leap‑​Symphonic‑Orchestra‑PLAY‑​Editions‑pr‑EW‑177.html and select 'Articulations'.
Pros
Contains all the essential orchestral instruments and ensembles (including first and second violins), plus chamber violins and cellos, expanded percussion, grand piano and harpsichord.
Recorded from three mic positions in a large concert hall, creating a 'real life' surround‑compatible orchestra sound.
New comprehensive keyswitching for all instruments except the chamber strings, harp, keyboards and percussion.
Instrument play‑range control makes it possible to create splits and build your own ensembles.
The Platinum Plus version contains both 16‑bit and 24‑bit samples.
Cons
Play doesn't allow users to create their own keyswitches or re‑map the factory ones.
Instruments can't be edited at sample level.
Platinum Plus owners can't access 16‑bit instruments without loading the 24‑bit version first.
Summary
As before, the built‑in concert hall sound and film‑score‑friendly articulations of this powerful orchestral library deliver instant results to busy composers. Existing EWQLSO users will enjoy the increased ease of use of the Play Edition, while newcomers should find plenty of inspiration in its impressive instruments and sections.
information
EWQLSO Platinum Plus £629; EWQLSO Platinum £564; EWQLSO Gold £314; EWQLSO Silver £119. Prices include VAT.
Sounds Online Europe +31 20 4041 687.
EWQLSO Platinum Plus $995, EWQLSO Platinum $895, EWQLSO Gold $445, EWQLSO Silver $195.
Sounds Online +1 323 957 6969.
Test Spec
EWQL Symphonic Orchestra Play Edition v1.2.05.
PC with 2GHz Intel processor, 2GB RAM and Windows XP Pro SP2.