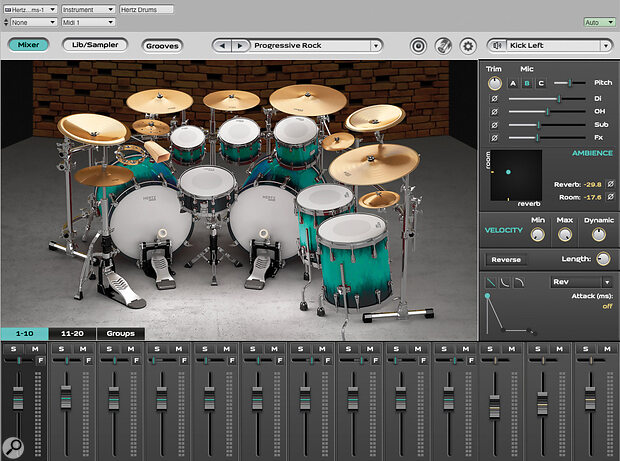 If you like your drums heavy, the Hertz Drums Bundle might be just the thing.
Virtual instruments have become a part of everyday life for computer‑based music producers, covering many different instruments, styles and genres. Much like the iconic phrase from Apple back in 2009, "there's an app for that," nowadays "there's an instrument for that." Drums being a fundamental building block of modern music production and most people not having the facility (or budget) to record them, there are lots of virtual drum instruments on the market — often including a virtual drummer.
Hertz Drums are new kids on the block, and not a company I was previously aware of in what is a crowded market. Their instrument is the brainchild of brothers Wojtek and Slawek Wieslawski, owners and in‑house producers at Hertz Studios in Poland. Renowned for their work with many top metal bands such as Behemoth, Vader and Hour Of Penance, the brothers combined their knowledge and experience with that of software developer Alex Yashchaka, and Hertz Drums was born. It's pitched unashamedly at a rock and metal audience, but Hertz Drums offers a great deal more than blast‑beat kick drums and gunshot snares, as we will find out.
The Hertz Drums plug‑in comes in a familiar 'instrument plus expansion packs' format; you purchase the plug‑in instrument host, then add the expansion packs that best suit your needs. It's worth pointing out that the basic instrument doesn't ship with any sounds, which is perhaps a little unusual, so you'll need to buy at least one expansion pack to get started. My review copy is the Hertz Drums Bundle, which includes the plug‑in instrument plus three expansion packs, slightly uninspiringly named Red, Blue and White. These cover "classic rock, funk, alternative, progressive, classic metal and many more". I found installation trouble‑free, and the process of pointing the plug‑in to where the expansion packs are installed is equally simple.
On opening the instrument, you're presented with the main screen, which depicts an imposing double‑bass‑drum kit surrounded by five toms and a multitude of cymbals, along with a tambourine and the ubiquitous cowbell. This very much sets the scene for where these kits sit in the musical landscape, and it isn't country & western!
Beneath the kit is the mixer, and to the right are editing tools for shaping the drum sounds. The mixer comprises 20 individual faders (one for each kit piece) and seven group faders covering kick, snare, toms, hi‑hat, ride, cymbals and percussion/misc levels. Three further faders provide control of the overhead, room and reverb levels. Each fader is equipped with mute and solo buttons, plus a Follow button that ensures room, reverb and overhead panning is kept 'in line' with any adjustments made to the direct signal.
Across the top of the window are tabs that select the Library and the comprehensive Sampler sections of the plug‑in (see the 'Taking A Sample' box), and also the MIDI Grooves player window. When selected, these elements appear in place of the mixer below the kit. Sample packs and preset kits are selected from a drop‑down menu, with typical load time a very passable 20‑30 seconds on my old 2014 MacBook Pro. It's nice to have everything available in a single window and this design makes for a very usable interface, although unfortunately it is a fixed size and isn't currently scalable.
Drums, once loaded, can be auditioned by clicking on them with the mouse or via MIDI input from a keyboard, electronic drum kit or other MIDI input source. Hertz Drums has a very neat trick up its sleeve when it comes to the tricky issue of which notes are mapped to which drums, and includes several presets that replicate the MIDI mapping used by popular electronic drum kits and software instruments such as Superior Drummer, Steven Slate Drums 5, Addictive Drums and Logic Pro X. In practice, this means that if you're used to a different drum plug‑in you don't have to remap the drums or learn a completely new set of keys. You can, of course, create your own MIDI maps, but Hertz cover many of the most popular options and may well add other MIDI maps in future updates.
You are reading one of the locked Subscribers-only articles from our latest 5 issues.
You've read 30% of this article for free, so to continue reading...
✅ Log in - if you have a Subscription you bought from SOS.
Buy & Download this Single Article in PDF format

£1.00 GBP

$1.49 USD


For less than the price of a coffee, buy now and immediately download to your computer or smartphone.

Buy & Download the FULL ISSUE PDF
Our 'full SOS magazine' for smartphone/tablet/computer. More info...

RECORDING TECHNOLOGY: Basics & Beyond
Claim your FREE 170-page digital publication
from the makers of Sound On Sound — CLICK HERE