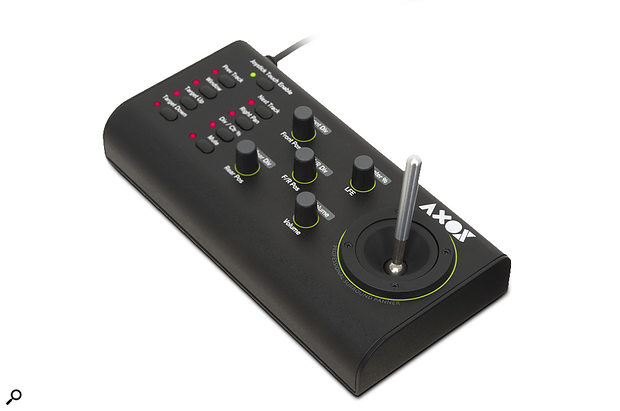 Physically, the AXOS Panner is a compact free-standing control unit, which connects via a single USB cable to the DAW host. This compact control surface comprises a touch-sensitive joystick panner, five dual-function rotary encoders and a set of nine buttons. In addition to dynamic panning of the track(s) to which the AXOS Panner is assigned, the unit allows the mixer to adjust front and rear positioning, front-rear panning, LFE and C channel contributions, and front and rear divergence. Control of master volume and mute are also provided.
The AXOS panner is compatible with Pro Tools HD versions 8 to 12 (non-HD versions of Pro Tools do not support surround-sound formats). Pro Tools being my DAW of choice, I undertook this review using Pro Tools 12 HD, but when used with the appropriate JL Cooper AXOS Panner plug-in, which you can download from the company's web site, fully automated surround panning is also available in Logic Pro X, Nuendo and Cubase.
Installation on my Mac Pro was very simple. I plugged it into a USB hub, and then checked that it showed up on the MIDI page of the Audio MIDI Setup utility, that you will find in the Utilities folder in the Applications folder. On the Windows platform, when you plug it in for the first time, the Driver Installation Wizard will be triggered and you will need to install two drivers. In Pro Tools, open the Peripherals and go to the MIDI Controllers tab, select Surround Panner as the type, and then the AXOS on the Send & Receive menus, and click OK. After that, it just works.
The AXOS Panner is very intuitive and offers all the controls you need. I like the inclusion of the Previous Track and Next Track buttons, as these mean you can jump up and down the mixer without losing focus on the panner window. That's especially useful since highlighting the track in the Pro Tools window doesn't change the focus of the surround panner window. The touch-sensitive panner control appears to be a round control, but there are actually channels which help guide you into the corners; if you're performing a pan straight across from rear-left to front-right, these guides help you hit the corners accurately. There are very helpful Target Up and Target Down buttons too. When you hit Target Up, the panner's focus moves from the Pro Tools channel panner to its aux-send panner — in other words, you can easily use the AXOS panner to pan the sends. It's worth noting that it's possible to use the joystick to pan non-surround tracks left and right.
In summary, then, the combination of joystick, rotary controls and buttons make this device very easy to use with the Avid surround panner. While compact, the AXOS is not too lightweight, so when using the joystick the unit doesn't slide around the desk. It's ideal if, like me, you don't want to clutter your desk with a large control surface, but your workflow requires hands-on surround panning. Mike Thornton