Every pianist dreams of owning a grand piano, but is it really possible to combine the feel of a grand into a stage piano and combine it with great sounds and master-keyboard functionality?
Before you start reading this review, it's only fair that I issue a warning on behalf of pianists everywhere: only continue reading, or indeed consider playing a Kawai MP95000 yourself, if you have two grand to spare or a forgiving bank manager. Enough said.
Photo: Mark EwingThe MP9500 is the successor to Kawai's popular MP9000 professional stage piano, launched around five years ago and originally reviewed by Nick Magnus in SOS January 2000.
The appearance of the hardware remains unchanged, with the back panel featuring a power socket for a kettle lead, MIDI In, Out and Thru connections, left and right mono quarter-inch jack audio outputs, 'fixed' left and right balanced mono XLR outputs (which are unaffected by the master volume and internal EQ), connections for the supplied pedalboard and additional footswitch and expression pedals, and a stereo quarter-inch jack headphone socket. It's all fairly standard, but I still can't work out why the headphone jack is on the back — the headphone jack on the front of my Clavinova is so much more convenient!
Kawai MP9500 £1899
pros
A weighted action you'll want to sell your entire family for — not just your Gran
Very playable piano sound
Well-thought-out interface, offering all the features you'd need to make the MP9500 the centre of your stage or studio
cons
I can't bring myself to criticise this instrument, despite minor quibbles about the pedalboard and some of the new sounds
summary
The Kawai MP9500 is the perfect choice for demanding keyboard players in studio and live situations, with one of the best actions currently available in any digital piano.
And on the subject of convenience, while the MP9500, with its brushed aluminium finish, appears seductively sleek, it really is a bit of monster. Yes, it's still eminently transportable compared to a real piano, but, to neatly contradict myself, at 32kg it weighs a ton! You really do need a second person to help you lift this instrument any distance — I was barely able to get it out of its box and onto a stand without giving myself a hernia. And believe me, you never want to find yourself transporting an MP9500 in a Metro as the passenger! Unless you fancy yourself as an amateur contortionist, that is. Let's just say that I speak from experience, and leave it at that...
While digital pianos offer many advantages — not least the fact that you can play them in the middle of the night with headphones on — the simulated action is always something of compromise, much more than the actual sound these days. With its wooden keys, the MP9000's AWA Grand III action was already regarded as being one of the best available, but, surprisingly, this is one area that has been completely redesigned for the MP9500, which features Kawai's new AWA Grand Pro action instead. According to Kawai Europe, the new action is an attempt to replicate the one on the company's Concert Grand EX acoustic pianos, with the same static and dynamic weighting, and sure enough, compared with the former AWA Grand III, the MP9500's AWA Grand Pro action is five grammes heavier to play, according to Kawai's figures. But what does this mean in practice?
From an engineering as well as a subjective player's point of view, the MP9500 has one of the finest actions available on any piano with a simulated action, at any price, and it felt like a noticeable improvement over that of the MP9000. Initially, the extra weight makes you wonder if the action is a little sluggish, but as with real pianos that feature a heavy action, you soon realise (after playing a little) that the extra weight actually gives you the control needed for serious playing. And the feeling of control is what can separate a bad piano from a good one, regardless of tone.
After a brief period of time to familiarise myself with the instrument, I was soon flying about the keyboard tackling Czerny and Liszt, and part playing, as with the best pianos, is something that just happened without having to think very much about it. There are settings to adjust the velocity-response curve, although I found the normal setting, which is the closest approximation to the Concert Grand EX's response, to be perfect for me. Although the feeling of the weighted key pressing down makes a huge difference, the MP9500 also gives you just the right 'response' when a key is released; it bounces back in just the way you'd expect a key on a grand piano to do. This allows very satisfying staccato playing, and also makes it easy to play quick repetitions of the same note with alternating fingers.
Like the MP9000, the MP9500 is supplied with Kawai's F2r pedalboard, which provides two piano-style pedals that don't slide away from you while you're playing — more than can be said for some manufacturers' pedal offerings! The pedals default, as you might expect, to standard piano damper and 'una corda' functions, and when the Rotary EFX is active (as it is when playing the drawbar organ patches, for example), the 'una corda' pedal acts as a fast/slow rotor switch — nice.
F2r pedalboard.Photo: Mark EwingBut the first question on every pianist's lips will be, does it support a third pedal for sostenuto? Although the answer is essentially yes — you can connect an additional switch pedal into the separate footswitch jack and easily assign this to be a sostenuto pedal (via MIDI controller 67) — the sostenuto pedal ends up in the wrong place, since you have to place the additional footswitch left or right of the existing pedals, instead of in the middle where it should be. And while the additional footswitch and expression pedals are freely assignable, you can't reassign the function of the 'una corda' and damper pedals to juggle the assignments round.
Fortunately however, there is a solution, since you can buy pedalboards (but not from Kawai themselves, curiously) that offer three piano-style pedals. I haven't tried these out myself, so I don't know if any rewiring is required to use them with the MP95000, but I do think Kawai should have gone all the way and included a pedalboard with three pedals right from the outset. Picky? Sure, but the difference in price between supplying two and three pedals in the pedalboard can't be that much.
The MP9500's crucially important piano sound is fortunately very good, and while it may not appeal to every player, I thought it was immensely playable and suitable for a wide range of styles. As you'd expect from a Kawai, the sound errs on the bright side (this isn't a Steinway D!), but the tone is crisp and defined over the entire compass — the extreme registers are fabulous. The piano sound is both bright and full of depth, making it suitable, in my opinion, for (say) Schubert Impromptus and vibrant rock and jazz styles.
I also played the Kawai a lot with the many computer-based piano sample libraries available. Playing Steinberg and Wizoo's The Grand VST Instrument was a joy, and this was perhaps a perfect match, although other libraries, such as Post Musical Instrument's Grandioso Steinway Model D for Gigastudio, were equally rewarding. While a Kawai has a totally different action to a Steinway, for example, the combination of a superb action with a meticulously sampled piano was unparalleled. However, this is by no means a criticism of the built-in sound, since the difference between the Megabytes available to the MP9500 for storing sounds and the Gigabytes available to a computer are obviously going to yield different results.
MP9500 rear connectivity.Photo: Mark EwingIn addition to the main 'Concert Grand' piano patch, there are seven other 'variations on a theme': studio, rock, new-age, and mellow patches, amongst others. While I'm sure some players will like the extra choice, especially in live situations, I'd personally rather adjust my touch with the most natural sound possible, since you can't normally reach for the EQ control on a real piano. Having said that, the 'Honky Tonk' patch can be great fun when you dig out your Joplin!
The electric pianos are also very playable, with plenty of Rhodes, Wurlitzers and FM-type sounds to keep you happy. The first three patches, featuring one of each aforementioned category, are really good, but some of the patches do stray a little too close to the cheese emporium: 'Modern EP 2', for example, sounds like the soundtrack to the scene in an '80s comedy where Steve Gutenberg nearly gets the love interest to sleep with him. However, the vibraphone and, in particular, the marimba make worthy additions to this section, sound great and are eminently playable.
The drawbar organs and clavinet are very usable as well, but I think products like Native Instrument's B4 and Emagic's EVB3 and EVD6 spoil us in the studios these days, and prevent us from getting too excited by sampled offerings. A nice touch, though, is the addition of percussive and key-click patches, which you can combine with the core drawbar sounds in Multi mode (of which more in a moment). You can then mix each sound individually via one of the four zone faders on the main panel.
The harpsichord is quite good, and I liked the release sound of the pick being lowered again when you release a key, exactly as on a real harpsichord. The real organ patches are also a pleasant surprise, with a reasonably convincing 'all stops out' church-organ sound. But the real bonus is that, as with the drawbar sounds, separate reed, diapason, mixer, celeste and flute celeste sounds are provided, which can again be mixed together in Multi mode. These separate stops can be reasonably convincing in certain ranges, but I was disappointed by the lack of a true flute stop.
The other patches consist of fairly bland strings, brass, synth and bass sounds, which are all nice and playable, but lack any real sense of attitude. In fairness, they're suitable for layering with some of the really standout sounds, like the piano, and could come in useful if you were playing live without any other sound modules or samplers.
Peter Gorges is perhaps best known to musicians today as the man behind Wizoo, a company responsible for many successful sound libraries, books and collaborations with Steinberg. However, Peter was also one of the brains behind the original MP9000. We were fortunate to get him to share his personal account of the creation of this instrument in what follows below.
Peter: "In the summer of 1997, I sent a proposal to Kawai R&D, suggesting that they develop a professional stage piano: a high-quality, transportable keyboard combining the best features of vintage keyboard instruments like a grand piano, an electric piano, an organ, a clavinet, and so on, in one instrument. I knew there were many keyboard players in desperate need of a professional substitute for acoustic and electromechanical keyboard sounds for live and studio use; in fact, the idea for the MP9000 was inspired by my own personal need for such an instrument.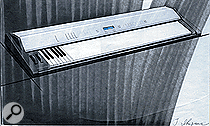 Photo: Peter Gorges"My idea was that the design should be based on the robust, vintage design of a Rhodes piano, with nothing but a couple of controls for volume, sound selection and effects. I thought that the keyboard should offer the best weighted-action available — the idea, after all, was that people would replace their real instruments with this Kawai stage piano, so compromises weren't really an option. And for the sounds, I suggested there be just a few brilliant sounds: Kawai's then-current grand-piano sample, complemented by Rhodes, Wurlitzer and clavinet sounds. I called the concept the VP5000, with the VP standing for Vintage Piano.
"After a week of development meetings, the VP5000 idea turned into what became the MP9000. The basic strategy that emerged was 'less, but only the best'. For example, it was decided to use Kawai's new AWA1 wooden-action keyboard, which was also used in their acoustic grands, but this decision meant sacrificing aftertouch functionality, because wooden keys change too much over time. However, everybody thought that the terrific action would compensate for this, and, as we know with hindsight, people loved the MP9000's action. The lack of aftertouch was still a criticism in many reviews, but at least you have the explanation now!
"The piano sample was taken from Kawai's successful home-piano series, while the electromechanical keyboard sounds, pad and B3 sounds were contributed by Wizoo, and were also used in their Magnetica CD-ROM.
"Kawai's distributors insisted on including sounds like finger bass, choir, strings and vibraphones, and they also wanted sliders and an LCD display — a concession to people wanting keyboard layer/split and MIDI functionality. I personally feared that these would feel like 'home piano' sounds and cost credibility among the target users — professional keyboardists. However, reality proved me wrong — people loved the added functionality.
"It took almost two days of discussion until we reached a consensus on the physical design. The designer would come into the room every two hours with a dozen sketches, and everybody would vote. The whole direction totally changed several times, and my original Rhodes idea had to be skipped, because the plastic panel would have needed an expensive custom moulding, and the sales figures for digital pianos couldn't justify this. In the end, it was decided to use an aluminium panel, which had the advantage that it could be manufactured in small numbers, weighed very little, and looked and felt great.
"Kawai anticipated a market for the MP9000, but to my satisfaction, they were totally overwhelmed by its success when it was first presented at the Winter NAMM show in 1998." Peter Gorges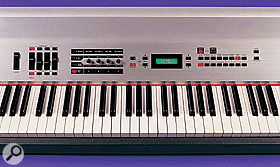 Photo: Mark EwingThe effects and EQ architecture has stayed pretty much the same from the MP9000, where you can have one of seven reverb programs and one of 21 other effects programs in each patch, along with a four-band graphic equaliser. The reverb complements the bright tone of the piano, although, as mentioned in the original MP9000 review, it seems a shame that the reverb itself can't be equalised — the EQ only applies to the internal sounds.
The effects themselves supplement the basic sounds, and the selection includes chorus, flanging, delay, tremolo, phasing, auto-wah, distortion, and a rotary-speaker simulator. There's also a sympathetic resonance effect for the piano patches. This is designed to simulate the way in which undamped strings which haven't been struck by a hammer resonate in sympathy with those that have. However, I often found this effect distracting and switched it off to leave just a reverb, which gave a gratifying concert-hall experience.
The MP9500 is also an ideal master keyboard, offering useful facilities for both studio and stage musicians. This is another area where the MP9500 differs quite radically from its predecessor; the MP9000's Sound and Setup modes have become the Single and Multi modes on the MP9500.
Photo: Mark EwingIn the original Sound mode, the user could operate the MP9000 as a simple digital piano, including dual and split modes with up to two internal sounds, but in the new Single mode, the user can only use one internal sound at a time. It's worth noting that the MP9500 sends out MIDI data on one MIDI channel in Single mode, which is what you need for most sequencing situations. According to Kawai, these changes are because there are now more sounds, so individual sounds can no longer be accessed via buttons dedicated to each sound.
The old MP9000 Setup could contain two internal sounds and two external sounds from an additional MIDI sound source, but the Multi mode on the MP9500 is more flexible. The new Multi patches can contain four internal sounds and four external sounds, because while you still only have four independent zones (not eight as you'd be forgiven for thinking), you can now set each of the four zones to either Internal, External or Both.
Although the front-panel controls were covered in depth in the original MP9000 review and haven't really changed in the MP9500, it's worth stressing that the simple interface makes the a keyboard a joy to program, even if you don't normally like getting your hands dirty in this way. The highlight for me is the fact that the four sounds in a Multi patch each have their own faders, as previously mentioned, so you can balance the final sound. And best of all, of course, is the fact that these faders send out MIDI volume data as well, enabling you to control the volume of external devices, or, as I did, to use them to program volume data when sequencing.
At the end of the day, I love this instrument. In fact, to paraphrase Woody Allen, love is too weak a word for the way I feel about it: I lurve, I loave, I luff this piano! Writing this review took far longer than it should have, simply because every time I went back to check something, an hour had passed the next time I looked at the clock — it was literally a case of not being able to stop playing the MP9500.
The new sounds are something of a mixed bag, although, to be honest, nobody's going to buy this instrument because of the sounds — you'll buy this instrument because of the action. The fact that there are some great sounds in there as well (the piano, for example) is an added bonus in my opinion.
Although rating a piano or the action of a keyboard is hard, as it's such a matter of personal opinion, I think the MP9500 is the ideal studio controller or stage piano for demanding players, simply because you won't find a better action in this type of product. Whether the MP9500 is the ideal digital piano is a little more complicated — while there's nothing to compete with the MP9500 in this price range, there are obviously other digital piano products to consider from other manufacturers, provided money is no object. Although I found that I really got on with the Kawai action, other players might prefer products such as Yamaha's GranTouch range, although the most affordable product in that range costs around £3000.
It's also worth pointing out that if you do want the MP9500's action, but would prefer something that looked a little more at home in your living room (depending on the décor of your living room, of course), Kawai offer the same AWA Grand Pro action in their CA range of digital pianos. These are more traditionally styled, but are again more expensive than the MP9500: the CA1000 retails at £2049 and the CA1200 at £2749.
However, I really can't praise the Kawai MP9500 highly enough. The only possible downside is that once you've experienced this piano, you'll just have to make your bank manager understand one way or another. After doing this review, I've certainly decided that I can't live without one.
Special thanks to Michael Kunz of Kawai Europe and Wizoo CEO Peter Gorges.