Sample Library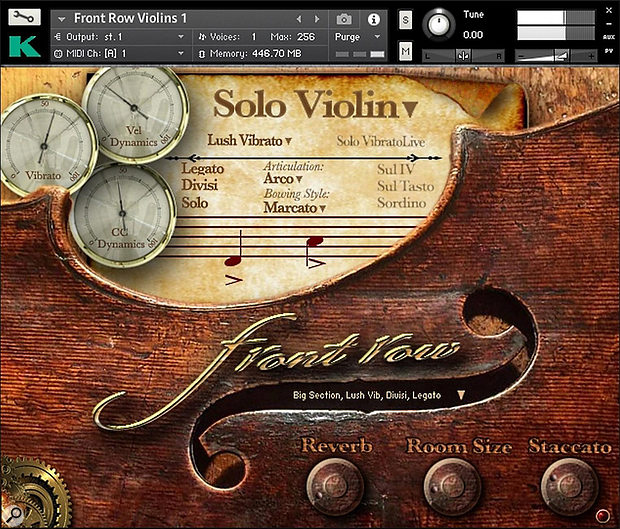 FRV's main GUI. The notation symbols on the stave change as you play, reflecting the currently active bowing style. The three dials give visual feedback of vibrato amount, key velocity and MIDI CC dynamics.
Sampling veteran Kirk Hunter's latest instrument aims to cater for all of your violin needs.
Kirk Hunter's orchestral sampling legacy will be well know to those who remember the distant days of hardware samplers and CD-ROMs. His current product line of Kontakt orchestral instruments is joined by Front Row Violins, an all-in-one package intended to reproduce anything from a soloist to a 16-piece section, or any number of players in between. Readers will no doubt be familiar with the concept of multitracking one stringed instrument many times to build up the impression of a large section, and in some ways this is a virtual nod to that technique. It's not an altogether unique idea for a sample library; others have taken a similar approach, including Kirk himself — notably with his Concert Strings 3 library (see 'Alternatives' box).
Front Row Violins (FRV for short) comes with two First Violin patches (the main patch and a 'warm' version) and one Second Violins patch. Both First Violin patches are identical in functionality, and load by default as Solo instruments. Clicking on the large 'Solo Violin' title on the GUI invokes a drop-down menu from where you can select the required number of additional players. The Second Violins differ in that they load by default as a 16-piece...
You are reading one of the locked subscriber-only articles from our latest 5 issues.
You've only read 10% of this article, so to continue reading...
Option 1: Buy and download this single SOS article in Adobe PDF format
Buy this article now and immediately download the PDF file to your computer.
Single article PDFs look identical to the printed magazine layouts (but exclude advertisements).
Note: Some shorter articles don't always have a PDF version.
Option 2: Buy the Full Issue PDF **NEW**
From the January 2018 edition onwards, it is possible to buy a Full Issue PDF 'replica magazine' (with adverts) for the price of a handful of single PDF articles, and instantly download it. More info...
Option 3: Buy a Digital subscription from our shopstore
A Digital sub can be bought from our online Shop

Store

and used immediately, or contact our Subs staff to discuss an upgrade price to add Digital access to your existing Print subscription.