USB Audio & MIDI Interface
Novation's Nio offers a slightly unusual perspective and a generous collection of effects and processors, but does it have what it takes to stand out from the audio interface crowd?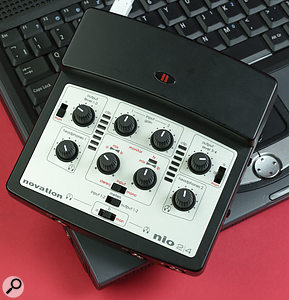 There are, it seems, countless small Firewire and USB audio interfaces on the market at the moment, so manufacturers are being forced to work very hard to come up with designs and features that will set their product apart from the rest. At first glance, the Nio appears to be a fairly standard two-in, four-out audio and MIDI interface, connecting to both Apple Macs and PCs via USB, but there is more to it than that.
Most significantly, the Nio is bundled with a carefully selected bank of 20 software effects, which are linked to the hardware using Novation's Direct FX technology. All the effects function from within a stand-alone program called the Nio FX Rack installed on the host computer, which helps the effects operate at fairly low-latency settings. The hardware itself offers some FX Rack-related monitoring controls so that, to a certain extent, the effects feel as if they are part of the hardware rather than remotely operated plug-ins. In keeping with the idea, Novation have modelled the Nio to look like a guitar effects pedal, right down to the pair of rubber gripper pads glued to the underneath — just as you find on the majority of stomp boxes. Even its size is comparable to a typical dual-switch pedal!
As a whole, the effects — a number of which are derived from Novation's own Supernova II synthesizer — form a comprehensive set of processing tools. Focusrite's current ownership of the Novation brand has resulted in the FX Rack menu including several of the parent company's own well-respected signal processors and effects, and these are joined by a collection of physically modelled amplifier emulations and distortion pedal recreations programmed by Italian software specialists Overloud.
The DAW software Novation have chosen to bundle with the Nio is Ableton Live Lite 6, perhaps as a nod to the product's suitability for live performance. Live ships on the Xcite+ Pack DVD-ROM, along with more than a gigabyte of royalty-free Loopmaster samples and a number of attractive goodies including Waldorf plug-ins, a virtual version of Novation's own Bass Station synth and Arturia's Analogue Factory.
Operating systems supported include Mac OSX 10.3.9 or higher, Windows XP with Service Pack 2 and Vista 32/64. Only 256MB of RAM is required for both Mac and PC, so even fairly aged models should cope.
The black parts of the Nio, formed from tough plastic moulds, and thick sheet-metal silver panels have been bonded neatly to create a very rigid casing. The various knobs and switches also feel very solid, adding to the impression that the device has been well engineered.
Despite the remarkably small size of the box, absolutely none of the controls are cramped together, as is usually the case when only the front and rear faces are used in rack-compatible layouts — few people outside of a studio are likely to want to rack up their small interface anyway. The eight knobs, for example, are spaced so widely that even the most sausage-fingered operator can turn each one without nudging its neighbour.
Although the Nio only handles a maximum of two input signals simultaneously, it is able to deal with guitar, line and microphone levels. On the rear, a pair of RCA phono connectors are provided for stereo sources such as CD players or sound modules, and there is also an XLR input with the option of 48V phantom power, obviously for use with microphones. In addition to this, the front face is home to a quarter-inch jack socket labelled Input 2, intended for guitar DI signals. This latter input has a three-position switch to adjust the impedance from something suitable for guitar to something more appropriate for the line and microphone inputs. Similarly, the XLR input has its own line/mic switch, but doesn't offer the high-impedance guitar setting.
Control over the input gain is provided by two rotary knobs that hardly require explanation. However, the rest of the controls are a little more complex, as they deal out a range of monitoring options designed to work together with the FX Rack software. It should be made clear, at this point, that the Nio's internal routing is not done via a software mixer/control panel, as is the case with some similar interfaces, but by the setting of switches on the unit itself.
The Nio's rear panel, sporting most of the unit's I/O. Input 2 and the two headphone sockets can be found on the front and three switches on the right-hand side set input impedance level and turn Input 1's phantom power on or off.Audio output is provided on four RCA phono sockets and a pair of quarter-inch headphone sockets. The four RCA phono outputs are best thought of as the stereo outs from two independent busses, as that is how they are configured. The monitoring is set up in such a way that the two busses can be auditioned — via the two headphone outputs — individually or together in a submix, the percentage you hear of each being determined by the position of the Mix knob found on the front panel. This is handy for DJs who want to monitor one song or loop while introducing another on the second bus. A further control makes it possible to fade from the aforementioned mix balance, whatever it may be, to a state where only the input signal is being heard. This dial is useful for overdubbing situations in which you want to hear the playback from the DAW recorded tracks and the input of the instrument part being performed at that moment.
Further complicating the routing options, however, are two switches which enable different signals to be routed to the RCA outs. For example, 1 and 2 can output either the identically numbered outs from the sequencer or the monitor mix established by the status of the Monitor section's hardware controls. Outputs 3 and 4 are more complicated still, providing exactly the same options as are available to Outputs 1 and 2, but adding a third choice in which the routed signal can be a separate bus from the DAW.
Such variables may sound a little convoluted on paper, but, simply put, they represent an equivalent setup to the aux bus arrangement found on the majority of small mixers, where one mix can be sent to the engineer's control room monitors and another to the mixer's master output.
The two headphone outputs are placed on the front edge of the Nio, each with its own top-panel level control. Both outputs always monitor the same signal bus as one another, but can be set to listen to outs 1/2, 3/4 or the monitor mix.
Metering is provided by two banks of seven LEDs, the upper ones glowing red to warn of clipping. A two-position switch determines whether the meters are representing Inputs 1 and 2 or Outputs 1 and 2, but strangely there is no option to meter Outputs 3 and 4.
The only other important hardware features left to mention are the MIDI In and Out sockets and the all-important USB port, all of which are located on the rear panel.
Installing drivers and getting interfaces up and running is often far from straightforward but, on my computer at least, Novation's procedure proved to be very fast and trouble free. By the end, the host computer is equipped with the FX Rack program, accessed from its own desktop icon, and the simplest of control panel software, featuring alternative settings for bit depth and sample rates (16-bit to 24-bit and 44.1 to 48 kHz respectively), and a single 1-20ms buffer slider, simultaneously affecting both the input and output latency.
Music technology novices will be reassured to know that the manual documentation is thorough and well presented, although, annoyingly, it comes as a PDF only. There is, however, a printed Getting Started guide which concisely covers the basics of setup.
Below is a list of the modules in the FX Rack.
Overloud distortion and amp models (the products they are modelled on are listed in brackets):
Green Overdrive (Ibanez Tube Screamer)
Fat Pie (Electro Harmonix Bug Muff)
Distorter (Boss DS1 Distortion Pedal)
70s Fuzz (Dunlop Fuzz Face)
V-AC (Vox AC30)
Tweed Twin (Fender Twin)
Brit Rock (Marshall JCM900)
US Valve Modern (MESA Boogie)
Tweed Bass (Fender Bassman)
Plug-ins derived from Novation Supernova II:
Filter
Chorus
Phaser
Delay
Tremolo
Focusrite plug-ins:
EQ
Compression
Gating
Reverb
NIO's bespoke plug-ins:
Hot Tuna guitar tuner
Smart Hum Killer
When the Nio is hooked up to the computer a magenta version of Novation's logo illuminates on the top to indicate that all is well. Pull out the USB lead and the light goes out — simple! Similarly, opening the FX Rack program immediately causes the monitoring section's FX LED to glow red, reminding users that effects are potentially in circuit.
The FX Rack itself has a very simple, single-page interface with its own meters and level controls at both the input and output stages. By default, the rack is empty, but it can be filled up quickly by selecting a preset patch from a drop-down list. Alternatively, you can load up whatever processors and effects are required via the 'add FX modules button'. It doesn't seem possible to drag modules up and down in the rack, but they are easily muted or deleted, and obviously their parameters are all editable. It's also perfectly possible to have multiple instances of the same processor positioned anywhere in the series. Finally, it's possible to save the entire patch setup as a preset.
The FX Rack effect interfaces are all designed to look like their hardware forefathers, so the user is in no doubt about what they are supposed to be getting. Usually patch presets are over the top and only useable when severely edited, but that's not the case here. Novation have assembled a collection of presets that are immediately useable, although they do have a general bias towards rock.
Presets aside, the physically modelled effects are of high quality and should please almost every guitarist. Even the best virtual amps tend to sound less dynamic than the real thing — and the ones here do display that characteristic — but that's not always bad when recording. As for the Supernova and Focusrite reverbs and other modulation effects, they all sound very nice. Auditioning amps, processors and effects in various combinations is great fun when it's this easy and the components are this good!
This review isn't the place to discuss the merits of the Xcite+ Pack software in detail, other than to say that it is all great stuff to have, and makes a pretty decent dance and electronic music production system when combined with everything else on offer.
In terms of its routing, the Nio works very nicely indeed, and the rather complicated-sounding switching and bussing options make perfect sense in use, and provide a lot of monitoring flexibility. Perhaps the main drawback is that the second stereo bus is hijacked by the monitoring system when the FX Rack is in use, meaning that it cannot be used as an output, but as the effects are only really intended to be used during recording, rather than during mixing, this isn't a tragedy.
Unlike some other budget interfaces I've tested, the headphone amps demonstrate a pleasing lack of whine and are fairly noise-free. The mic preamp hasn't quite the punchy, accurate sheen of more expensive products of this type, but it handles vocals reasonably well all the same, and demonstrates a little more class than cheaper interfaces.
The Nio may qualify as a low-cost interface, but it offers a lot for the money, and the build quality is reassuringly good. The effects and processors will tempt many guitarists away from more straightforward product packages, I'm sure, as they're high quality and are organised in a program that's easy to use.
There's not much here to complain about. Perhaps the biggest compromise is the loss of the second bus when using the FX Rack, but this is still not really a huge problem. Some potential customers may wish for 96kHz operation, as having the option is sometimes useful, but at this level I don't think it's absolutely necessary.
Potentially of interest to guitarists as well as DJs, who can exploit the bus mixing output monitoring system, the Nio is undoubtedly a success.  
The Nio faces some strong competition from a range of products, many of which are already quite well established and have unique selling points of their own. The long list of current USB alternatives in a similar price range includes the Lexicon Lambda and Omega, Line 6 TonePort UX1 and UX2, Alesis IO2, Tapco Link USB, M-Audio Mobile Pre and Fast Track Pro, Emu 0404 and 0202, Tascam US144 and US122L, and Edirol UA25. Most, if not all, of the above demonstrate good signal-to-noise figures and key features of their own. The 0404, for example, offers soft limiting, S/PDIF I/O and up to 192kHz operation. Of all the above, the Line 6 products are probably most comparable, in that they offer similar guitar-related amp and effect modelling. Then, of course, there are numerous Firewire equivalents that are also quite comparable!
Pros
Compact size.
Great effects and processors.
Spacious front panel layout and solid hardware design.
Flexible signal bussing and facilities for dual headphone monitoring.
Cons
The second pair of outputs is commandeered by the FX Rack return monitor path when the effects are in use.
Summary
A compact two-in, four-out audio interface with good monitoring options, offering a very high-quality selection of effects and processing, predominantly aimed at the guitarist.
information
£149.95 including VAT.
Novation +44 (0)1494 462246.