If recording a real piano isn't for you, there's no shortage of very convincing software alternatives.
Nothing can quite match the sound of a real grand, and elsewhere in this issue we explore methods of recording one, but in practice a lot of home studio owners find sample sets or virtual instruments a more practical option. There are lots of contenders to choose from, each with its own slant favouring certain applications. This buyer's guide aims to make the task of choosing a suitable instrument quicker and easier, as well as providing a Jargon Buster (see page 182) to get you up to speed with the necessary piano-related technical terms.
True Pianos offers three basic piano sounds of unspecified provenance ('Diamond', 'Emerald' and 'Sapphire'), with excellent polyphony and modelled sympathetic resonance, despite the slim file size (75MB for Diamond). Recommended CPU specs are a 2.5GHz single-core or 1.5GHz multi-core PC, or a Power PC G5 or Intel multi-core Mac, with neither needing more than 256MB RAM. The interface is simple, with each basic piano sound ('Module') offering a number of sonic variations ('Presets') along with straightforward keyboard dynamics, tuning reference and note release controls. The output is free of room ambience, so you can add processing according to your needs. Included in the price is a year's worth of downloadable Module updates: the Sapphire Module was new in October 2007, and further new Modules are promised. Audio examples and 40-day demo can be downloaded from the company's web site (see 'Pricing' box).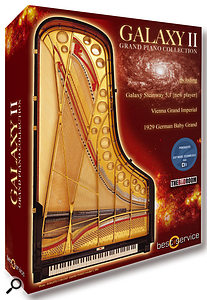 The successor to Galaxy Steinway 5.1, Galaxy II offers three sampled grand pianos: the original Steinway Model D 270, recorded in Belgium's Galaxy Studios, a nine-foot 96-note Bösendorfer Imperial 290, recorded in Germany's Hansahaus Studios; and a 1929 Blüthner Model 150 baby grand. Each was copiously multisampled, and the Steinway, as before, was miked up for surround as well as stereo, resulting in an overall library of about 29GB. Special features are a convolution reverb, a programmable pad-synth layer, and a Warp section of four sound-design effects. A full review of the library is in progress as I write this, so keep your eyes peeled. In the interim, here are Dave Stewart's thoughts on the Steinway sound from the Galaxy 5.1 review in SOS March 2006: "The piano sounds great... Dynamic transitions remain smooth right across its seven-octave range; the beautifully transparent high notes are responsive to the most delicate of touches and the bass notes can deliver weight and power... Classic-sounding without being too 'steely' or overbearing, the instrument is subtle and expressive enough for jazz and classical music, and strong and bright enough to cut it in a pop mix."
This library is based on samples of a Blüthner Model One recorded by Dan Dean & Ernest Cholakis on the scoring stage at Lucasfilm's Skywalker Sound studios. Each note of the piano was recorded at 12 velocity levels, with a phenomenally low noise floor. The sound was captured very dry, in order to eliminate, as far as possible, the resonant character of the piano and the recording room. These elements are instead recreated using convolution processing, which effectively allows you to change the construction of both piano and room using the large built-in library of impulse responses. All that convolution requires at least a 2.8GHz Pentium 4/Athlon PC or a 1.8GHz Apple G4/G5. Other unusual features include support for a variable sustain pedal (for a more natural playing response) and a facility to retune just intonation on the fly to suit whichever key you're playing in. In SOS November 2007, Mark Wherry was impressed: "When I started to play the Digital Model One I almost forgot that I was sitting in front of an electronic instrument... If Dan and Ernest provided just their original source samples in the Digital Model One, it would already have been a great instrument, but the flexibility and tonal possibilities you can get from using the [convolution processing] are tremendous and really add another dimension to the sound."
This instrument uses physical modelling rather than the more common sample-based approach — hence the software's tiny 15MB file size. The two main built-in piano sounds aren't based on a particular brand of piano, although since Pianoteq's launch the company have used the same technology to capture the sounds of seven museum-piece keyboard instruments, and these add-ons are free downloads for registered users. The power of the physical modelling approach is evident in the characteristics that can be adjusted in Pianoteq — changes in hammer hardness, amount of sympathetic resonance and piano size, for example. Other unusual features include a variable sustain pedal; an intriguing added 'staccato sustain' pedal, which provides sustain-pedal resonance without affecting note lengths; microtonal and variable stretch-tuning; and a unison width control, which adjusts the tuning accuracy of the individual strings for higher-register multi-string notes. Delivering 256-note polyphony at up to 192kHz, with built-in reverb and EQ processing, Pianoteq's CPU load is understandably pretty high (Modartt recommend a 3GHz Intel Pentium 4 CPU or any of the new dual-core processors to get the best out of it), but a modest 128MB RAM is consumed. In SOS January 2007, Dave Stewart gave a resounding thumbs-up: "I compared Pianoteq to one of the best of the recent crop of sampled grands, and the difference was pretty dramatic. Both pianos sounded fine on simple pop/rock styles... But when it came to expressive improvised music, Pianoteq was much more playable — its notes sounded more connected than those of the sampled instrument, giving fast runs and phrases something of the silvery cohesion of a real piano." Audio examples and a 45-day demo are available at the Pianoteq web site.
Four pianos are provided by Native Instruments' Akoustic Piano: a Steinway Model D, a Bechstein Model D 280, a Bösendorfer 290 Imperial, and (for a very different character) a Steingräber 130 vintage upright. Each note was recorded at 10 velocity levels, and there are samples for note releases, sympathetic resonance, and key/pedal noises, all of which contribute to the 15GB install size. The pianos respond to sustain, sostenuto, and Una Corda pedals, and you can specify whether the virtual piano lid is open, half-open, or closed. A wide range of tuning systems is available, including such exotic-sounding schemes as Pythagorean, meantone, Werckmeister, Kirnberger, Vallotti and quarter-tone. Three-band EQ and a convolution reverb help you fit the pianos into your mix.
4Front Technologies True Pianos
AU, RTAS, VST and stand-alone, £90 including VAT.
Best Service Galaxy II
Kontakt 2 Player AU, DXi, RTAS, VST and stand-alone, £169 including VAT.
Time + Space +44 (0)1837 55200.
www.bestservice.de www.timespace.com
Blüthner Digital Model One
Kontakt 2 Player AU, DXi, RTAS, VST and stand-alone, $299.
Modartt Pianoteq v2.2
AU, RTAS and VST, 249 Euros.
Modartt +33 5 6128 5600.
Native Instruments Akoustik Piano
AU, DXi, RTAS, VST and stand-alone, £150 including VAT; also included in Komplete (£700) and Komplete Classics (£290) bundles.
Arbiter +44 (0)20 8207 7880.
www.native-instruments.com www.arbiter.co.uk
Sampletekk/PMI
Gigastudio, Kontakt, Halion & EXS24 formats. Sampletekk libraries: 7CG $199; Black Grand $139. PMI Libraries: Bösendorfer 290 $50; Estonia $50; Hybrid $120; Old Lady; $50; Steinway D $50; The Emperor $50; Yamaha C7 $50; SG88 MkII $49; The Big One $199; The Small One $49; White Grand $119.
Time + Space +44 (0)1837 55200 (not for PMI libraries).
www.postmusicalinstruments.com
Steinberg The Grand 2
AU, DXi, VST and stand-alone, £169.99; Steinberg dongle £19.99. Prices include VAT.
Arbiter +44 (0)20 8207 7880.
www.steinberg.net www.arbiter.co.uk
Synthogy Ivory
AU, RTAS, VST and stand-alone, £219. Italian Grand expansion pack £99. Prices include VAT.
Time + Space +44 (0)1837 55200.
Vienna Symphonic Library Bösendorfer Imperial
AU, RTAS, VST and stand-alone, £180 including VAT.
Time + Space +44 (0)1837 55200.
Sampletekk's own-brand libraries use extensive 24-bit multisampling, with pedal-up, pedal-down and release samples at numerous velocity levels. Available for recent versions of Gigastudio, Kontakt, Halion and EXS24, the computer requirements vary depending on polyphony and the complexity of the specific piano. Sampletekk recommend a fast hard drive and a 3GHz Pentium 4 PC with 2GB RAM (or similar Mac) to run their largest piano without compromises. The libraries offer 'lite' patches with fewer velocity levels, and some titles are also available as 16-bit versions, which reduce the strain on your computer. Cheaper, cut-down versions of many of the libraries are also available.
Sampletekk also sell the libraries of their former competitor Post Musical Instruments (PMI). These take a similar multisampling approach, but incorporate programming refinements designed to increase realism. For example, both sustain-pedal-up and sustain-pedal-down samples play at once — the sustain pedal simply crossfades between them, allowing more convincing re-pedalling effects. Body-resonance and pedal-noise samples are layered under the note samples in some cases, for a more natural sound. Impulse responses for the piano's string/body resonances and original room ambience are often also provided, for use in recent Kontakt and Gigastudio versions. Sampletekk's grand piano libraries are listed here, but their range extends to upright pianos and historic keyboards, which are detailed on the web site. The site also features audio demos.
* 7CG: A Yamaha C7 grand piano, boasting 31 velocity levels per note. A $49 cut-down version reduces the number of velocity levels to eight.
* Black Grand: A Steinway Model D sampled at 16 velocity levels for each of three different miking setups: Close, Ambient, and Medium Ambience. In SOS April 2005, Dave Stewart commented: "This is a very decent, versatile and musically responsive concert piano, recorded with great precision in an agreeable acoustic space." You can buy each individual miking position separately for $49, and there are also cut-down $39 Steiny D and Steiny D Close libraries, based on Black Grand's samples. Black Grand and Steiny D users also get Gigapulse impulse responses (for Gigastudio 3), to provide a more natural sustain-pedal sound when re-pedalling during held notes.
* PMI Bösendorfer 290: A Bösendorfer 290 Imperial grand recorded at 16 velocity levels with close and ambient mic rigs. The different mics can be balanced by the user. Mark Wherry reviewed the library in SOS March 2003: "The pianissimo layers are nothing short of beautiful, with the upper registers sounding especially delicate, while the fortissimo layers sound with a real sense of intent —the lower registers are particularly thunderous and richer than the annual output of a truffle factory... A complete joy to play: the programming is first-rate, and the attention to detail is almost unparalleled."
* PMI Estonia: This is an Estonia nine-foot concert grand, recorded at four velocity levels. In SOS February 2004, Dave Stewart commented that, though the small number of velocity levels limited its expressive power, "it holds up very well in a track or MIDI orchestral arrangement, and I'm sure most pop producers would be delighted with it... Its versatile tone renders it capable of musical subtlety, its samples are clean, rich, detailed and noise-free."
* PMI Hybrid: Hybrid takes a very different approach, similar to that employed in Blüthner's Digital Model One, whereby 1.5GB of dry samples taken from four different pianos are transformed into living, breathing piano sounds using convolution-based simulations of sympathetic resonances and room acoustics. The dry samples were recorded at 20 velocity layers, with additional samples for various mechanical noises. All three pedals are available at all times, you get complete freedom of tuning, and you can even output in surround. The main appeal is that the user can combine whichever strings, piano body, and hall they want by delving through the impulse response library. You'll need Gigastudio 3 or Kontakt 2 running on a seriously butch computer if you want to get the best out of Hybrid. There is a two-octave playable trial version on PMI's web site.
* PMI Old Lady: This 1923 Steinway Model D has been sampled at 10 velocity levels. In SOS November 2004, Dave Stewart commented that "this old lady is in the best of health, the sound ringing out with great depth and clarity over a range of more than seven octaves. The mic placement is finely judged, allowing the piano's tone to breathe while preserving its precise, well-defined attack. The Old Lady layers with other keyboards like a dream, and sounds great in pop tracks."
* PMI Steinway D: A 1965 Steinway Model D3, refurbished by Steinway in 1999, was sampled at six velocity levels via two mic rigs, one more ambient than the other. In SOS October 2002, Mark Wherry was enthusiastic: "The instrument is a joy to play and sounds fabulous, with the release triggers adding a stunning sense of realism, especially for dramatic endings. Bear in mind, though, that this piano has a serious tone, best suited to a well-controlled playing style rather than a rock or trance anthem."
* PMI The Emperor: A Bösendorfer 290 Imperial grand sampled at 12 velocities. In SOS November 2004, Dave Stewart felt that "the resulting samples uphold Bösendorfer's formidable reputation, sounding open, clean, and majestic, with that characteristic low-end 'zing'. The bottom register rumbles like quiet thunder, while the top notes have a crystal clarity and transparency."
* PMI Yamaha C7: A Yamaha C7 grand piano, sampled at 16 velocity levels with two miking rigs, one close and one ambient, which can be mixed together in real time. In SOS October 2003, Nick Magnus had some concerns about the mid-range group of pedal-down samples, which sounded 'choked' to his ears, and overall he felt that the C7 was "best-suited to an accompaniment role... this piano is most likely to appeal to those people doing rock and pop productions."
* SG88 MkII: A Malmsjö Concert Grand sampled at eight velocity levels, with release samples added from Sampletekk's White Sister library (which uses the same piano). This library is only available at 16-bit resolution, but at only 570MB it is easily downloadable.
* The Big One: Another Yamaha C7 grand, the largest in Sampletekk's range (and, apparently, 'The Largest Sampled Piano In The World'), sampled at 31 velocity levels. A cut-down (but still weighty) version, The Small One, is also available.
* White Grand: A nine-foot Malmsjö Concert Grand sampled at 16 velocity levels. In SOS
May 2004, Dave Stewart found that, while the "bold, assertive" sound would work for pop/rock styles, "it's hard to imagine jazz and classical pianists warming to its slightly middly tone and rather percussive attack." Sampletekk's response was to release White Sister, a more ambient version, which comes in at the same price. Together, the two form the WG II bundle, which costs $208. There's also a $49 version with half the velocity levels.
Two different pianos (rumoured to be a Kawai and a Steinway) were recorded dry, using an anechoic chamber, allowing you to shape the sound later via the built-in surround-capable room-ambience processing. All three pedals are supported (with mid-note re-pedalling possible), and hammer-release, key-action, damper and pedal noises can be mixed in. A number of sonic variations on each of the two pianos is available to suit different musical styles, and there are both equal temperament and stretch tuning options. You'll need at least a 1.6GHz Intel/Athlon PC or a 2GHz G5 or 1.5GHz Intel Core Solo Mac with 1GB RAM to run this instrument, despite several built-in facilities to trade off polyphony and sonic subtleties for more efficient performance. Look out for a full Sound On Sound review, coming soon. Meanwhile, here's what Martin Walker had to say about its predecessor in SOS March 2002: "I was certainly impressed by the quality of The Grand, and with the breadth of sounds on offer... The Grand is an instrument to be reckoned with."
Three different grand pianos (a nine-foot Steinway Model D, a Bösendorfer 290 Imperial, and a Yamaha C7) are sampled at 10 velocity levels for this 40GB title, and a further 19GB expansion pack adds a 10-foot Italian Grand. Separate Sustain and Una Corda pedal samples help increase realism, as do the DSP-based sympathetic string-resonance modelling and sampled key noises. There's a range of timbral controls, including chorus, EQ, and reverb processing, as well as a pad synth layer you can mix in. Both equal temperament and stretched tunings are available. In SOS March 2005, Paul Wiffen said "It's great when the first sound you open is the one you have been looking for for years — I must have played the Bösendorfer for at least 20 minutes before I even thought about calling up another preset... the Steinway and Yamaha are also both excellent."
A nine-foot Bösendorfer 290 Imperial grand was copiously multisampled at seven velocities to produce a whopping 54GB of samples packed up into a 37GB virtual instrument. Sustain resonance, key noise and multi-velocity release samples help the realism, and VSL have also taken the unusual step of recording special repetition samples to take account of the difference in sound when an already vibrating string is hit again. Two miking positions offer an ambient audience perspective and a drier player's perspective. In SOS May 2007, Dave Stewart remarked: "This piano is characterised by an open, clean and stately sound and a very clear attack which is discernible at all dynamics — a great asset... for making sure the instrument stays audible in a full orchestral score." 
* Audience Perspective: A stereo presentation of the piano's pitch range to match the view from the audience, with high strings more on the left and low strings extending more to the right.
Damper Noise: The soft felt-on-wire sound of the string damper moving away from and back onto the string. This is most noticeable when the sustain pedal operates all the dampers together.
Equal Temperament: The most widely-used tuning system for pianos, which involves all intervals being very slightly out of tune, but in a manner that is barely noticeable and, more importantly, consistent in all musical keys. This tuning system is also best when combining the piano with other MIDI instruments, most of which also use equal temperament.
* Hammer Release Noise: The subtle mechanical noises the hammer mechanism makes just after a note is played, as it bounces off the string and comes to rest.
* Just Intonation: A tuning method associated with Renaissance and Baroque music. It provides a more in-tune sound when playing in closely-related keys, but quickly sounds out of tune as you move into more remote keys.
* Key Noise: the subtle mechanical noises emanating from the key and hammer mechanism as the key is pressed and released.
* Pedal Noise: The mechanical noise associated with the action of any of the piano's pedals.
* Physical Modelling: A way of recreating the sound of an instrument by mathematically modelling the characteristics of each small element of it, and then allowing those modelled elements to interact. The advantage of this approach is that it gives you much more scope to shape the final timbre, but the model needs to be powerful to faithfully reproduce the complexities of natural piano sounds.
* Player's Perspective: A stereo presentation of the piano's pitch range to match the view from the playing position, with low strings on the left and high strings on the right.
* Polyphony: The number of notes that can be played back simultaneously. Although 10 notes of polyphony might initially seem enough for us humans, the sustain pedal dramatically increases the number of notes that can sound at once and repeatedly-pressed keys will trigger overlapping samples. Reproducing this many notes (and other samples of mechanical noises and sympathetic resonances) can demand a lot of the host computer, and if it can't cope then you'll probably find some previously played notes disappearing to make way for new ones — an effect often called 'note stealing'.
* Room Ambience: The sound of the acoustic space in which the piano was recorded. The type and amount of ambience is recorded with the samples by some developers, sometimes with a choice of sample sets using different mic positions. Others record the piano as dry as possible so a chosen room ambience can be added artificially.
* Sostenuto: A third pedal on some grand pianos which sustains only those notes which are being held when it is pressed — all other notes can still be played staccato.
* Sympathetic Resonance: When any piano note is played, the piano's casing and all the other strings also vibrate to some extent, especially if the sustain pedal is down. A lot of developers record separate pedal-up and pedal-down samples to reflect this, but some capture the strings as dry as possible and then recreate the resonance effects synthetically.
* Una Corda: Literally 'one string', this is the term given to the left-hand pedal on a grand piano, which shifts the playing mechanism to play only one of the strings for upper-register notes, giving a more muted tonality.
* Convolution: A type of digital processing which can extremely accurately reproduce the response of any resonant system, such as a piano's soundboard or a concert hall's acoustic. A specially recorded file (called an impulse response) needs to be loaded into the convolution processor for each resonant system to be recreated. Because convolution is quite processor intensive it can place heavy demands on your computer's CPU.
* Release Samples: A sample that typically incorporates some residual room ambience decay or a little damper noise, and is triggered at the ends of notes for extra realism.
* Stretch Tuning: A tuning system based on equal temperament, but with all the intervals slightly stretched so that octave intervals in particular sound more in tune. This gives a slightly purer tone for solo pieces, but can sound out of tune when layered with other MIDI instruments using equal temperament.
* Sustain Pedal: The rightmost pedal on a grand piano, which lifts all the dampers from the strings, irrespective of which keys you play.